The GUMUTM Integration for Salesforce is compatible with the latest version of Sage 300 v2019. The Sage 300C can be hosted on a cloud environment and hence can be accessed from anywhere in its browser interface. Unlike its previous installments where integration was done via the SData web service, the current version utilizes Web API.
This blog enlists the instructions to create a new Integration with Sage 300C ERP (Accpac) using GUMUTM in the Salesforce Lightning Mode.
 PREREQUISITES:- 

LIGHTNING MODE IS ENABLED

Login into Salesforce and click "Switch to Lightning Experience"

GUMU PRODUCT IS INSTALLED

Click on Setup
In Quick Find, type "Installed Packages"
Check if "GUMU Integration" is listed.

CONFIGURE REMOTE SITE SETTINGS
STEPS:-
Click on "App Launcher" → "GUMU Settings" tab → "Configuration" tab.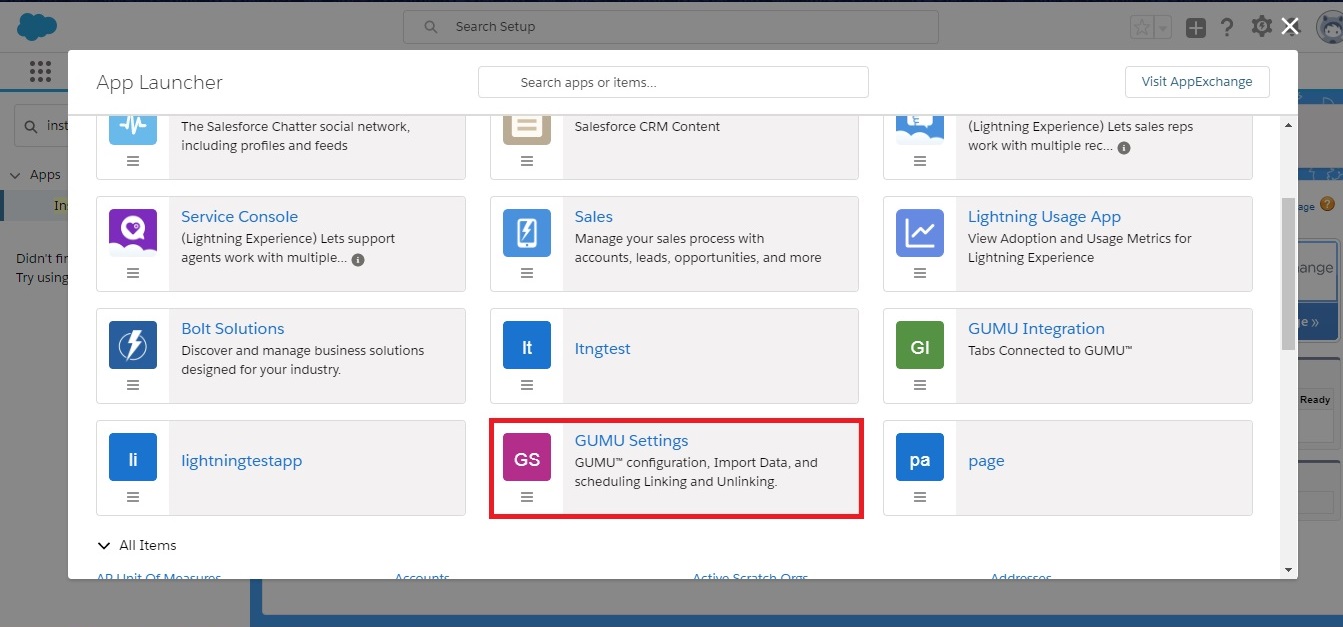 App Manager
Click on "New Integration" button on the top right corner.

GUMU Configuration
In the popup, select Sage 300(C) from the drop-down menu and click "Next".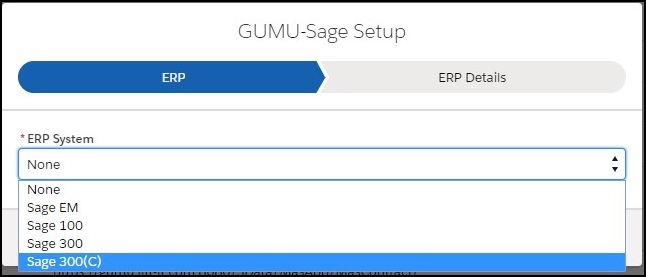 New Integration
Fill in the fields based on the following:

Web Service URL: Enter the web service URL in the field provided.
Name: Provide an appropriate name for the configuration. The name should be unique for all integrations.
Synchronization: Synchronization indicates the direction of data sync. It can be classified as:

Salesforce to ERP: Allows data to only be promoted to the ERP from Salesforce.
ERP to Salesforce: Allows data to only be imported from the ERP into Salesforce.
Both: Allows data to be imported as well as promoted bidirectionally between the ERP and Salesforce.

Default: If selected, the configuration is set as the default integration for all subsequent pages.
Inactive: If selected, the configuration becomes Inactive.
Company Code: Provide company name of ERP for integration.
Username: Provide the username of the ERP System.
Password: Provide the password of the ERP System.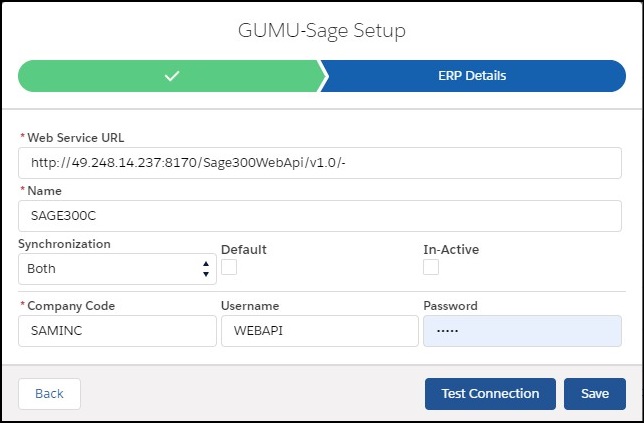 ERP Details
Click "Test Connection" to check if the connection is being established.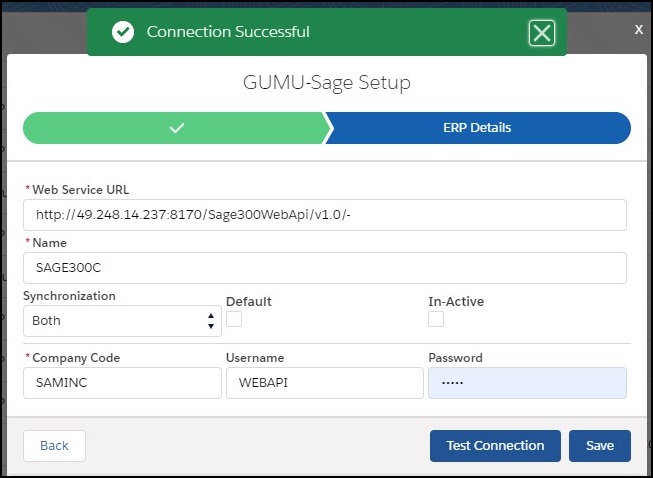 Test Connection
If the connection is successfully established, click "Save".
For more information on Salesforce – Sage 300 integration, read more on our website or write to us at salesforce@greytrix.com for Brochure and Full Product Demo.
Experience the new version of GUMU™ integration for Salesforce with various Sage system, readily available on Salesforce AppExchange
About Us
Greytrix – a globally recognized and one of the oldest Sage Development Partner and a Salesforce Product development partner offers a wide variety of integration products and services to the end users as well as to the Partners and Sage PSG across the globe. We offer Consultation, Configuration, Training and support services in out-of-the-box functionality as well as customizations to incorporate custom business rules and functionalities that require apex code incorporation into the Salesforce platform.
Greytrix has some unique solutions for Cloud CRM such as Salesforce Sage integration for Sage X3, Sage 100 and Sage 300 (Sage Accpac). We also offer best-in-class Cloud CRM Salesforce customization and development services along with services such as Salesforce Data Migration, Integrated App development, Custom App development and Technical Support to business partners and end users.
Salesforce Cloud CRM integration offered by Greytrix works with Lightning web components and supports standard opportunity workflow. Greytrix GUMU™ integration for Sage ERP – Salesforce is a 5-star rated app listed on Salesforce AppExchange.
The GUMU™ Cloud framework by Greytrix forms the backbone of cloud integrations that are managed in real-time for processing and execution of application programs at the click of a button.
For more information on our Salesforce products and services, contact us at salesforce@greytrix.com. We will be glad to assist you.
Related Posts