In our previous blog, we discussed about configuring "BOM Setup for Manufacturing Company in Sage 300 ERP". In this blog, we will discuss how to use this Process in Sage 300 ERP.
Steps for creating Order Process for Manufacturing company are as mentioned below;
Service People will be creating Sales Order for Finished Goods to be sold to customer, when he/she (customer) orders for the same.
1. Create SO (Sales Order): While creating Sales Order by selecting items, which is defined in BOM masters. For an instance; there is Sales Order for 100 Qty of Master Item say (Image 1500 Series Desk Accessories) and the committed quantity is 80. Now, the required Qty to produce would be 20.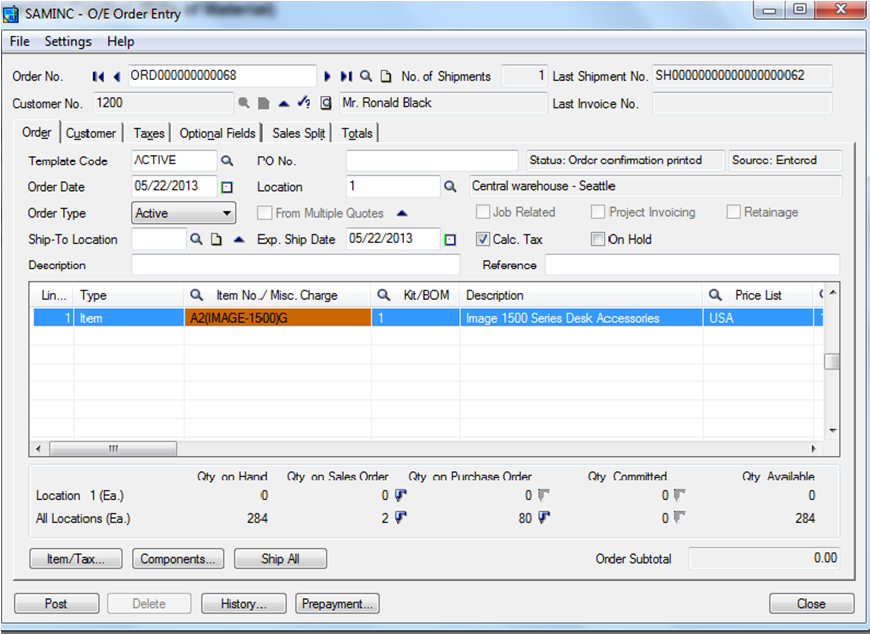 2. Print this Pending Order Report (Order Action) to obtain the list of pending/Outstanding Orders for identifying the quantity of Raw Material required for the Finished Good Production. Report would display the Master Item along with the Raw Material Component required to produce the Finished Goods.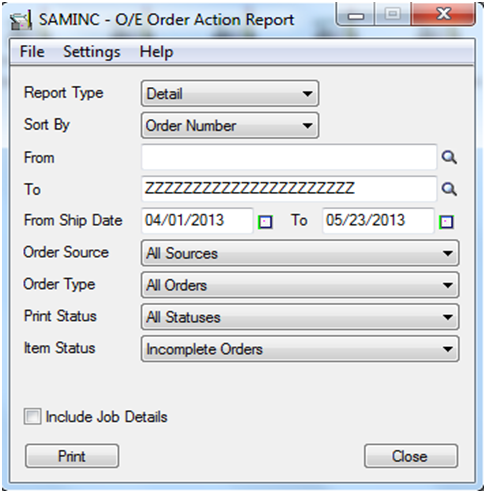 3. Once done, we can print the BOM report to obtain details of the outstanding BOM and can view raw materials required to produce the finished goods.  This report would list the BOM Master Item along with the Raw Material details. To print this report navigate to Inventory Control >> IC Setup Reports >> BOM Reports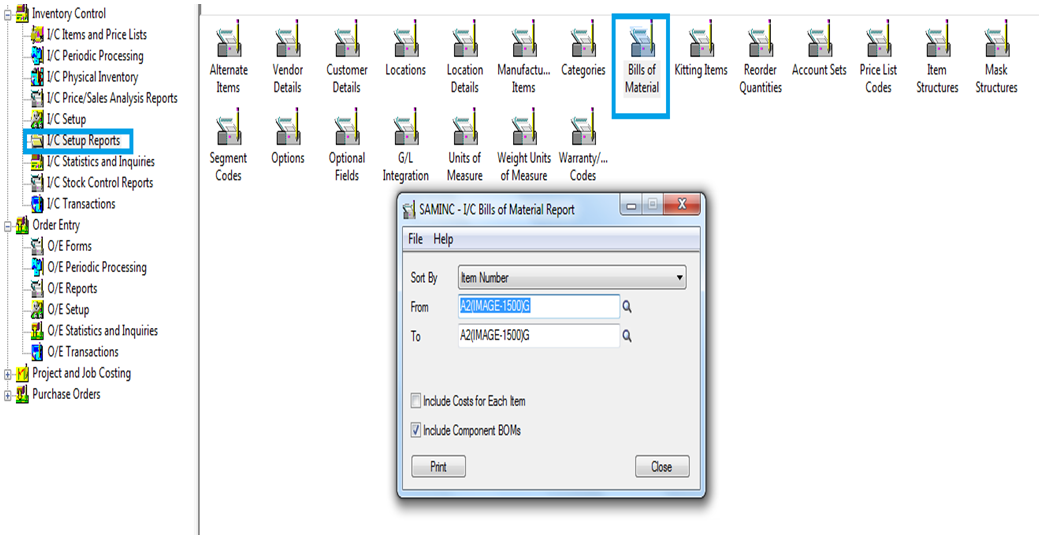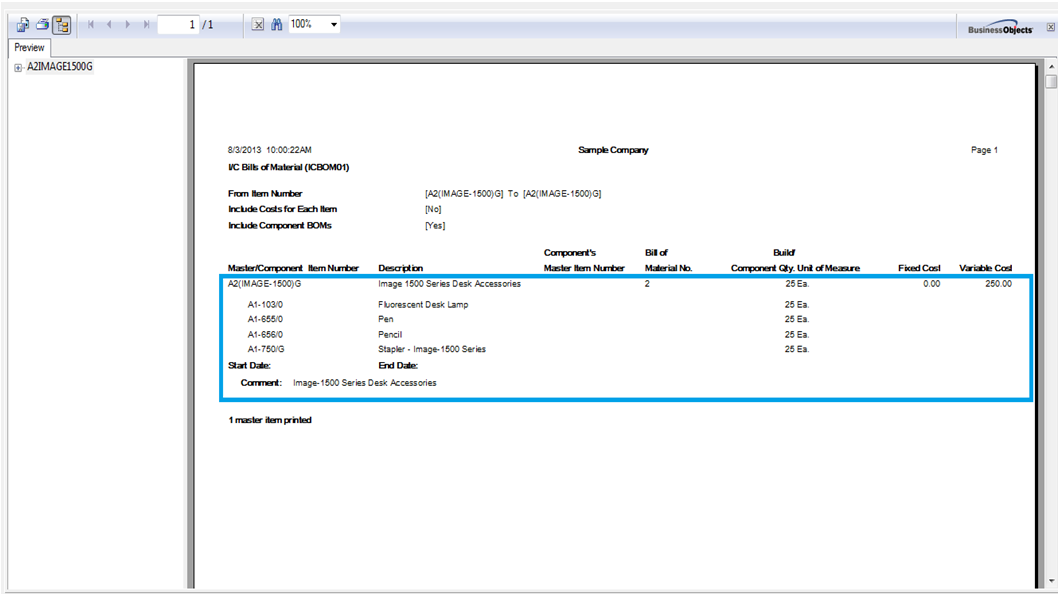 Also Read: Using BOM and Assembly to Convert Items in Sage 300 ERP
Output displays that to produce 1 quantity of BOM item (Image 1500 Series Desk Accessories), it requires 25 units of A1-103/0 (Fluorescent Desk Lamp), 25 units of A1-655/0(Pen), 25 units of A1-656/0(Pencil) and 25 units of A1-750/G(Stapler – Image-1500 Series). Thus, to produce 1 Qty of BOM item, we need to identify the quantity of RM required.

One can also automate this calculation by building a report, which takes into consideration all these points and prints the quantity of raw materials required to fulfill order with and without taking the Stock on hand.
Once the raw material required to produce 20 Qty of finished goods is identified, we can then transfer Raw Material to Warehouse for Production.
4. Transferring RM (Raw Material) from Warehouse location to Production location for production. To do so, user has to make a transfer entry, hence navigate to Inventory Control >> IC Transactions >> Transfer.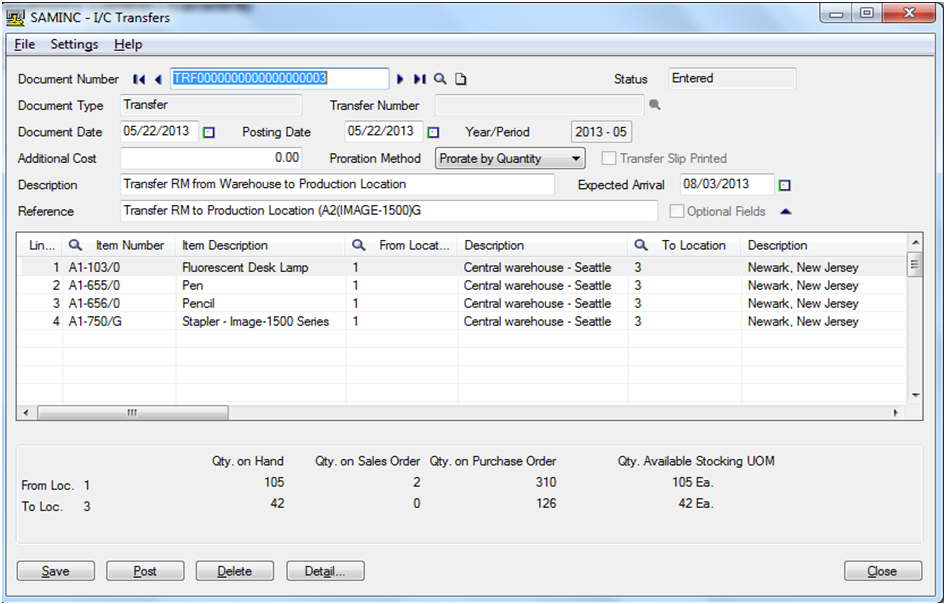 5. Then, Run assembly once you are done with the production. Enter the quantity to assemble (i.e. 20 units in the above case).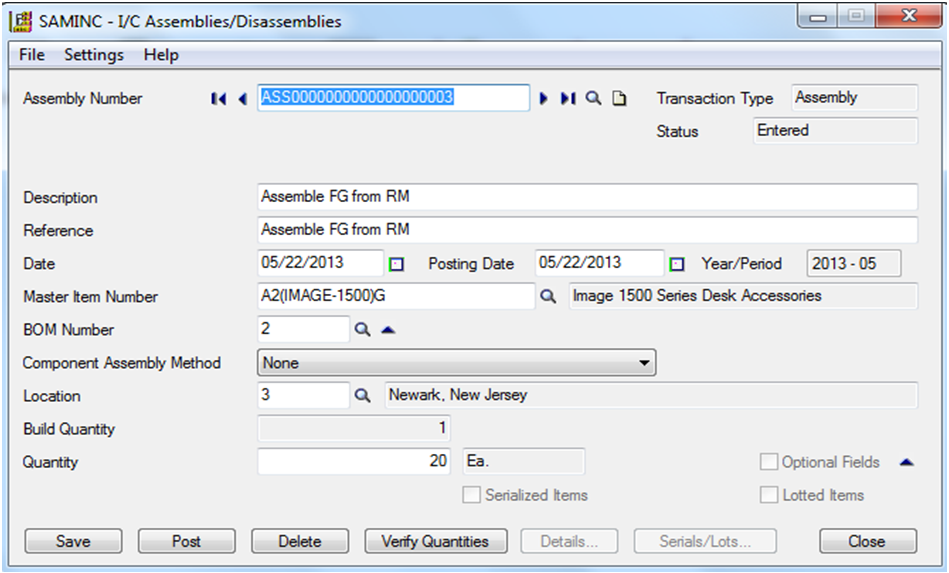 6. After Assembly, run day End processing to calculate the costing of the item. Further, Run Inventory Movement Report to check the costing.
7. After these things are taken care, transfer finished goods from Production location to Warehouse location.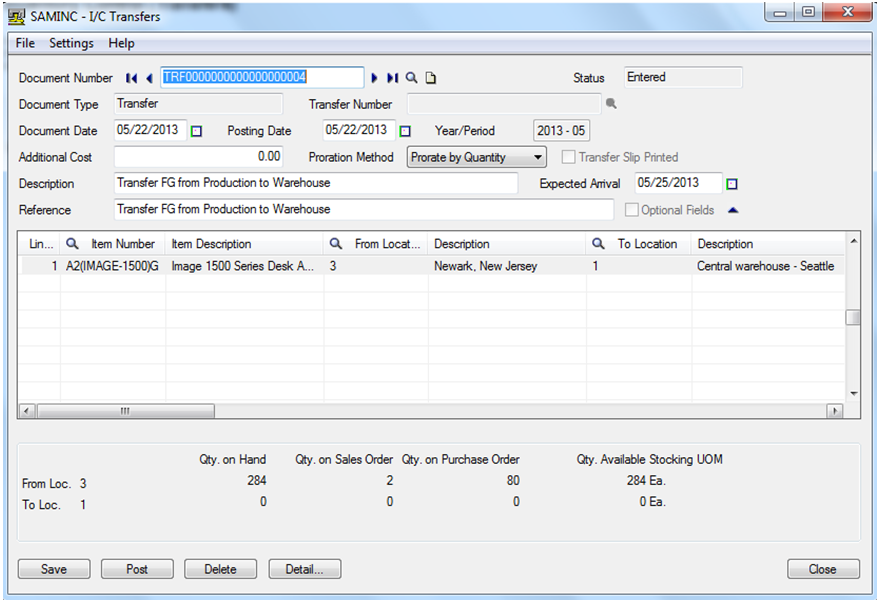 8. If raw material supplied for production was more than actual consumption, then pass an IC adjustment entry for Stock Adjustment.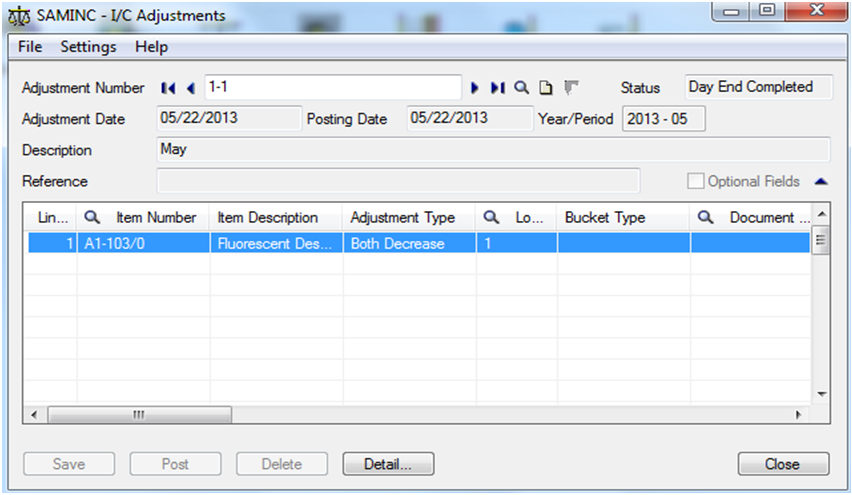 Thus, Sage 300 ERP tracks the production cost and manage order works. By directing the entire cycle of order processing, it is possible to build a business that is both customer-driven and profitable.
Related Posts:
1. Transfer of Excise duties along with Inventory Transfer in Sage 300 ERP
2. Simplify Assembly using Sage 300 ERP
3. Provisional Posting in Sage 300 ERP