Sage 300 ERP has a beautiful Inventory movement Report which displays all the related cost to an Item, to arrive at the landed cost, but it is in a row format i.e. Each cost base and additional is shown one below the other making it difficult for an individual to analyze the landed cost. Not only the cost but an organization would also need information on the quantities being purchased to measure the efficiency of raw materials storage which is the key to profitability.
To cater these needs, we have developed "RM Purchase Report" an Add-on, which is useful in tracking the receipts /invoice/additional invoices/credit/debit Note of purchased Raw material.
The Report UI is as shown below;
New Stuff: How to Pass AP Revaluation entry in sage 300 ERP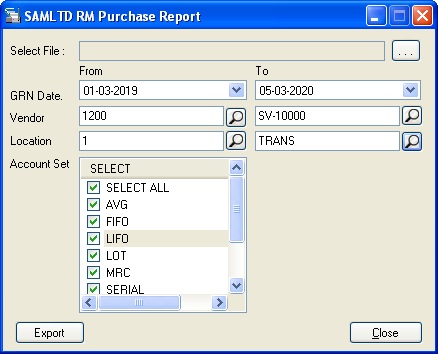 1. Select Excel File: User has to select the desired path, of the file they want to print the RM Purchase Report of.
2. GRN Date: Similarly, user has to select "From and To" date range for which they want to print the report for the raw material received.
3. Vendor: User has to select "From and To" range of Vendor name, for which they want to print the report.
4. Location: User has to select "From and To" range of Location, for which they want to print the report.
5. Account set code: User has to select the list boxes for selecting Account set code as filter criteria.
Note: Filter criteria can be customized as per customer's requirement.
Once the above details are filled, click on export to print the report at the desired location. The report shows the details about a GRN receipt for raw materials.
The report consists of Vendor Code, Vendor Name, Fiscal Period, Fiscal Year, Period , Period Year, Location ,Location Description ,Purchase Receipt No, Invoice No, Credit\ debit document number, Item No., Item Description, Receipt Unit, Total Quantity, Rate, Purchase Value, Category, Inventory Account , Inventory Account name, Additional Cost Type1, Additional Cost1, Additional Cost Vendor1, Additional Cost Invoice1, Effective cost (Purchase cost+ all additional costs) and Effective cost/ Unit.
The significant feature of this report is that it shows all additional Cost related information such as its Type, Cost, Vendor and Invoice.
The printed report will look as shown in the excel sheet.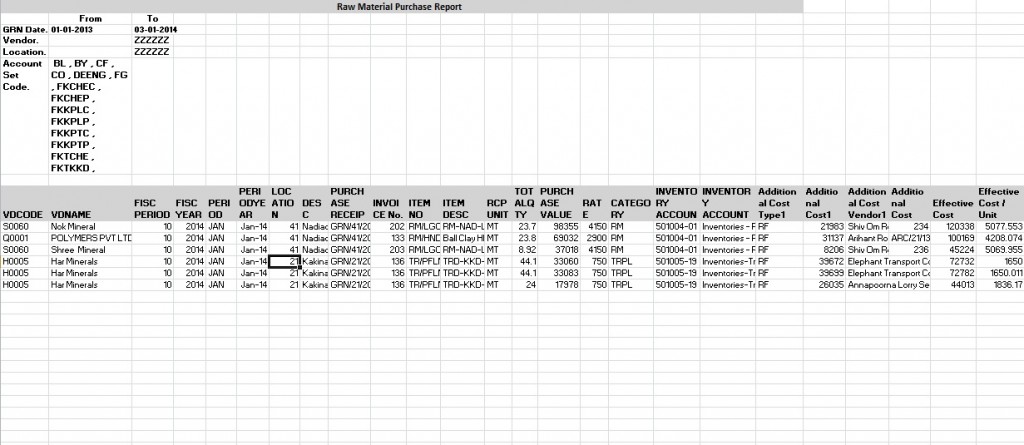 Thus, "RM Purchase Report" is able to make clear visualization of receipts, invoice, Additional invoices and \Credit debit note for each client.
Also Read:
1. Stock Status Report in Sage 300 ERP
2. Material Required to Assemble FG on order – Report
3. MRP Report in Sage 300 ERP
4. Greytrix Extended Report Pack for Sage 300 ERP
5. Custom Bills of Material Report for Sage 300 ERP 2012