In Sage 300 ERP, there is a concept of Bills of Material. It gives us idea about the details of (quantity, UOM etc.) raw material needed for producing a finished good. When a sales order is raised for a finished good, before shipping it, company needs to know availability of the same in inventory. If sufficient quantity is not available we need to raise a production request.
New Stuff: Back to Back PO-OE process
It might happen when you raise a production request, the raw materials required for the BOM item is not available as per the requirements in the warehouse. As of now, It becomes difficult to identify how much raw material is required to produce a finish good ordered on a particular sales order.
Greytrix, has developed a custom report that displays details of all the raw material required to produce a finish good placed on the order like their available quantity, quantity on purchase order, remaining quantity in one single report.
All you have to do is select the order no and the item no in the below UI (for which you want to view the assembly details).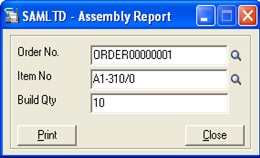 There is also a field named as Build Qty. If your build quantity is 10, then report will display raw material details for master item with 10 quantities. If t is blank then report will consider order quantity.
On printing report will look like this: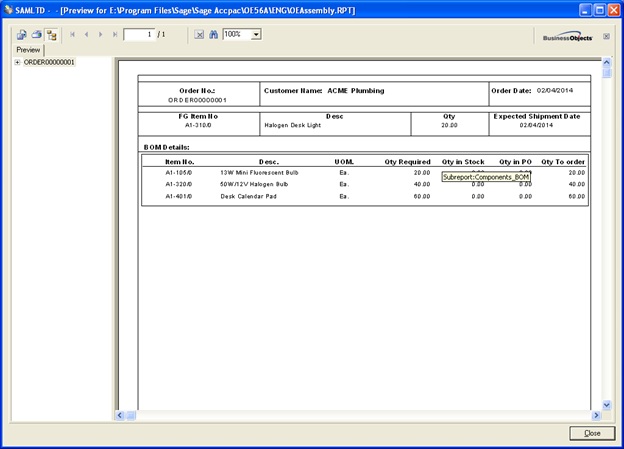 This will help you to view list of raw material needed with UOM, on hand quantity, required quantity, quantity on purchase order and quantity required to complete the order as well.

Note: This report will work only when your Sales Order has Master item with a BOM number.
Also Read:
1. Control Payments in Sage 300 ERP
2. Default Settings for Accounts Payable Payments in Sage 300 ERP
3. 3 Way Matching PO Receipt
4. User Authorization Report in Sage 300 ERP
5. Interest Invoices for Overdue Receivables