With the launch of Windows 7 and forth coming systems, Microsoft has altered security features and made it more secure. But on a recent observation, this increased security feature has created a unique issue. One of such issues is that one cannot access QuickBooks and Sage 300 ERP with the same set of permissions through 3rd party applications, such that QuickBooks forces the user to open in standard user mode whereas Sage 300 ERP requires administrator level credentials to open.
In order to make our third party application i.e. GUMU work, we need to apply access
QuickBooks in standard user mode
Sage 300 ERP in administrative user mode
Solution:
In order to solve the issue, follow the below instructions:
1) Go to the directory where Sage-300 have installed (Say: C:\Program Files (x86)\Sage\Sage 300 ERP\Runtime).
2) Right click on "a4wSignonMgr.exe" and "accpac.exe" and alter their compatibility settings by checking "Run this program in compatibility mode for" and "Run this program as an administrator" and click ok as shown below.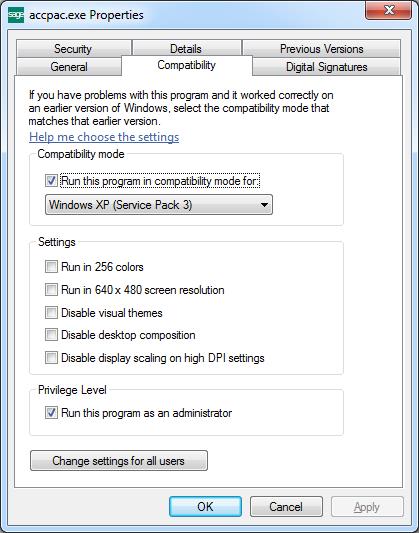 3) Now when you run the third party application in standard mode, it will open the QuickBooks in standard mode and Sage 300 in administrative mode.
Also Read:
1)How to run a Sage Intelligence Report
2)An error (-5006 :0 x 80070002) has occurred while running the setup
3)Run VBA Macro without Logging in to Sage 300 ERP
4)Macro did not run for unknown reason Error code 2147747072
5)"Windows has blocked this software because it can't verify the publisher" error in Sage 300 ERP