Sage 300 ERP has an audit trail report that displays the posted records of the transactions. This is a standard report of Sage and available in all the modules i.e. Accounts Payable, Accounts Receivable, Inventory Control, Order Entry, Purchase Order.
New Stuff: Allow Posting to Previous Years Records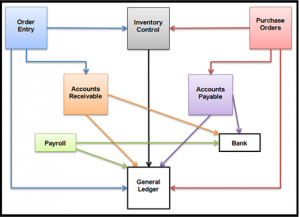 To print this report, navigate to Transaction Reports path of the respective sub-ledgers -> Posting Journals. The screen looks like this: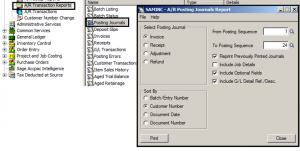 You can print the posting Journals for the various transaction types available in the respective modules. There is an option to list the transactions by Batch, Entry number, customer number, document date or document number. Make sure you tick on the option Reprint Previously Printed Journals if you wish to print the additional copies of the journals you have already printed before. Tick on Include Optional Field and GL Detail Ref/Description checkbox to print the respective information with each printed transactions.
You should print this report after posting the transactions to maintain the audit trail records. The report provides the General Ledger summary details which list the total amount of transactions that were created for each General Ledger account used in the posted batches.
Let us consider a scenario to recognize the efficacy of this report. Suppose, you raised an expense Invoice of 'X' amount against a vendor say few days back. Now that you need to know the GL impacts of the Invoice and you have no other information except for Document Number. How you would be able to search the transaction details? Yes, the simple approach would be the Posting Journals report. You can print this report from the respective sub-ledgers and with the help of the finder search the document number. Once you get the document, you will also find the GL effects along with credit debit amounts.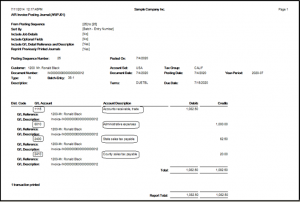 If you use Multicurrency accounting, the Posting Journal displays some additional information like: Currency, Exchange Rate, Rate Date, and Transaction Total in both source and functional currency.
Sage 300 ERP provides a very useful report, the posting journal that enables to trace the transactions effects.
Also Read: 
1. How to Audit a Payable Clearing Account
2. GL Clearing Module for Sage 300 ERP
3. Subsidiary Ledgers and General Ledger
4. AP-GL Integration
5. Transactions Details Optional Fields Report