General Ledger (GL) module is heart of any finance package such as ERP system. Hence, to give an upper hand to user while using GL, we have developed a custom module named GL Clearing Module for Sage 300 ERP, which will help users to carry out internal reconciliation of GL Accounts i.e. to match Debit and Credit side of Transactions in GL.
Say for an instance, when user creates a PO Receipt Transaction, it will debit Inventory and Credit Payable Clearing Account. Thereafter, PO Invoice will debit Payable Clearing and Credit Payable Account.
Hence, after Day end Processing these transaction are reflected in GL. User can view debit, credit balance for a particular account and map the same as desired using our GL Clearing module.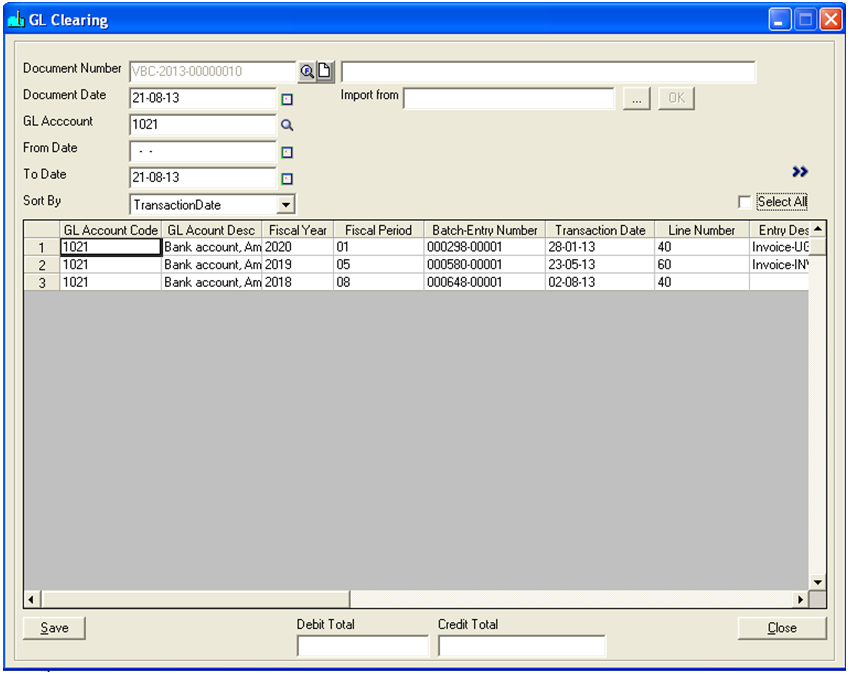 The New Stuff: Greytrix Extended Report Pack for Sage 300 ERP
Once user select a GL Account No, he/she will be able to view GL Details  (Batch/Entry No, Line no,Transaction Date, PO Transaction Document No., Debit/Credit Amount in both source and Functional Currency)
User can select individual detail line manually for mapping. There is also a provision of mass clearing by importing an excel file in a specific format, which will select multiple detail line at once for mapping.
System will allow not allow Users to save any entry that is out of balance; it will only save document when credit and debit are matching.
Users can also print GL Clearing Report to view Reconcilled transaction/Non-Reconcilled transaction/Both for specific GL Account.
Before periodic closure of a GL Account, Accounting staff must ensure that entries in the general ledger need to be correct and are in balance. Thus, GL Clearing Module comes handy for user and become really useful when user needs to store mapping of GL Accounts transaction.
Also Read:
1. Replace Optional Fields in GL Accounts of Sage 300 ERP
2. Exclude Inactive Accounts option in GL Chart of Accounts Report of Sage 300 ERP
3. Financial Reporter made reporting tranquil in Sage 300 ERP
4. GL Account Code Change in Sage 300 ERP