In our previous blog, we had discussed about some useful features in Sage 300 "Custom folder in Sage 300 ERP", which helps users to create a custom folder for Reports/Programs/Macro, in Sage 300 ERP Company Module.
The New Stuff : Changing the Contract Level Names
In this blog we will discuss about the useful extensions of the said feature using scenarios where users have multiple companies in Sage 300 ERP.
Suppose the user has configured Custom folder setting for the users in one Sage 300 ERP company, which needs to be replicated in all the other Sage 300 ERP Company. Rather than re-entering the same Custom folder setting in all the other companies manually, by following these simple steps discussed below, user can replicate the setting for custom folders in all the remaining companies in Sage 300 ERP.
We can copy the Custom folder setting from one company to another by following below simple steps:-
1) Create Custom Folder in one Sage 300 company and add all the report/Programs/Macro which you frequently used by a specific user in the custom folder.

2) Now close Sage 300
3) Locate the USER folder present at Sage 300 installation path.
For e.g. C:\Program Files\Sage\Sage 300 ERP\USER
4) IN the USER folder, locate the folder of the user whose setting needs to replicate in other companies.

5) Copy the .ism file present for that particular user and company to another company.
for e.g. in the above screen shot we have copied the .ism(SAMINC_C.ism) file for Sample Company INC. and ADMIN user to Sample Company LTD and ADMIN user.

6) Now open another Sample Company LTD company for ADMIN user, which you have copied the .ism files. You can see the custom folder settings created for one company are copied to another company as shown in below screen shot.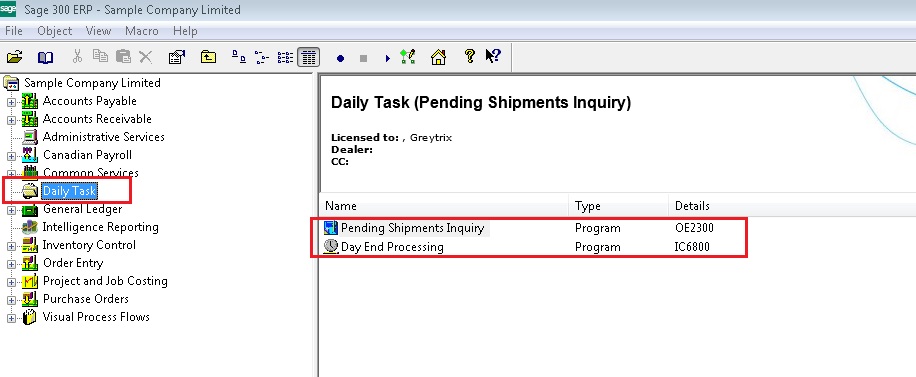 Also Read:
1. Installation of Sage 300 ERP Workstation Setup
2. Financial Reporter in General Ledger Module of Sage 300 ERP
3. Create Recurring Entries in General ledger of Sage 300 ERP
4. Create custom startup folder in Sage 300 ERP
5. Propagate Common Settings from one company to another in Sage 300 ERP