Sage 300 ERP Inventory Module has reports which show movement of inventory items, net change of item quantity on aging basic etc. But there is no inbuilt utility through which companies could ascertain the Inventory in terms of Quantity of the Item in particular period in Warehouse.
We have developed an Add-On which caters this functionality in following manner.
We have provided an Interface that accepts filter criteria and intervals from user.
Filter Criteria includes:
• From and To Location
• Age as of Date
• Aging Bucket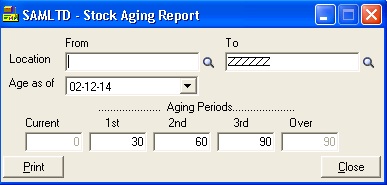 Five different date intervals are calculated based on interval length and ending date .Aging period is editable which means you can choose the aging period range while printing reports.
Based on the data entered by the user information gets fetched from the database and printed on to the report.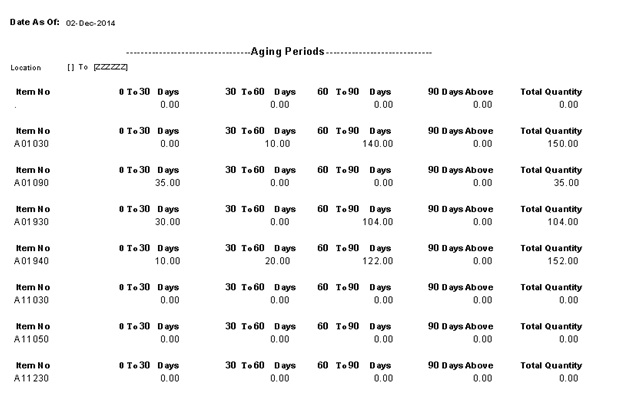 This report considers all transactions by which item quantities in Inventory get affected and display total item quantity for a particular period.
0-30 Days: It will display Total quantity of transaction done against the Item in inventory from age of day to 30 days back.
30-60 Days: It will display Total quantity of transaction done against the Item in inventory for 30-60 days back from age of day
0-90 Days: It will display Total quantity of transaction done against the Item in inventory for 60-90 days back from age of day.
90 Days and above: It will display Total quantity of transaction done against the Item in inventory for more than 90 days back from age of day.
Total Quantity: It will display Total quantity of transaction done against the Item in inventory on as on date.
You can use this custom I/C Stock Aging Report to view and print aging of the stockfrom Sage 300 ERP (Accpac) Inventory Control Module.
New Stuff: Error while posting GL Batch
Also Read:
1.  Deposit Slips
2.  Setting up Salesperson Commission in Sage 300 ERP
3.  Shipments to be Invoiced Report
4.  Creating payment batches in Sage 300 ERP
5.  Report not printing when printer option is set to printer in sage 300 ERP