As we all know GST has been introduced in India, since 1st July 2017 and Sage 300 ERP is GST configurable. But to halt a day to day transactions of the user to configure GST would be not practical for the customers who will be doing a  thousands of entries on daily basis, so to save customer time we came up with Goods and Service Tax, which is an integrated module for Sage 300 ERP that automates configuration & provide a reports which is required as per Indian compliance.
New Stuff: Sage 300 2018 PU2 Release – Provision in Web Screens for Report Selection Instead of Browsing
GST module for Sage 300, provide automation that gives ability to create configuration on one click. This helps user to save manual work and all the statutory fields created automatically which are required to be captured on the reporting and on registers.
Once you install GST module, you can see separate module as "Goods and Service Tax" on Sage 300 Desktop. Here you can find setup, Transactions and Reports as three sub modules. We will look at it one by one. First in the configuration part, there is an option screen which help us to create automatic statutory fields and sample Tax configuration.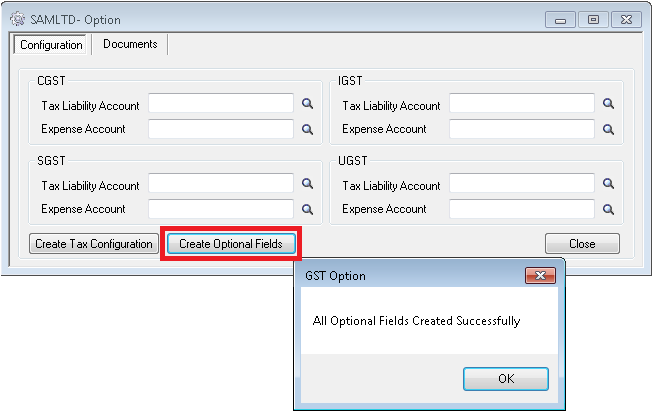 If you see, there are two buttons, one is "Create tax configuration" and "Create Optional field".
When user clicks on "Create Optional field" button, it will create all the required statutory fields required for GST configuration.E.g. GSTIN (Goods and Service Number), ORGINVNO (Original Invoice Number), ORGINVDATE (Original Invoice Date), ITEMTYPE (Item type), HSNCODE (HSN Code) etc.
This are the fields get automatically bind to masters and transactions like, HSNCODE will get bind to Item master, GSTIN will get bind to Customers and Suppliers. Some of them get bind to transactions where user can input the values during the data entry.
In this way GST module makes an easy for an ERP user to configure the statutory fields. Similarally we will see tax configuration in our next blog.
Also Read:
1. Extended Report Pack now compatible with GST
2. Simplifying VAT compliance in Sage 300 for your enterprise
3. Simplified AP Invoice Report in Sage 300