We appreciate all your feedback/suggestions in making GUMU the most preferred solution for Sage 100 ERP users. In our new 5.2 version we have added a new feature where products are now updated on a real time basis in Sage CRM from Sage 100 as we are currently doing it for updating customer records.
GUMU Sage 100 Integration Trial | Video | Blog | Demo Machine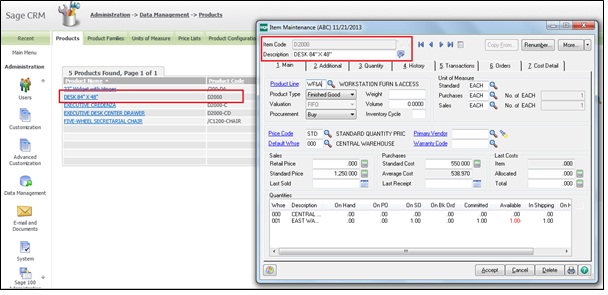 Now, whenever any user creates/edits a new product in Sage 100 from item maintenance screen, on the click of Save/Accept button that particular product gets added/updated to Sage CRM along with all its details. This feature will only work when you have set the Synchronization setting in the Sage 100 administrations as "Both or One way ERP-Sage CRM".
The Import Product in Sage CRM using GUMU Integration is still there which you have to use the first time the integration is installed and also for situations where you do a bulk import of products in your Sage 100 system from external sources like excel etc. and need these products to be synced back to Sage CRM for GUMU integration.
Also Read:
1) View Credit history real-time in Sage CRM using GUMU
2) View GUMU Dashboard in Sage CRM using GUMU Integration for Sage 100 ERP
3) Promote Orders in Real-time to Sage 100 from your Mobile/Tablet using GUMU Sage CRM – Sage 100 Integration
4) GUMU Sage 100 Tips – Configuring Sage 100 Company code
5) Configuration and Working for Creating AR Invoice in Sage CRM using GUMU Integration