Sage CRM interactive dashboard is a workspace which can be highly configured to control the information which we work on. We can add several types of gadgets like List, Menu item, Chart, RSS Feed, etc. on the interactive dashboard.
While working with any ticket/case we need to go to summary page of that record for progressing it through workflow. Sometimes you will get across the scenario where executive wants to progress record workflow from dashboard itself or wants to create appointment, task against the record on the fly. List gadget in Interactive dashboard has some built in functionality with which we can achieve this by making some simple configurations.
The New Stuff: Sage CRM Offline Synchronization
Whenever we create a List gadget and add it on Interactive Dashboard, it provides some actions to be performed on the gadget.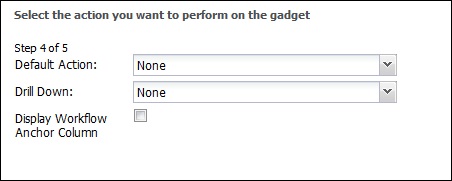 As shown in following screenshot when we check the Display Workflow Anchor Column checkbox, an action column gets added to the list which will allow user to progress the tickets to later stages.

Along with this, there are some more actions we can add to the list gadgets.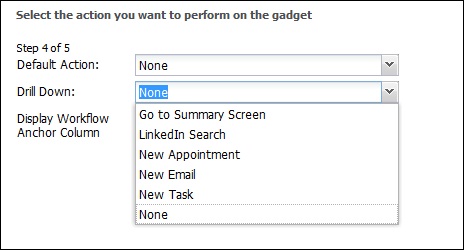 As shown in the screenshot below we can add actions like,
1. Go to Summary Screen: Opens the summary screen of selected record.
2. LinkedIn Search: Carries out search on person last name and/or the company name from CRM in LinkedIn. The user must have LinkedIn account and will be prompted for logon the first time they use the action.
3.New Appointment: Create new appointment using the context details of the selected record.
4.New Task: Creates new task using the context details of the selected record.
5. New Email: Creates new email using the context details of the selected record.
As you can see in the second screenshot, I have added New Email as action in the list gadget I have created for my dashboard. Hope you will also start using it….!!! 
Also Read:
1) Charts on Interactive Dashboard
2) Training Videos on Interactive Dashboard
3) Main Menu Items Gadget on Interactive Dashboard
4) Interactive Dashboard Error on SageCRM 7.0
5) Show data on Classic Dashboard using Custom pages