As we have mentioned in our previous blog, we are integrating Sage CRM and Sage ERP X3 with key features such as importing customers from Sage ERP X3, Promoting orders and customer from Sage CRM to Sage ERP X3 orders, Synchronous Dropdown, displaying Sage ERP X3 data on real time basis, etc.
New Stuff: One Time Processes for GUMU™ Sage CRM – Sage 100 integration
In this blog, we will discuss about real time data, which we are displaying in this integration product. Currently we are displaying the below data on a real time basis in our GUMU Sage CRM – Sage ERP X3 integration.
1.   Order Inquiry along with the line details:
Sage CRM user can view the Order Inquiry details by selecting particular ERP Customer for which user wants to view Orders in Order Inquiry tab. User can filter this information by using Site, order date fields. User can also filter them to display closed and not closed orders.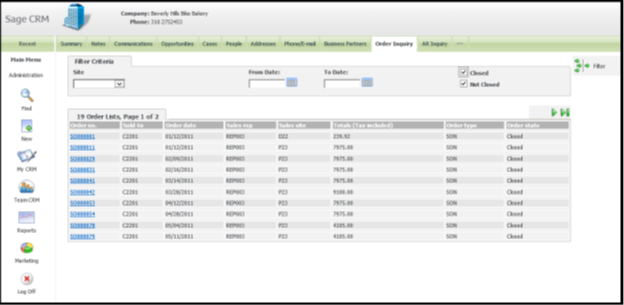 Also user can further drill down to view line item details for particular order by clicking on that order number.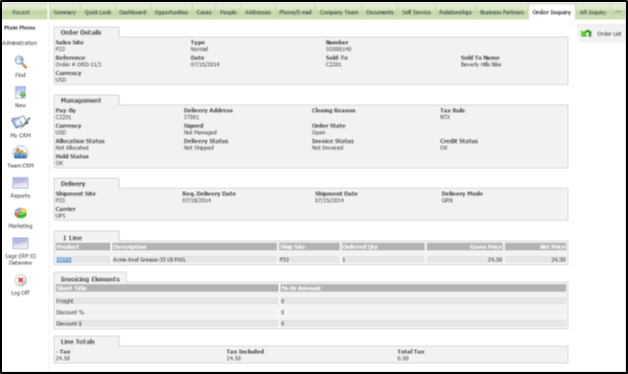 2.   AR inquiry along with the line item details:
Similar to Order Inquiry, user can view all the AR invoices for particular customer in AR Inquiry tab. User can filter this information by using site, Invoice date. It can be filtered further as posted and not validated invoices. You can further drill down to view AR details and line item details for a particular Invoice.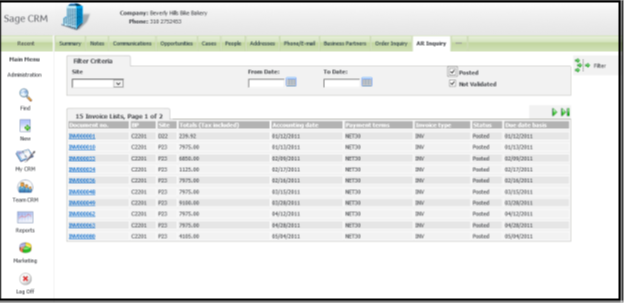 3.   Additional Information of the Sage X3 customer:
Similarly user can view the additional customer details in this Business Partner Tab.  For this, select customer for which you want to view information and click on Business Partners tab. Here user can find 3 panels: Customer details, identity details and financial.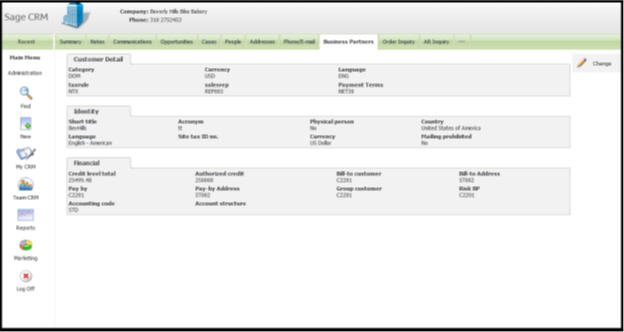 Please note that, in this TAB, if the selected company is not promoted then it will display the page in Edit mode so that user can promote the Customer.
Note: – All the above GUMU tabs will be available only for Customers linked with Sage ERP X3.
Also read:-
1.   Steps to Import Sage ERP X3 Customers in Sage CRM
2.   GUMU for Sage CRM – Sage ERP X3 Integration
3.   Restrict access to Sage ERP X3 Integrated data using Security Matrix feature
4.  Synchronize Dropdown feature in GUMU Sage CRM – Sage ERP X3
5.   GUMU™ Pre-requisite Setting for IIS