Sage has introduced Sage CRM 2014 R2 on Cloud and my team is extremely happy to see so many user experience enhancements. Few days back we had posted an article on how beautifully the newly added feature "Sage CRM Builder" works.
GUMU Sage CRM Integrations : Sage ERP X3 | Sage 100 | Sage 500 | Sage 300
Related Post: Sage CRM builder – Future of Sage CRM Cloud
Today I will blog about one more feature that we liked a lot on cloud version. Now you can add the records that you visit very often to a Favorite list and access them on the fly.
Let's say, a sales person has a big sales opportunity which he needs pay attention to on frequent basis. It's obvious that this opportunity will be marked as most favorite in sales person's mind but how do we do this in system? So, when sales person creates an opportunity in Sage CRM, summary is displayed as shown in screenshot below.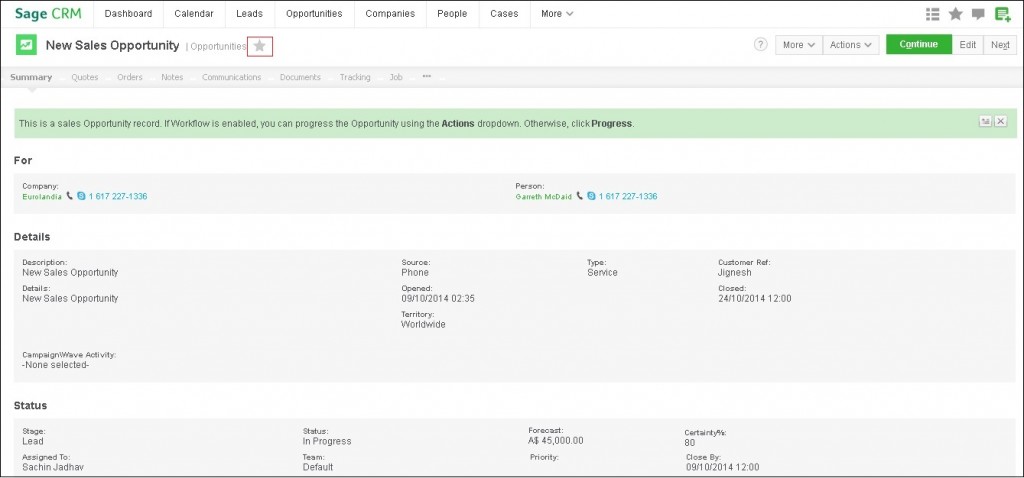 This summary screen has a star as highlighted in red. Clicking this will add this opportunity to favorites bar. Now wherever you navigate in CRM, you will have your favorite opportunity with you. You just have to click on the star available at top right corner of the screen.



This way user can add People, Company and Cases etc. to Favorites. Isn't it amazing? Hurry up and have a free trial at www.sagecrm.com
Also Read:
1) Sage CRM 7.2 Tomcat Setting for EC2 Amazon Server's Elastic IP
2) Phone Type Field in Web services
3) Default quote expiration/Delivery date setting in Sage CRM
4) Tab Control in Sage CRM v7.2
5) Synchronization Setting in GUMU for Sage CRM – Sage ERP X3