Sage CRM 7.3 is released with a lot of valuable features for every business and we are so excited about it, that my team has decided to post series of blogs on the new features added.  Today we will discuss one more such exciting feature.  With the launch of Sage CRM 7.3 new Management Dashboards are added by default. These are so called "Business Accelerators". These dashboards give better picture of the organization data seating at the Director, CEO level.
Download Greytrix Sage CRM v7.3 integrations
Sage ERP X3 (Integrates v7/6.5 with Sage CRM v7.3/7.2)  | Sage 100 (MAS90)  |  Sage 500 (MAS500)
One of these dashboards is "Sales KPI for Managers".
Well, as the name suggests this dashboard helps you review the Key Performance Indicators using which you can effectively measure your organizational goals and successful activities.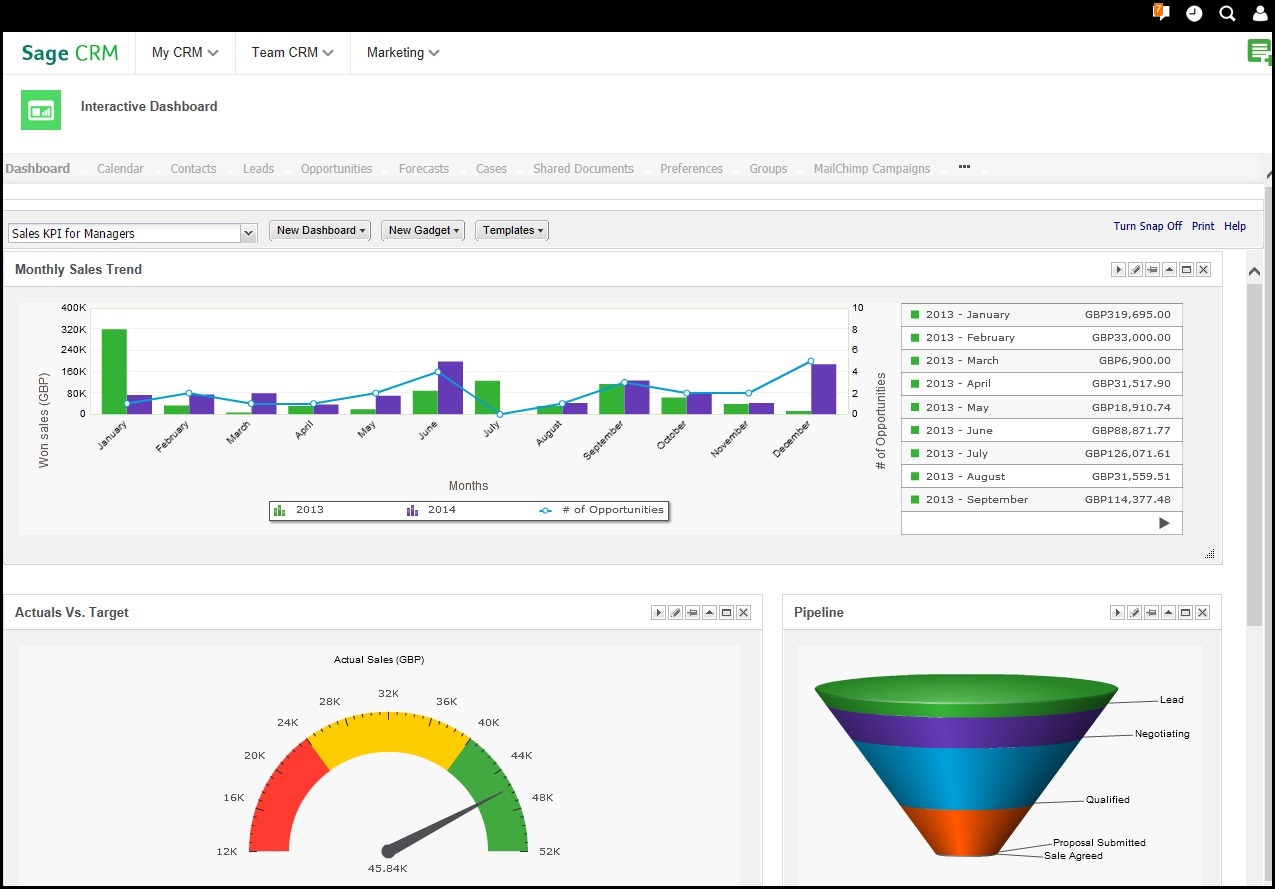 This dashboard has some newly introduced and configurable gadgets which are as follows.
1. Monthly Sales Trends: This is built through effective usage of Combination charts. Using this gadget you can compare year on year sales per month. This year's figures can be matched with the previous year's figures.
2. Actual vs Target: It uses a Gauge chart. Gauge shows how the sales team is performing in terms of revenue against the Targets set.
3. Pipeline: It uses a funnel chart. Sales funnel is an innovative way of studying your sales pipeline. You can analyze right from what goes in as an enquiry to the bottom what comes out as a business.
4. Open Activities: Thisgadget displays information about calendar entries for a specific period such as demos, letters to be sent, and meetings. It uses a stacked chart.
5. At Risk Customers: Thisgadgetshows customers and leads who haven't been contacted in over 90 days, or customers and leads in a company that's greater than 90 days old who've never been contacted. These customers are considered at risk of leaving your company.
6. Won Deals Leaderboard: Displays the number of opportunities that each sales rep has won.
Also Read:
1) Troubleshooting MailChimp integration issue with Sage CRM 7.3
2) Sage CRM 7.3 – Introduction of New Opportunity Workflow
3) Merge to PDF through workflow in Sage CRM 7.3
4) Quote Summary Screen Enhancements in Sage CRM 7.3
5) Lead De-duplication nice to have feature in Sage CRM 7.3