As we all know that Sage CRM workflow plays a substantial role while defining a process flow for users to make effective usage of CRM.
In every implementation, we usually sketch out our processes for major entities such as Lead, Opportunity and Case. These entities are mainly used by sales or services team users to follow and progress activities assigned to them. So, our focus is restricted to these areas only.
New Stuff: App Pool Setting for Sage CRM-ERP Integration
Have we ever thought of having a Workflow on Company entity? Well, in this blog will see how a company workflow would be beneficial to users and how workflow can be enabled on Company Entity.
Suppose, a sales organization have a process where Sales and Marketing team calls customer and create leads in CRM. While adding a Lead information they also have to Link or Add new company record against a Lead.
Now, as per their knowledge they add the information under a company and assign the lead record to a particular user who will add other relevant information to complete the customer profile.
In our organization we have created a Company Workflow which allow assigned user to add Branch and Territory information to a company record. Below are the screenshots added for your further reference.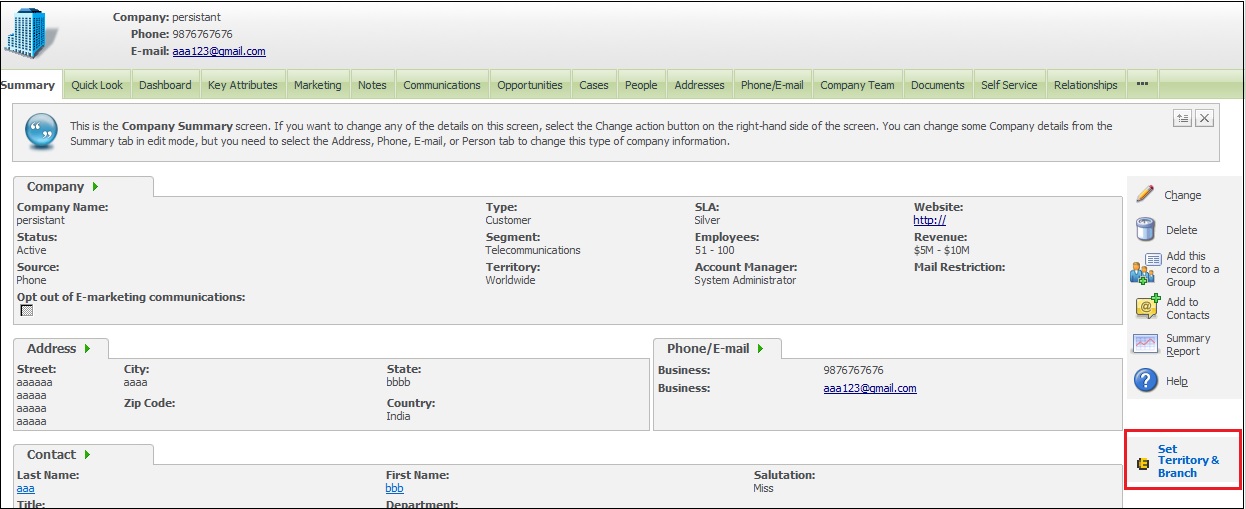 Unless, company record is updated with Territory and Branch sales user won't be able to progress Opportunity or Lead workflow. Similar, to this workflow can also be enabled for Person Entity.
To enable workflow for Companies, we have to first navigate to below path from where we enable workflows for other entities.

Now, as we have enabled workflow for companies we can design our own workflow and can make use of CRM more efficiently.
Also Read:
1. Sage CRM 7.3 – Introduction of New Opportunity Workflow
2. Merge to PDF through workflow in Sage CRM 7.3
3. Restrict Access to Workflow Rules based on Teams
4. Hash fields in Workflow Execute SQL Statements
5. Hide Tracking Note field while progressing workflow