Customer information is the most important key in every business. The more you know about your customer, you will be in better position to serve him and pitch the product effectively. It is very helpful for Sales user to get overall idea about a customer and would be beneficial if it is available in just one click.
Well, if we have a solution which is integrated with Sage ERP then that customer information will also include financial statistics.
New Post: Introducing workflow on Company Entity
In CRM-ERP integrated systems, there is a process of Promoting Customer into Sage ERP application. Once we promote or Sync customer then few additional tabs with relevant financial information appears against a Customer. The data in these tabs are more informative for a Sales user to interact with customer.
In this blog will see what information a tab named as "Customer Statistics" provide us.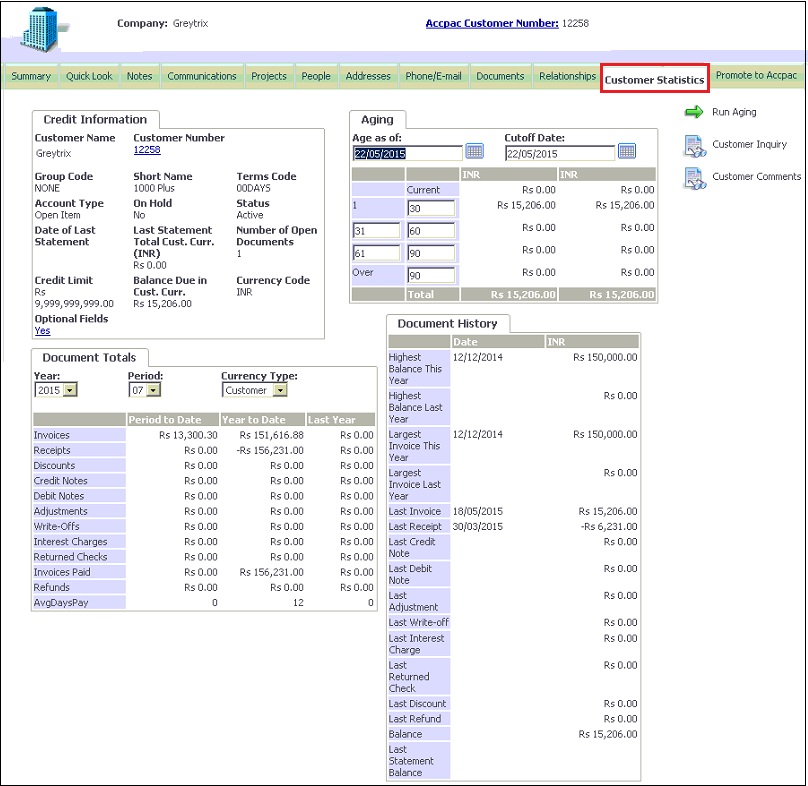 As displayed in above screenshot, there are different sections available which will walk through us with the statistics of customer. Let's go through one by one.
1. Credit Information:
This section will give us an idea about credit information of customer. Like which Group code or account type is associated with customer. Is the customer is on hold or it is in active state. Date of last statement, its amount and how many open documents are available against customer. Also, it gives us an idea about Credit limit of customer, which currency he is using etc.
2. Document Totals:
This section will give us overall idea about transactions done for customer. Like how many invoices we have raised against this customer, how may receipts we have received, discounts given, credit notes, debit notes, adjustments, refunds invoices paid, etc. information will be available in this section.
3. Aging:
This section will give us the information of transaction done for customer period wise in backward manner. Like if date is selected as current date then it will show the transactions made in last 30 days period. Like this, it will display transaction details for 31 to 60 days, 61 to 90 and over 90 days.
4. Document History:
This section will give us the overall idea about transaction history about last year and current year. Like Highest balance this year and last year, Largest Invoice this year and last year, all Information about last transaction. For e.g. Last Invoice, last receipt, last credit and debit note, last statement balance etc.
Through Customer Statistics tab, Sales user can quickly review the Customer statistics and approach the customer effectively.
Related Posts:
1. Customer Dashboard with LinkedIn search
2. 360° Customer View on Sage CRM Interactive Dashboards
3. Promote Customers from Sage CRM to Sage 100 ERP
4. Boost Knowledge Base with Download links in Customer Portal
5. Save time with Case Suggestions on Customer Portal