This blog is in continuation of previously written blog where I have explained how to capture target audience from website and convert it into Lead in CRM. You can refer the detailed explanation in the post mentioned below.
Related Post: Capture your target audience effectively
I had explored the basic lead information which CRM enables you to capture through web pages in my previous blog. However, CRM has allowed to customize this feature like any other to make it more user-friendly and efficient through business point of view.
One such ultimate provision which I recently discovered is that CRM enables you to add selection fields on the Web Page relevant to the business goal the prospect holds for logging an enquiry on the website.
Customizing your Lead web page is similar to that of creating new screens in CRM, as explained below –
1. Navigate to Administration | Customization | Lead.
2. Click on Screens tab
3. Click on the Web Lead Screen hyperlink.
4. Browse the essential Field name from the list of fields, add it to the screen and save.
5. Now navigate to Web to Lead tab.
6. Click on Web Lead HTML button.
7. A pop up will open with some HTML code in it.
8. Copy that code and paste it in a text document and save it as html page. Let's say WebtoLead.html.
9. Now that you have html page, just host this page into your website so that it can be accessed by your audience when they browse through your products/catalogues/details etc.
10. Once this page is clicked. That user will be able to see form like the one I have shown below. I have hosted this page on my local system.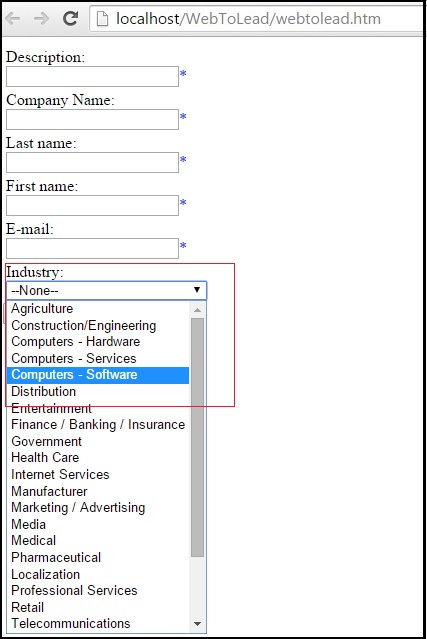 Through the above snap shot, I have tried to capture the Prospect's industry details. In similar way, you can make various other selection fields listed with relevant options to capture details such Products client is interested in, segment etc.
This way you can improve your sales to a greater extent using Sage CRM.
Also Read:
1. Effective use of CPQ (Configure Price Quote) in Sage CRM
2. Unexpected event on converting Lead to Opportunity in Sage CRM 7.3
3. Importance of CRM and ERP Integration
4. Wrapper error in Sage CRM – Part 2
5. How to avoid filing of Junk emails in Sage CRM