Sometimes it may happen a Case is assigned to a User and User has not attended on time leading to Customer dissatisfaction.  Sage CRM provides a powerful feature to avoid such blunders and escalate Users with notification on time that they have Case assigned to them to look for.
New stuff: Clone Sage 300 Quote functionality from Sage CRM Quotes tab of Opportunity
Escalations in Sage CRM can be used with a number of ways of controlling user work processes and data tasks. It can be used for notification purpose and escalate an issue to superior if not responded on priority. Now in this blog we are going to discuss Escalation Rules and Configuration in Sage CRM.
Escalation Rules:
Escalation rule display information on screen to notify user or System Manager about some task also helps to remind the Sales Manager or Sale User about Leads, Quotes, Opportunities and Cases.
In Sage CRM there are some inbuilt system generated Escalation rules are provided. Refer the below screenshot.



Above each escalation works, whenever the conditions are satisfied and respective output will be displayed on the system.
Few examples where escalation can be used:
1) Case: Suppose If Case is not resolved within 24 Hrs. there will be automatic Escalation takes place and Case will be assigned to some other user or Team manager. You can even set the Notification mail executed to assigned users to look into that case record.
2) Lost Opportunities: Notify the Sales Manager when a deal has been lost.
Escalation Configurations:
To set up Escalation configuration you need to navigate to the Administration| Advanced Customization| Workflow & Escalation Configuration and check where Escalation and Use Escalation Services are set to 'Yes', if not then click on Change button and set to 'Yes'. Refer below screenshot.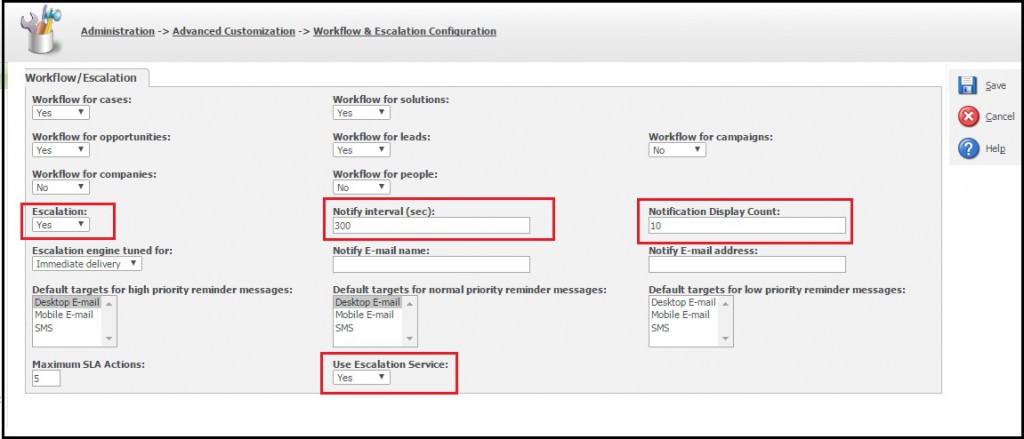 When Escalation field is set to Yes, all Escalation type rules within workflow get activated allowing notifications and reminders to send.
Notify interval (sec) field value represents the minimum interval (in seconds) between the server polling clients for notification reminders or run the escalation rules.
Notification Display Count: We can enter the count of number of notifications that can be displayed on screen so that user will only view that many notifications on screen.
Use Escalation Services: By default this option is set to Yes. If set to YES the CRM Escalation Service
is used to run escalation rules.  Also you need to ensure Sage CRM escalation engine is running by navigating to Control panel| Administrative Tools| Services. Refer the below screenshot.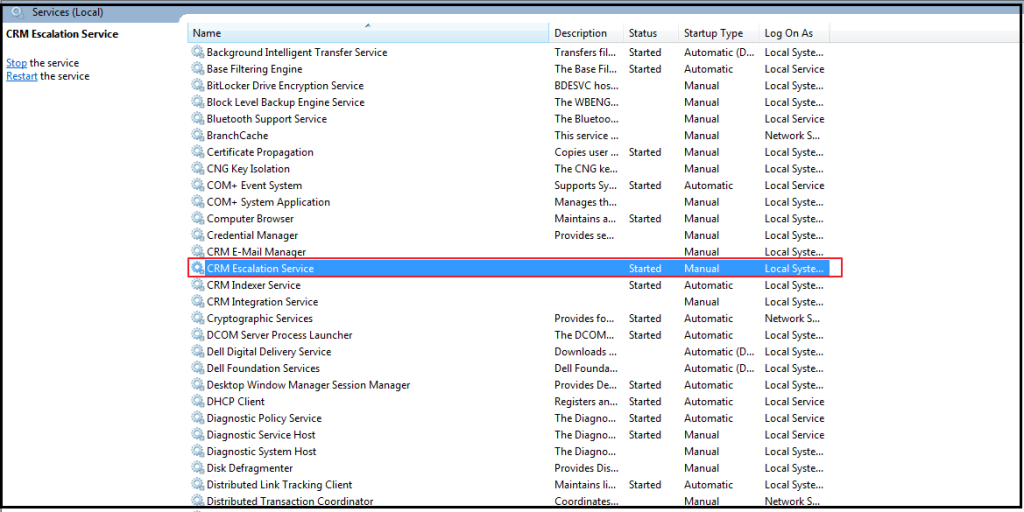 If this option is set to No, then the escalation rule to execute someone needs to be logged on to CRM.

About Us
Greytrix is one stop solution provider for Sage ERP and Sage CRM needs. We provide complete end-to-end assistance for your technical consultations, product customizations, data migration, system integrations, third party add-on development and implementation expertise.
Greytrix has some unique integration solutions for Sage CRM with Sage ERP's (Sage X3, Sage 100, Sage 500 and Sage 300). It also offers best-in-class Sage ERP customization and development services to Business Partners, End Users and Sage PSG worldwide. Greytrix helps in migrating to Sage CRM from ACT, Goldmine and other CRM's.
For more information on our integration solutions, please contact us at sage@greytrix.com. We will be glad to assist you.

Also Read:
1) Use Escalation Rules for Birthday and Anniversary wishes
2) Feature to Control Escalations in Sage CRM 7.2 and 7.3
3) Default Escalations in CRM 7.3
4) Tuning Escalation Engine
5) Cloning an Escalation Rule