Sage CRM's inbuilt Reporting tool is one of the prominent features which have helped the people relying on CRM for data management to project or represent the data in the desired format. The wide collection of Reports available within CRM has made it easy for the CRM users to extract the data in different formats based on various different conditions or criteria. Apart from this, Sage CRM has even provided with Summary Reports for system entities such as Company, Person, Opportunity and Cases that helps with the quick overview of the account information just by a single click.
New Stuff: Troubleshooting an error message 'Company CompanyEntity UpdateRecord jscript error' using GUMU™ integration
Though Sage CRM has come up with the flexibility to mould and design the Reports based on the business requirements with the help of SQL views and conditions; it is also possible to change or modify the look and feel of the Summary Reports and PDF reports in Sage CRM. In this article, we will share few of our understandings that have helped in customizing the Summary reports.
To fetch the Summary report of a company record, follow the below steps –
Go to the Company Search screen and find and open the Company record or Open any of the company record from the Recent list.
Click on Summary Report button.
Report will be displayed as shown in below screenshot –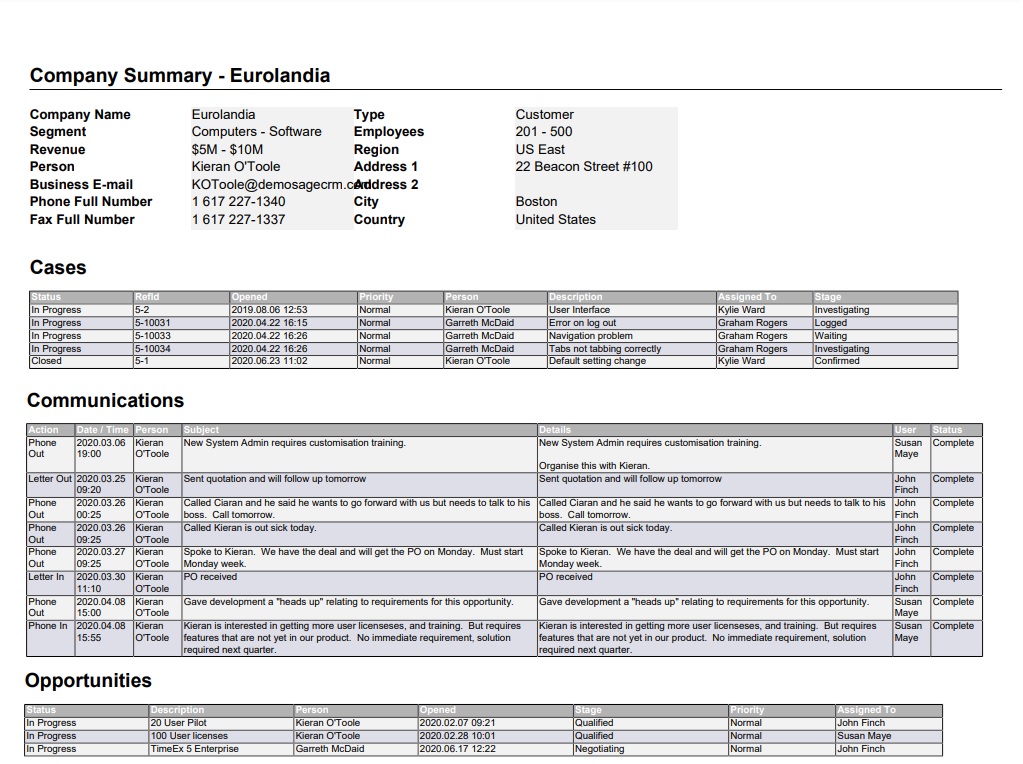 To add or to graphically represent the data in the form of charts in these summary reports, you can follow below steps –
Navigate to the path Administration -> Customization -> Company
Click on the Summary Report tab.
Edit the desired entity section; you need to add/enable charts for. In our example, we are proceeding with Cases.

4. Enable the Chart settings and Save.

Apart from this, the data for each of the sub reports Communications, Opportunities and Case is merged together with the summary data into a master XML file. Most of the structure and styling is hard coded but there are some styling changes that we can make are as explained further.
Navigate to the CRM directory – C:\Program Files (x86)\Sage\CRM\CRM\WWWRoot\Themes
Open the file ergonomic.css.
This file contains the settings that will help to alter the styling of the pdf reports based on below parameters –
COLUMN_HEADER_STYLE
DETAIL_STYLE
GROUP_HEADER_STYLE
GROUP_FOOTER_STYLE
HEADER_FOOTER_STYLE
SUMMARY_STYLE
TITLE_STYLE
CAPTION_STYLE
VALUE_STYLE
MAIN_TITLE_STYLE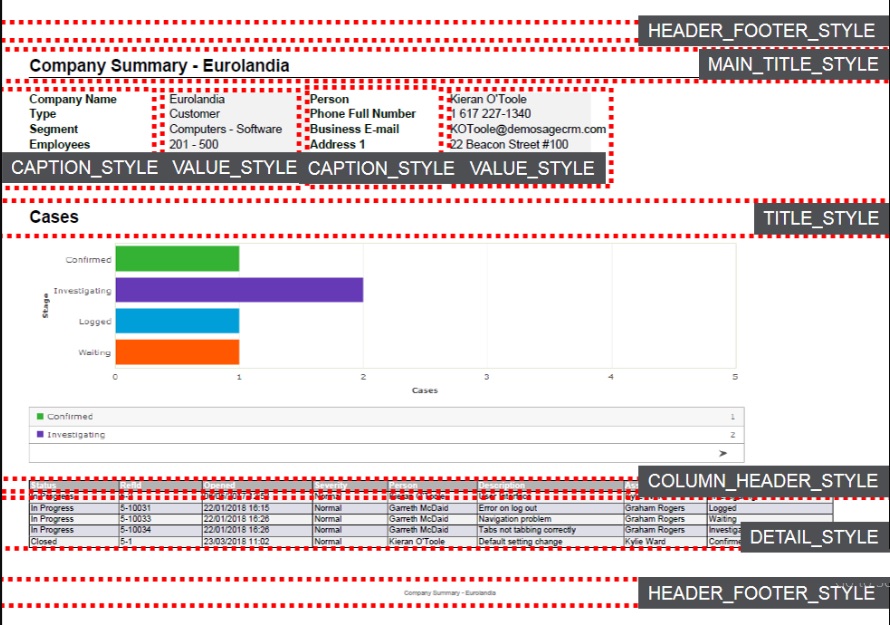 The Stylesheet ergonomic.css is loaded and cached in the memory when the Sage CRM starts up. Thus, Users can make or alter the changes in this stylesheet which will be reflected in the Summary reports once the IIS is restarted. By making such changes, we can ensure that the Summary reports can also be customized as per customer requirements, if not then as per the latest versions of CRM.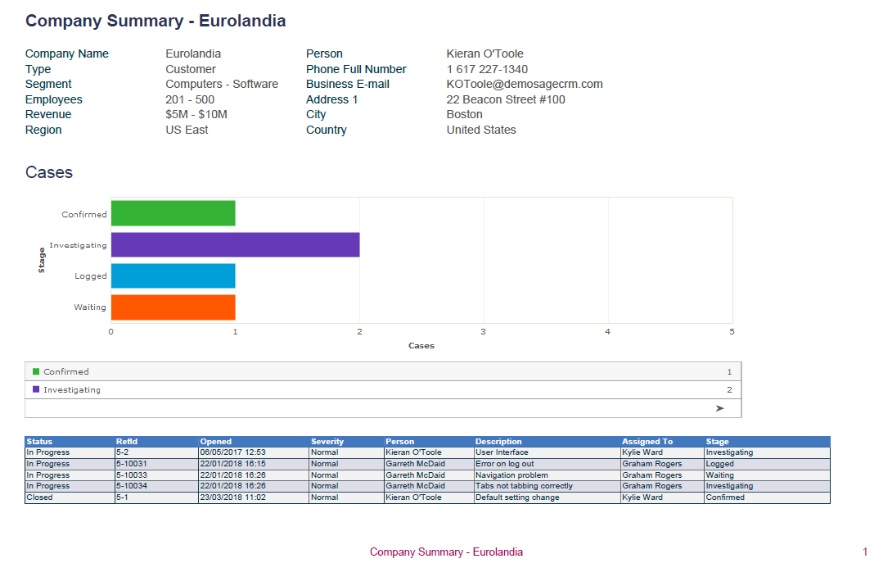 In this way, users can make an attempt of making alterations to the Summary report. However, these are very specific settings that can be changed. User should avoid adding more properties because it may clash with the settings hardcoded with Sage CRM. Please note, this will affect all the pdf generated reports and not just the Summary reports.
About Us
Greytrix – a globally recognized and one of the oldest Sage Development Partners is a one-stop solution provider for Sage ERP and Sage CRM organizational needs. Being acknowledged and rewarded for multi-man years of experience and expertise, we bring complete end-to-end assistance for your technical consultations, product customizations, data migration, system integrations, third-party add-on development, and implementation competence.
Greytrix has some unique integration solutions developed for Sage CRM with Sage ERPs namely Sage X3, Sage Intacct, Sage 100, Sage 500, and Sage 300. We also offer best-in-class Sage ERP and Sage CRM customization and development services to Business Partners, End Users, and Sage PSG worldwide. Greytrix helps in the migration of Sage CRM from Salesforce | ACT! | SalesLogix | Goldmine | Sugar CRM | Maximizer. Our Sage CRM Product Suite includes addons like  Greytrix Business Manager, Sage CRM Project Manager, Sage CRM Resource Planner, Sage CRM Contract Manager, Sage CRM Event Manager, Sage CRM Budget Planner, Gmail Integration, Sage CRM Mobile Service Signature, Sage CRM CTI Framework.
Greytrix is a recognized Sage Champion Partner for GUMU™ Sage X3 – Sage CRM integration listed on Sage Marketplace and Sage CRM – Sage Intacct integration listed on Sage Intacct Marketplace. The GUMU™ Cloud framework by Greytrix forms the backbone of cloud integrations that are managed in real-time for the processing and execution of application programs at the click of a button.
For more information on our integration solutions, please contact us at sage@greytrix.com. We will be glad to assist you.