When a customer's payment is overdue, then the customer is subjected to interest cycle based on what interest profile defined to him/her in Customer master.
Sage 300 ERP provide us an easy way to calculate/track customer's accumulated interest amount. By creating an interest invoice batch just by clicking a button. Now let us see how we can do this.
Follow the path: Account Receivable—–>A/R Periodic Processing——>Create Interest Batch.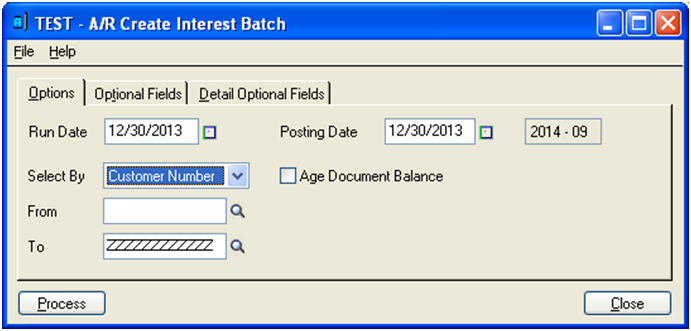 Our X3 Blogs: Sage ERP X3 – Tips, Tricks and Components
This screen lets you Create batches of interest invoices for ranges of customer numbers, customer groups, or billing cycles.
You create one batch of interest invoices at a time, but you can have as many open batches of interest invoices as you need.
Run Date:  The date which you enter here is assign as document date for all interest invoices in the batch.
Posting Date: Here you can enter the date to which you want to post interest invoice to General Ledger
Select By: There are 3 options available here.
  1. Customer Number: To create customer-wise interest Invoices
  2. Billing Cycle: To create invoices for all the customers who are assign billing cycle you specify here.
  3. Customer Group: To create invoices for all the customers who are assigned customer group you specify here.
Age Document: when you select this option program will exclude all the transaction dated after the run date.
We can also insert header level and detail level optional field if we require them in interest invoice entry.
After clicking on process button an un-posted Invoice entry will be created in AR invoice batch list. After you verify the entry you can post the entry.
In this way we can create Interest Invoices for the customers.
Also read:
1. AR Customer Receipt Enquiry
2. Customer Credit Limit in Sage 300 ERP
3. Invoice Retention in Sage 300 ERP
4. Create Write-off Batches for Open Invoices in Sage 300 ERP
5. Auto Apply Option for AR Receipt in Sage 300 ERP