There are scenarios where a user can unknowingly apply Payment and Receipt to wrong Invoices in Sage 300 and post the receipts / payments. In this case, the user needs to have the functionality to reverse the Payment / Receipt so that the Payment / Receipt can be reallocated to proper Invoices.
The New Stuff : Update Bill-To-Address and Ship-To Address on OE Order Entry Screen
By following the below steps one can reverse transaction in Sage 300 ERP.
1. You can un-allocate the posted AR Receipt by using the standard "Reverse Transactions" feature available under Bank Services-> Bank Transactions menu in Sage 300 ERP as shown in the below screenshot: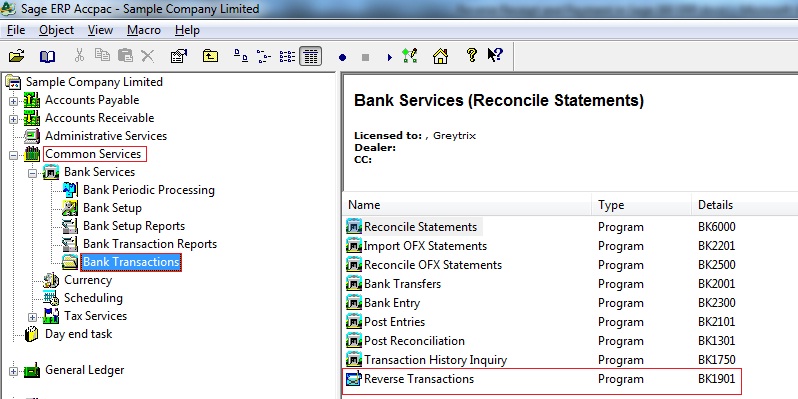 2. Using this feature, you can process the returned customer checks and credit card payments, and update Accounts Receivable.
3. You can return both outstanding and cleared customer payments that originate in Accounts Receivable.
4. When you reverse a payment that was entered in Accounts Receivable or Accounts Payable, Bank Services automatically updates the customer balances in Accounts Receivable or the vendor balances in Accounts Payable respectively.
5. Release any paid invoices and changing the status of the payment to Reversed or Returned.
Please Note : when you reverse a receipt, Bank Services creates a withdrawal entry on the Reconciliation tab in the Reconcile Statements screen.
To conclude, by following simple steps mentioned above a user can reverse Receipt/Payment transaction in Sage 300 ERP.
Also Read :
1. Reverse Transaction feature in Sage 300 ERP
2. Reverse Transactions – Receipt Reversal Transaction in SAGE 300 ERP
3. Financial Effect of Payment Reversal Transaction in SAGE 300 ERP
4. Reverse Transactions – Payment Reversal Transaction in SAGE 300 ERP
5. Reverse Batch feature in Sage 300 ERP