Sage 300 ERP provides AP Payment Inquiry screen which consolidates payment information of different types within Sage 300 ERP. This feature helps in getting all available information in Payment Entry for a specific posted document including Batch details, applied document details.
Basic information like transaction type, Vendor no, name are all available on a single form. Using only Payment Inquiry form you can view the payment details irrespective of the transaction type. (Pre-Payment/Payment, etc.)
New Stuff: Print Instructions in Sales Invoice Report
One screen gives the entire information about the payment entry done. If you want to view all the payments made from a selected bank, or need information about any payment, all can be obtained here. You could further drill down from a selected payment on the list to view the original payment in the Payment Entry form.
To navigate to the Payment Inquiry form:-
Go to Accounts Payable –> A/P Transactions–> Payment Inquiry.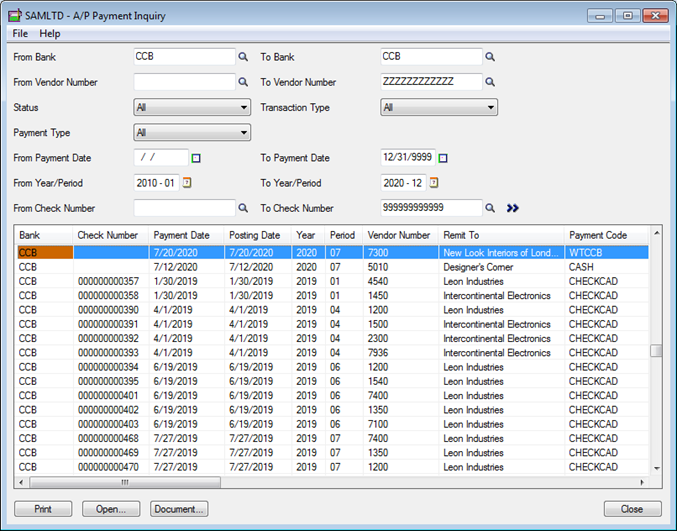 Selection criteria available are:-
• Bank or Vendor Number.
• Status – All /Outstanding/Cleared/Reversed
• Transaction Type – Payment/Pre-Payment/All
• Payment Type –Cash/Credit/Cheque/Other/All
Apart from this, selection is also available on date, period and cheque number also.
The Document button displays the details of the Original Payment voucher; the open button enables you to further traverse through the entry.
Also Read:
1. AP-GL Integration
2. Account Set wise Filter in AP Aged Payable Report
3. Default Settings for Accounts Payable Payments in Sage 300 ERP
4. Purchase Register Report
5. AP Vendor Ledger Report for Sage 300 ERP