Sage 300 has a report which gives detailed information about all the outstanding AP transactions, overdue documents or balances of vendor. This report is called as Aged Payable Report in Accounts Payable module. This report allows you to specify filter on Vendor Groups; Account sets etc.
Sage 300 ERP allows users to change the vendor Account Set while creating AP Transactions (Invoice/Credit/Debit Note). When you filter AP Aged Payable report on the basis of Account Set, report will still print the data on the basis of Account Set from Vendor master.
We have customized the standard report to filter data on basic of Transaction Level Account Set.
Greytrix Sage CRM Blog :  Quote/Order is Read Only message in Sage 300 Sage CRM integration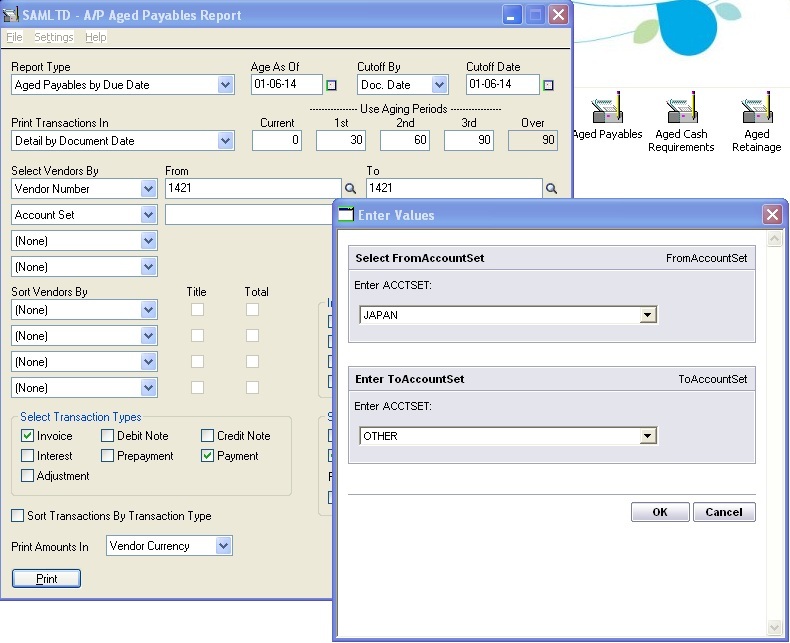 This report allows users to print the Aged Payable report filtered on account set at transaction level v/s standard report which honors only "Vendor" account set.
Contact us at accpac@greytrix.com if you would like more information on the same.
Also Read:
1: Default Settings for Accounts Payable Payments in Sage 300 ERP
2: Recurring Payables in Accounts Payable module of Sage 300 ERP
3: Error in AP Payment While Applying Document
4: How to Pass AP Revaluation entry in sage 300 ERP
5: AP Vendor Activity in Sage 300 ERP