Yes this is as same as we do cycling for our good health. Billing cycle is good for a company's revenue generation. It would be great for any company to receive payments from customers on time. Before I move further to discuss the topic, let us have a look on what is billing cycle in a business?
I reckon this billing cycle is the interval of time during the business transactions of a business where bills are prepared for selling the goods or services or both. A billing cycle is recurring and is most often set to repeat on a monthly basis. If I consider an example, I would say a company may send bills out on the first day of the month for services provided the previous month.
It could be weekly or bi-monthly as well. That depends on the business processes. Through a billing cycle, companies look after the billing to the parties.
Now bringing SAGE 300 erp, there is an option to create bailing cycles at master level and link with customers. Why to do so? Because by doing this we will know the previous and coming billing information as well as the revenue from a particular customer or customer group.
In Sage recurring cycle also lets the customers know when they can expect to be charged. Here is the window for billing cycle in sage 300 ERP.
How you reach there is A/R module —–>A/R setup—-> Billing Cycles.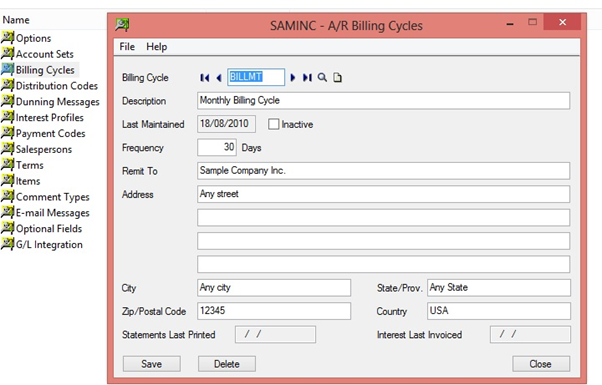 IF you would like to see how many billing cycles have you created so far then click this finder as shown in image below.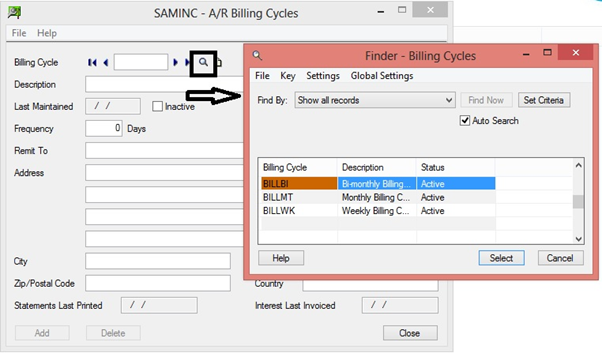 Now what after creating all these billing cycles in masters? You need to link them while adding a customer. There you go under processing tab.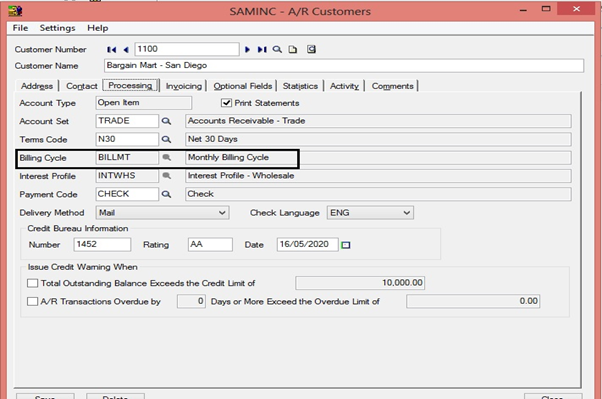 SAGE 300 erp let you keep the track of billing dates.
You can use billing cycles to invoice interest and issue statements to selected groups of customers at different frequencies. For example, you may process some customer accounts on a monthly basis, and others quarterly.
Accounts Receivable keeps track of the date when you last printed statements and posted interest invoices for each cycle.
So, you must make a billing cycle for your customers. It is as important as every big opportunity. Payment from customer on time makes you grow. Billing cycle let you send bills to customers on time to receive such payments
Also Read:
1. Delete Inactive Records in Account Receivable
2. Account Receivable Transaction Reports in Sage 300 ERP
3. Order Entry Reports in Sage 300 ERP
4. Copy Order Functionality in Sage 300 ERP
5. New Features in Accounts Receivable Module of Sage 300 ERP 2012