In Sage 300, we have a feature to maintain Accounts Transaction in Batches. By using Batch system we can easily track the date wise Transactional data in system.
We have following Accounts Receivable Transactions in Batch system.
Invoice
Receipt
Adjustment
Refund
New stuff: Transaction date in G/L Posting journals report
All the above transactions contain data in Batch format. One Batch can have multiple Entries. Also we have provision to see Transactional total along with Batch Number and Batch Status.
For knowing the status of each batch we need to print one simple report which is Batch Status Report.
Path: Accounts Receivable -> A/R Transaction Reports -> Batch Status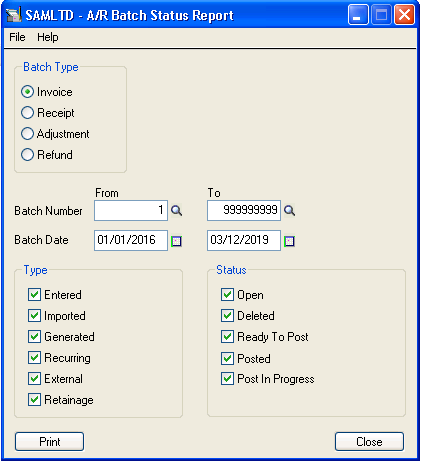 By using this feature we can generate report which help user to understand the Batch status.
We have different filter criteria to pull out exact report through system.
Batch Type – This will help user to identify Batch Transaction Type.
Type – This will help user to determine how the batch is made. (Ex. Through Excel Import, Manually Entered etc.)
Status – This will help user to determine required Batch Status.
Batch Number – This will help user to print specific Batch. We can also provide range of Batch number.
Date – This will help user to print report with specific Date period.
Same feature will applicable for Accounts Payable to generate Batch Status Report.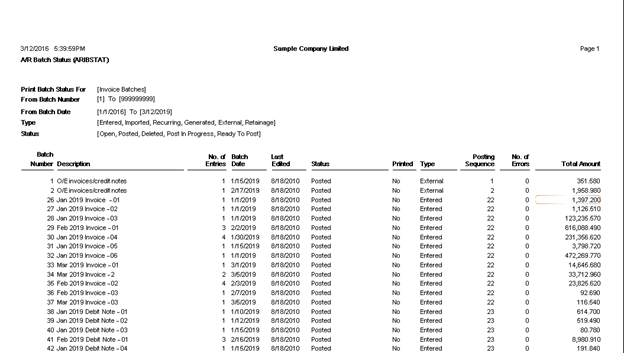 Also Read:
1. Accounts Payable Batch Status Report
2. Account Receivable – Invoice Sales Split Tab in Sage 300.
3. Setting up Salesperson Commission in Sage 300 ERP
4. Account Receivable – Creating Summary Invoice in Sage 300