The deposit status report of SAGE Accpac includes all deposits (including transfer) to a bank account, and also for a range of bank accounts, for a specified period.
To print this report follow the steps mentioned below:
The New Stuff : IC Location Details Quantity Enquiry – Error
1. Open Common Services > Bank Services > Bank Transactions Reports > Deposits Status.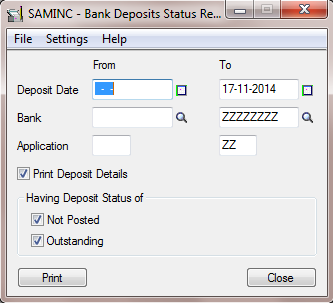 2.Select the range of deposit dates, banks, and applications (sub ledgers like AP, AR) to include in the report.
3.Select the Print Deposit Details option if you want to include details of each individual receipt on the report.
4.Select the statues of the deposit you want to include on the report.
5.Click Print
Below is the screen Shot of the report, it is printed including the deposit status of Not Posted & Outstanding.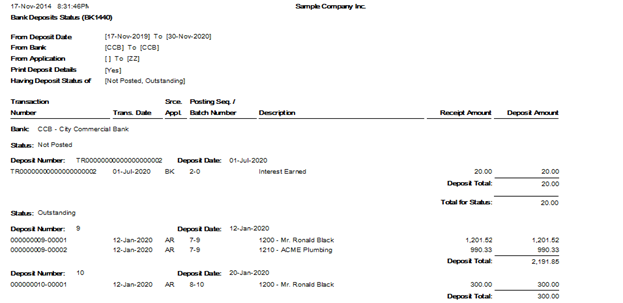 Information printed for each bank
Deposits are grouped and totaled by status in the functional currency of the bank.
Totals are given for posted batches and batches.
If a deposit is not yet posted, zeroes appear in the field.
A summary by the bank at the end of the report gives both functional and source totals for each deposit currency.
If you have selected the Print Deposit Details option, the report includes details for all deposits that have deposit dates in the specified range.
If you did not select the Print Deposit Details option, only summary information (for example, deposit totals) appears on the report.
You can print the report to maintain an audit record of all deposits that have been printed by sub ledgers. This report is also helps you to view the deposit information for a posted reconciliation.
Also Read:
1.  Deposit Register
2. AR Deposit Slip & Daily Collection Sheet
3. Clearing Deposit one by one in Bank Reconciliation
4. Contra entry Report in Sage 300 ERP
5. Reverse Transactions – Receipt Reversal Transaction in SAGE 300 ERP