When it comes to progressing workflows, updating values in any entity of CRM Tracking is very much necessary. Being business software CRM handles very delicate data and we cannot afford anybody to just go and change anything. Hence the Tracking functionality has been provided by SageCRM out of the box.
The New Stuff: Checklist for installing GUMU for Sage CRM – Sage 100
Now the question is how easy or difficult or easy it is to track the custom fields that I create. Well, the answer is "Not that difficult!" Here is how!
I have created one custom field named as "Score" at opportunity level. This field calculates scores based on certain condition for that particular opportunity whenever it gets progressed.
1) I created same field with same name on "OpportunityProgress" entity. While creating the same, SageCRM will display warning message like "Column name already exist on another table".  This warning is nothing but the CRM is about to create Mirror Image of the same field on different table. So, ignore this and click on "Save" button. Refer below screenshot.

2) New step is to add the same field on "OpportunityProgressList" in order to display on Opportunity Tracking Tab at an Opportunity level.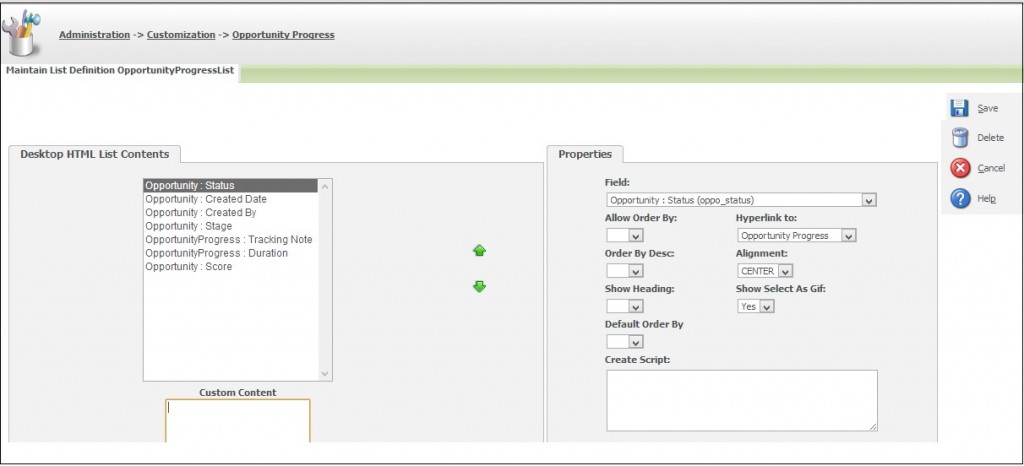 3) Once you are done with the same, you can see this on Opportunity Tracking Tab under Tracking List. Refer below screenshot.

Also Read:
1) Historical Reports – Opportunity Closing History
2) Creating Order with existing Opportunity in GUMU Integration
3) Lead to Opportunity Fields Mapping
4) Floating pipeline to track Opportunity lifeline on Summary Screen
5) New Case/ Opportunity Action and Workflow Activation in Sage CRM