In our previous blog post, we have explained customizing of Outbound Call List. Refer below link for more details. https://www.greytrix.com/blogs/sagecrm/2013/10/14/customizing-outbound-call-lists/
In this blog post, we will explain customizing of Person List that appears when user clicks on 'Get a Call' button.
New Stuff:  Adding Documents Tab to Leads in Sage CRM 2014 R2
Get a Call button on the Outbound Call List of My CRM allows user random calling option to group of people who are selected into the Campaign Wave Activity. Random calling behavior of Get a Call button functionality can be customized to call a person of choice.
We have customized the Wave Activity Summary screen with Person List button on the screen as shown below.



Selecting Person List button will open a Pop up screen and will allow the user to search for a particular person from the Person Group attached to the Campaign Wave Activity. User can select the Checkboxes added into the Grid as shown below.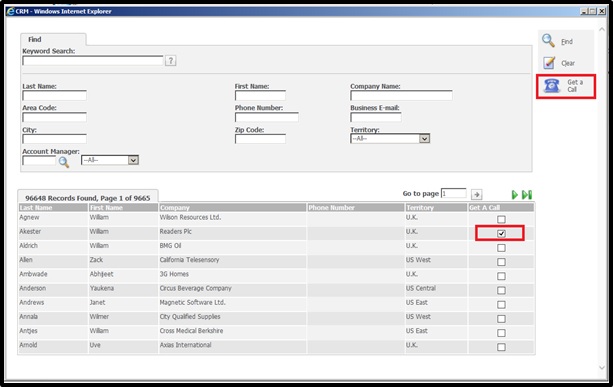 On selecting a person from a list and clicking on custom Get a Call button, a call to the selected person will get initiated. User can also use other Standard buttons that are on the Wave Activity Summary screen.
Using our customized add-on, Order of Calls on Outbound Call List can be maintained.
Also Read:
1) Show Campaign/Wave Activity in Communication screen
2) Open Sage CRM Tabs in New Window
3) Access violation error on Calendar screen
4) Increase number of records in Search Select Advanced field
5) Change the way Sub-Menus pop out in SageCRM