The dashboard is a highly-customizable workspace where you control what information you need to see to be effective in your job. We can create multiple dashboards and gadgets by choosing the feeds, workflow, and actions you want to drive from your workspace, or select predefined gadgets and dashboards from templates.
In this blog we will see how we can assign a Users to a dashboard, so that he/she will able to see the dashboard which will help to him/her to access information on single click after login into CRM.
New Stuff: Features to manage Images through Sage CRM – Part 3
We can achieve this as follows-
1) Click on Template, select Dashboard Template.



2) Click on New and enter details in Properties section i.e. Type, Name, Description, Category and then Save. Add Gadgets accordingly.



3) Go to Dashboard Template. You will find template created by you in respective category. Select dashboard you want to assign users to.
4) Select the Assigned Users tab, click on Assign button to populate list of Users.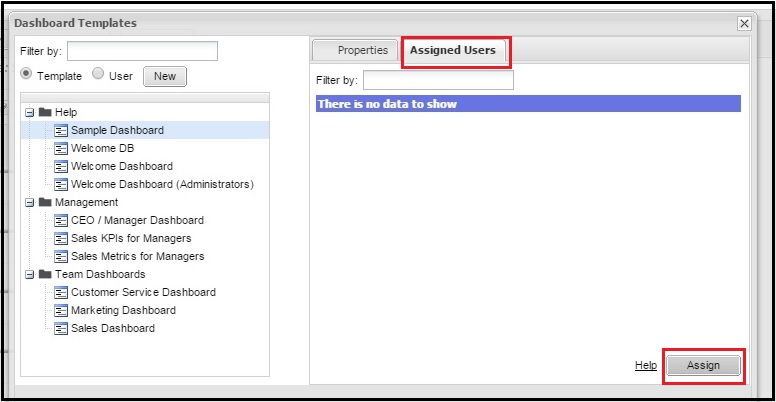 5) Select the check box next to the user and Save.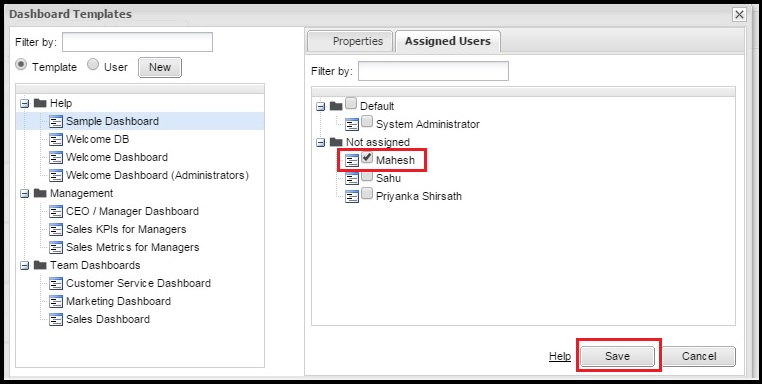 Now, when that user access his CRM account then he/she will find the dashboard which their respective data available.
Also Read:
1) Display Logged in Users List in Sage CRM Dashboard
2) Add Calendar Gadget in an Interactive Dashboard in Sage CRM
3) Dashboard and Real time Inquiry information
4) Progress Opportunity through Dashboard
5) Actual vs Target Meter Dashboard Year wise