Save the dates as the Sage Partner Summit marches your way to welcome you at the 2023 edition.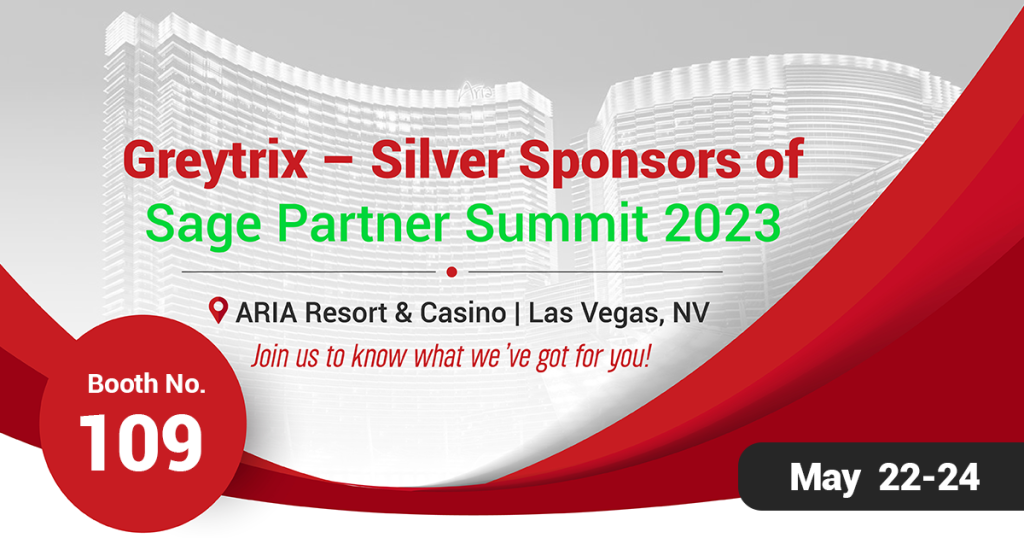 Las Vegas is set to create a Sage ecosystem for businesses and partners from 22nd – 24th May 2023, to gain insights, share knowledge, and learn about the latest product strategies/developments. As one of the proud silver sponsors, Greytrix is thrilled and excited to be a part of it. Take a visual tour to understand what Greytrix brings to the Summit.
What to Expect from Sage Partner Summit 2023

Sage Partner Summit 2023 is coming to make it even bigger than the last ones. After the previous edition was hosted in Dallas, the current one moves to the west in Las Vegas, NV. With an aim to make it 'big and bold', the event is focusing on providing a more productive environment for Sage representatives and businesses. In the span of 3 days, there will be multiple sessions on different Sage products. The event has 50+ sponsors within different categories – titanium, diamond, platinum, gold, silver, and strategic sponsors. As a silver sponsor, Greytrix is keenly awaiting to be a part of this Sage ecosystem.
Things to Look Forward to:
– Sage Keynote Speakers
Aziz Benmalek
President, Sage North America
Mr. Benmalek is the president at Sage North America and a global business leader who is well-versed in setting the strategic vision. He is someone who has a good entrepreneurial spirit and leads with a challenging mindset, ensuring thought leadership within teams. With extensive knowledge of cloud computing, SaaS, cloud market dynamics, and hosting, he has a strong passion for the cloud services business. Furthermore, his specialization also lies in strategic partnerships, technology leadership, business execution, sales discipline, strategic vision, go-to-market strategies, entrepreneurship, and direct and indirect business models.
Derk Bleeker
President, Sage EMEA
Driving performance and transformation at Sage, Derk Bleeker is president at Sage EMEA. His key areas of specialization include Sage, along with the ERP, payroll, accounting software, and HR software.He's a diligent professional who also endorses corporate development, corporate finances, M&A negotiations, strategic M&A, international M&A, financial modeling, M&A modeling, private equity, and effective valuation as skills.
Aaron Harris
Chief Technology Officer
Mr. Harris is someone who's been associated with Sage as a CTO for more than 20 years. He brings a vast range of skill sets, with cloud computing, ERP, web services, accounting and software development, and professional services being his industry-based expertise.Furthermore, he also has extensive business skills, including leadership, , business alliances, business intelligence, vendor management, and agile methodologies. SaaS, HTML 5, Intacct, Enterprise Software, and Salesforce.com are some tools and technologies he is also well-versed in.
Eduardo Rosini
Executive Vice President, Partners & Alliances
Mr. Rosini is someone who comes with substantial knowledge and a rich experience on the speakers' panel at Sage Partner Summit 2023. In his career span of 25 years, he has worked for the tech giant Microsoft for 16 years. Today, he is associated with Sage as the Executive Vice President – Partners & Alliances.
-Three Power-Packed Days:
The 2023 edition of Sage Partner Summit is a 3-days affair that will have power-packed sessions. Day 1 will kick off with registration following pre-conference sessions, opening keynote super sessions, and neighborhood opening reception.
Day 2 of the summit will cover the keynote super session, Sage Intacct workshops, and evening event. On the third day, there will be more Sage Intacct workshops, keynote super session, a neighborhood reception, and an evening celebration event.
Catch Greytrix (Booth No 109) at Sage Partner Summit 2023
At the 2023 edition of Sage Partner Summit, Greytrix brings its Champion Integrator – GUMU™ for Sage ERP & CRM Integrations. We are esteemed Sage Partners for more than 23 years and have helped around 1500 businesses leverage the power of Sage products. We have delivered 15+ out-of-box integrations for Sage Intacct and other Sage ERPs. We also provide end-to-end consulting for Sage Intacct for various Industries. It'll indeed be an opportunity for us as Sage representatives to interact, inspire, and contribute to making the Sage ecosystem thrive and proliferate.
What to Expect from Greytrix
Integration
We are one of the highly-rated Sage integration partners in the market with over 2 decades of experience. Our integration services cover different Sage products, including Sage Intacct, Sage X3, Sage 100, , and Sage CRM. Besides, we also provide Sage integration services with third-party applications like Magento, Salesforce, and Dynamics 365 CRM.
Development
ERP development is amongst the chief specializations. We cover a range of Sage products, including Sage Intacct, Sage X3, Sage 100, and Sage 300. We extend our support to help businesses make the most out of Sage Software to ensure their operations are up and running seamlessly. Our ability to offer top-notch services at the lowest cost of ownership and the quickest turnaround time makes us a preferred choice amongst businesses in the market.
Support
We are also a proud Sage consultant with high competency. Our skilled tech experts understand your business requirements and analyze the system to provide you with the best assistance. Whether it's for development, integration, implementation, or migration, our experts will help you find the best solution for your business.
Furthermore, our Sage integration, development, and migration services are well-covered by our independent support services, including 24/7 dedicated and multi-channel support. With Greytrix, you can rest assured that our skilled experts take care of your business's technical and functional needs and deliver top-notch assistance.
Migration
Migration is a complex task, and we take pride in helping businesses achieve the complex task effortlessly. We have a dedicated team to take care of the migration needs of a business. Over the years, we have successfully migrated businesses from a variety of systems to the desired Sage platform. Our migration services are backed by successful implementation, continuous support, and tracking.
GUMU™ – the Breakthrough Connector
What makes Greytrix a preferred Sage partner is GUMU™. It is our own integration platform which can also be understood as a cloud integrator that facilitates seamless Sage integrations and migration for businesses. The best thing about GUMU™ is that it is absolutely safe, as it doesn't store data, and is an effective integration platform as it operates on a no-code basis.
Meet Our Team
At the Sage Partner Summit 2023 in Las Vegas, Greytrix will be represented by two of our thought leaders and highly-competent tech experts. So, we call out all our fellow Sage representatives, businesses, and market industry analysts to come and meet our representatives to learn about Greytrix's contribution to the Sage industry and what we have in our fold for the future of the Sage world.

Come and join us at ARIA Resort & Casino in Las Vegas and be a part of this safe space to gain insights into the contributions to the Sage world from different Sage representatives and also inspire others for a better future.