Sage wrapped its iconic Signature Partner Summit in the first week of June! An unforgettable and fun-filled week of innovation, insights, and opportunities culminates on the 10th of June 2022. Meeting old partners, building a new network, and experiencing the energy of the live crowd was a one-of-a-kind experience.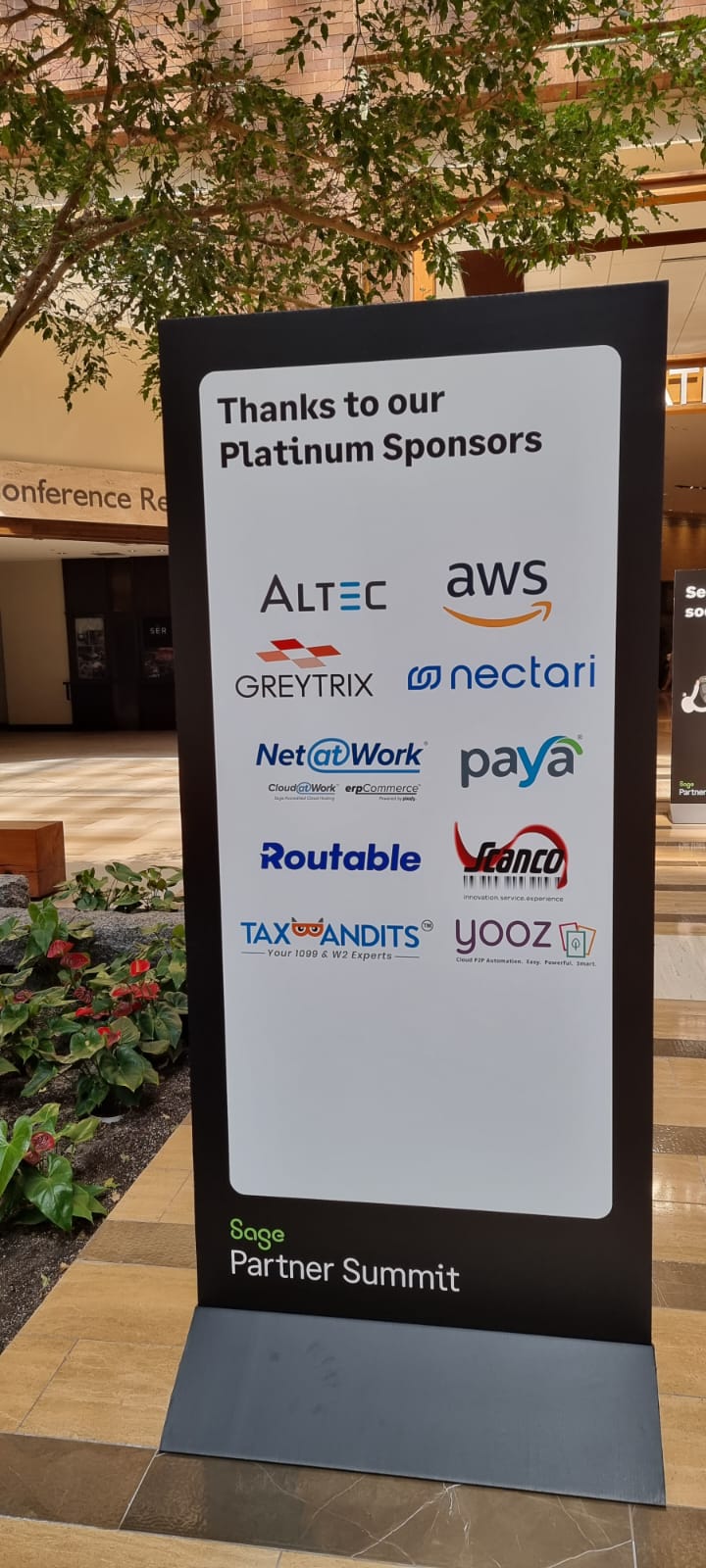 The 4-day Summit scheduled between 7th to 10th June was held at Hilton Anatole, nestled in Dallas, Texas. After two years, it was the first in-person event. Hence, the committee ensured all safe practices of wearing masks, sanitizers, and color-coded buttons to define proximity levels and ensure social distancing. The Summit witnessed an enthralling 1500+ partners from across countries, insightful keynotes by top leaders like Rohit Bhargava, Mark Jeffries, and Scott McKain, and dynamic sessions by Sage leaders like Aziz Benmalek, Derk Bleeker, Aaron Harris, Amy Lawson, Stanimira Koleva, Nancy Teixeira, Luc Mathiot, Dan Miller, Rob Sinfield, Oliver Clark, Harry Davies, Cathy Powell, Sally Moore and Cadence Willis from Sage Foundation. The days were strategically divided to highlight Sage's new avenues and opportunities for Partners to Build with Sage to enhance customer value, Connect with peers and customers and Deliver targeted results in FY22.
Greytrix, an esteemed development partner of Sage for 2+ decades now, was also one of the Platinum sponsors of the Summit. The Sage Partner Summit was an excellent opportunity to showcase our cutting-edge products and recent developments, catch up on industry news, and witness thought leaders from varied domains. Don't worry if you missed the event, as we bring details straight from the event for you to get a bird's eye view.
Get set on a virtual tour of the event with the video:
Keynote sessions
The keynote speakers set the stage on fire. With profound expertise in their respective fields, the speakers were ready to thrill the audience with their insights, anecdotes, and industry knowledge.
Mark Jeffries – The Summit started in high spirits with Mark Jeffries' Super keynote session. With his wit and powerful keynote, he had the audience at the edge of their seats.
Rohit Bhargava – It was an absolute delight to have Rohit Bhargava highlight key and non-obvious marketing lessons in the most lively and entertaining ways.
Scott Mckain – He took everyone at the Summit by storm with his powerful strategies for standing out from the competition.
Powerful Sage Leaders
With a strong vision of Build Connect and Deliver, all the sessions and panel discussions by Top Sage leaders focused on building an inclusive and growth-oriented ecosystem. Its goal is to consistently deliver maximum value to the customer while adapting to modern and changing technology.
New Technology and innovation
Sage's CTO Aaron Harris highlighted the new and inclusive technology strategy that will move forward to include blockchain technology, AI, and ML. This flexible virtue flows into Sage's brand value, and their new branding is a testimony of the same.
Workshops
The Summit hosted 150+ tech and solution-driven workshops and product sessions to build more robust and conducive ecosystems. The partners featured their products and developments through insightful sessions in innovative ways to demonstrate their stature and reach customers better.
Fun time at the neighbourhood

The neighbourhood was bustling throughout with partners, speakers, and sponsors. It was one fun place with lots of activities, insightful discussions and innovative solutions.
5K run organized by Sage Foundation
Following their ritual, Sage foundation organized a 5K run for all their partners to raise funds for Rise Against Hunger. To knock down barriers and provide everyone with a conducive environment to grow, Sage Foundation always offers its partners with opportunities to contribute to the social good.
Our sessions
We had two sessions on our robust solutions – GUMUTM and Sales Commission for Sage Intacct.
Session 1: Commissions Simplified Sales Commission for Sage Intacct
Highlights:
Sales Commission App for Sage Intacct helps streamline commission processes by automating complex calculations and adjustments
This app allows setting commission structures and rules and ensures their timely posting
The dynamic reports and dashboards enable tracking company and individual performance
Know more about App integrations through GUMU™ here.
Session 2: GUMU™ – All that you need to integrate
Highlights:
GUMU™ is an efficient, low-cost solution that enables seamless system integrations of almost all types
This native cloud platform is built using modern cloud architecture and web-based API
It enables exceptional ERP integrations with CRM, POS, E-commerce, Payment solutions, Cloud storage systems, and all your systems.
Learn more about App integrations through GUMU™ here.
Sage Platinum Club Winner
Greytrix Africa bags Sage Platinum Winner Club Award for exemplary contribution to Sage users in FY21. The winners were treated to an exclusive celebration at the prestigious AT&T Stadium, with the Dallas Cowboy legend Drew Pearson gracing the event. Read More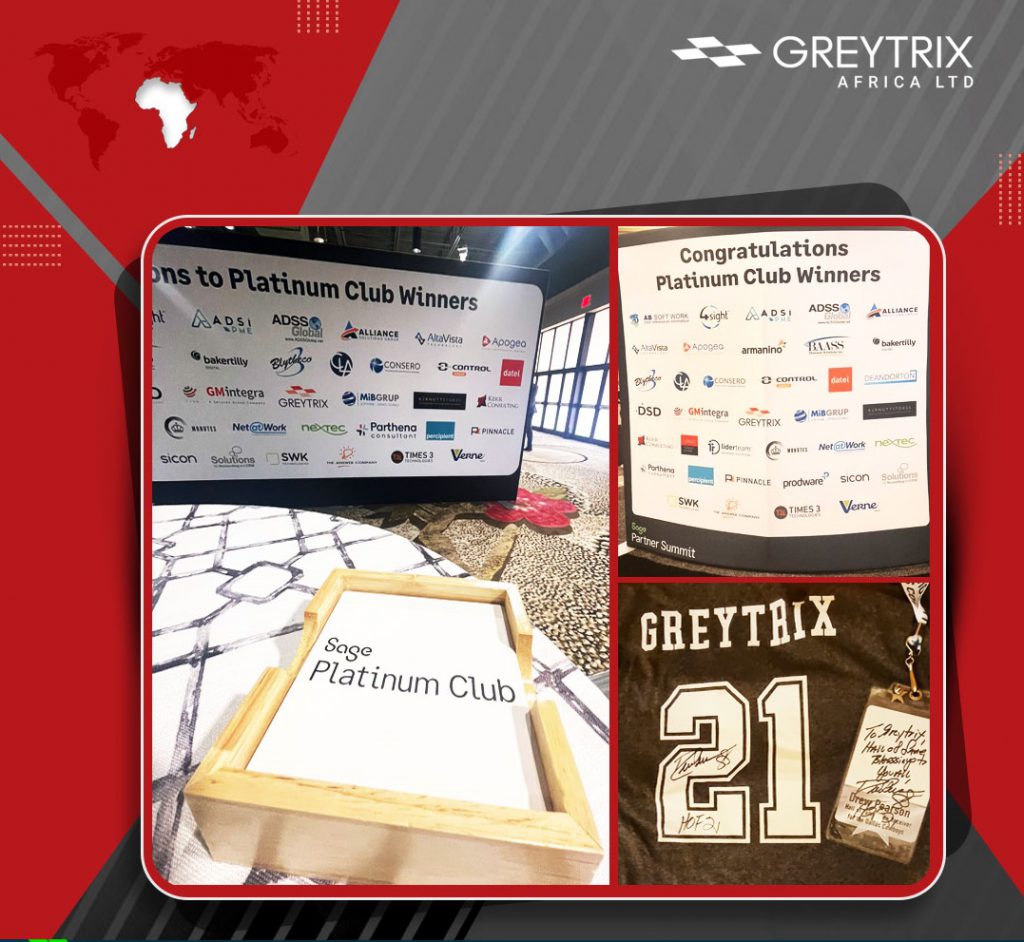 Dazzling evenings at Dallas
Sage Beer Garden l Hilton Grand Atrium
An excellent opportunity to reconnect with old peers and new friends to enjoy a relaxing evening with live music, food, and drinks.
Celebration Concert | Trinity Ballroom
The Grammy-nominated artist Walker Hayes mesmerized the crowd with his energetic performance.
About our Stall X1:
Greytrix hails with a leading experience of 22+ years as Sage Development Partners and integration experts. We enable seamlessly and secured app integrations with our one-click, SaaS, native cloud integrator GUMUTM. We brought some of our top integrations powered by our champion connector. Here, take a look:
Cutting edge ERP and CRM solutions
As we wind up the Sage Partner Summit 2022, we take back learnings, memories, and an accelerated vision to #BuildConnectDeliver with Sage!