Buckle up and be ready as a 3-day spectacle awaits to astound you with its magnificence. Yes, we're talking about the Sage Partner Summit 2023. The event is all set to be hosted in Las Vegas and is going to be bigger and bolder than ever before.
And as the event is just around the corner, we give you a quick insight into what Greytrix will bring to bewitch you all.
Greytrix is a reputed Silver Sponsor and Sage Intacct implementation and consultation partner, having a rich experience of service of more than 23 years in the Sage Industry. We always look to help businesses leverage the power of Sage products through our experience and knowledge. As a result, we always look to proffer business solutions that are a perfect mix of technology, innovation, and adequate market research.
We are very much looking forward to marking our presence at Sage Partner Summit 2023 and giving our contribution to the Sage ecosystem. So, make sure to stop by Booth 109 for all the insights, discussions, and potential collaboration.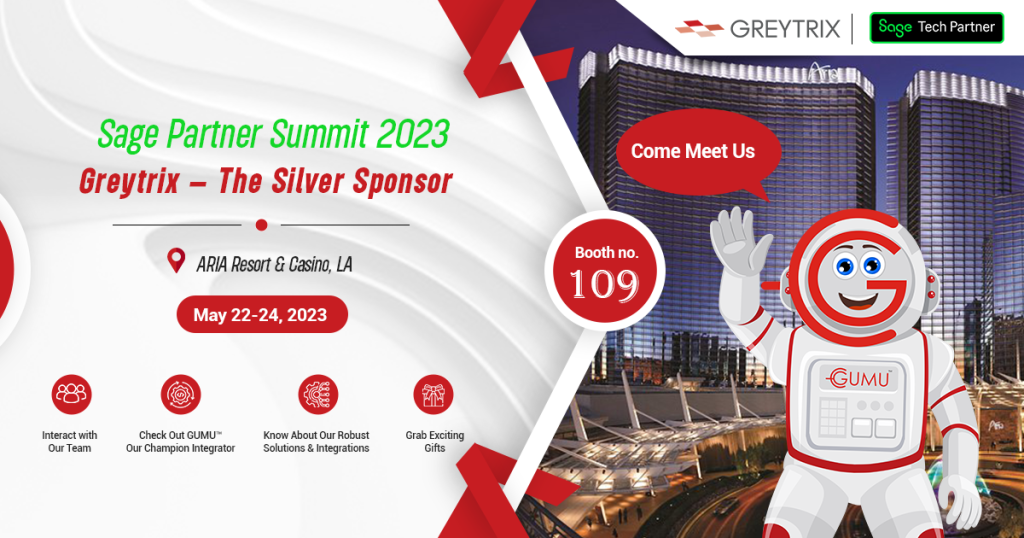 Our Team at Sage Partner Summit 2023

Our best thought leaders and techno-functional experts will be marking their presence at Sage Partner Summit as Greytrix representatives. So, make sure to visit our booth 109 and interact with them to learn about our products and solutions.

An Insight into What to Expect from Greytrix
GUMU™ – Our Champion Integrator


GUMU™ is our own SaaS-based native cloud connector that facilitates easy integrations. This champion integrator works on the concept of one-click integration with no data storage. It enables seamless ERP integrations with CRM, eCommerce, POS, FTP/SFTP, Payment Processes, Cloud Storage Apps, and other apps.

GUMU™, the breakthrough integrator, also facilitates secure migration to help business switch to Sage X3, Sage Intacct, and Acumatica from Sage 100, Sage 50 (US & CA), Sage 300, and Quickbooks.
Sage Intacct – Implementation and Consultation Expert

We provide complete consulting for businesses across various verticals like Financials, Healthcare, SAAS, Distribution, Non-profits, Global Consolidation, Distribution, and others. We ensure a hassle-free go-live process by gathering requirements and accurate implementation. With a team of certified consultants and implementation experts, we offer the best-in-class assistance to businesses looking to adapt to Sage Intacct.
Sales Commission for Sage Intacct

Our Sales Commission for Sage Intacct is a highly-targeted solution aimed at simplifying and automating complicated commission structures, right from setting the structures to calculating commissions and making timely payments. The application is natively built on the Sage Intacct platform enabling seamless operations at all times!
15+ Robust Sage Intacct Integrations

We are a highly-rated Sage Intacct implementation and consultation partner. Using GUMU™ as an integration platform, we integrate Sage Intacct ERP with more than 15 third-party applications like eCommerce (Magento, Shopify, and WooCommerce), CRM (Salesforce, Dynamics 365 CRM, and Sage CRM), POS (Treez), Payment Processes (Checkbooks.io and MediusGo), FTP/SFTP (Blackline & FTP/SFTP), others (Rent Manager and Rev.io).
A Gamut of Products and Services

Our expertise lies not only in integrations but also in development, support, and migration. Besides, we cover a range of Sage products, including Sage Intacct, Sage X3, Sage 100, and Sage 300. Apart from this, we also have BPortaly, our own IP product that streamlines business workflows by allowing organizations to manage Customers, Suppliers, Sales Commissions, and Shipping. So, we invite you to visit our booth to learn about our expertise and assistance for you in detail.
With insightful sessions, interactive workshops, keynote speakers, and whatnot, Sage Partner Summit 2023 is a safe space for Sage partners, businesses, and customers to gain insights into the industry and crucial contributions from Sage representatives. Thus, we eagerly wait to participate in the event and meet you all.
We request you book your appointment to meet or write us at na.sales@greytrix.com .
For any other queries, feel free to contact us at 1 888 221 6661.
Let's meet, connect, and collaborate!