The Sage Partner Summit is just a few weeks away. As everyone is preparing for it, we had put down a list of things that you shouldn't miss at the Summit in our previous blog. In this blog, we help you get a quick glance at what Greytrix brings to the event.
As Sage Partners for more than two decades now, it has always been Greytrix's earnest endeavour to bring maximum profit to its clients and partners through Sage's products. Sticking to its legacy, Greytrix brings a package of fun, innovative, tech-driven and targeted business solutions. As Platinum sponsors of the Summit, Greytrix is gearing up to make it big this year! If you are attending the Summit, you know where all the fun lies – Booth X1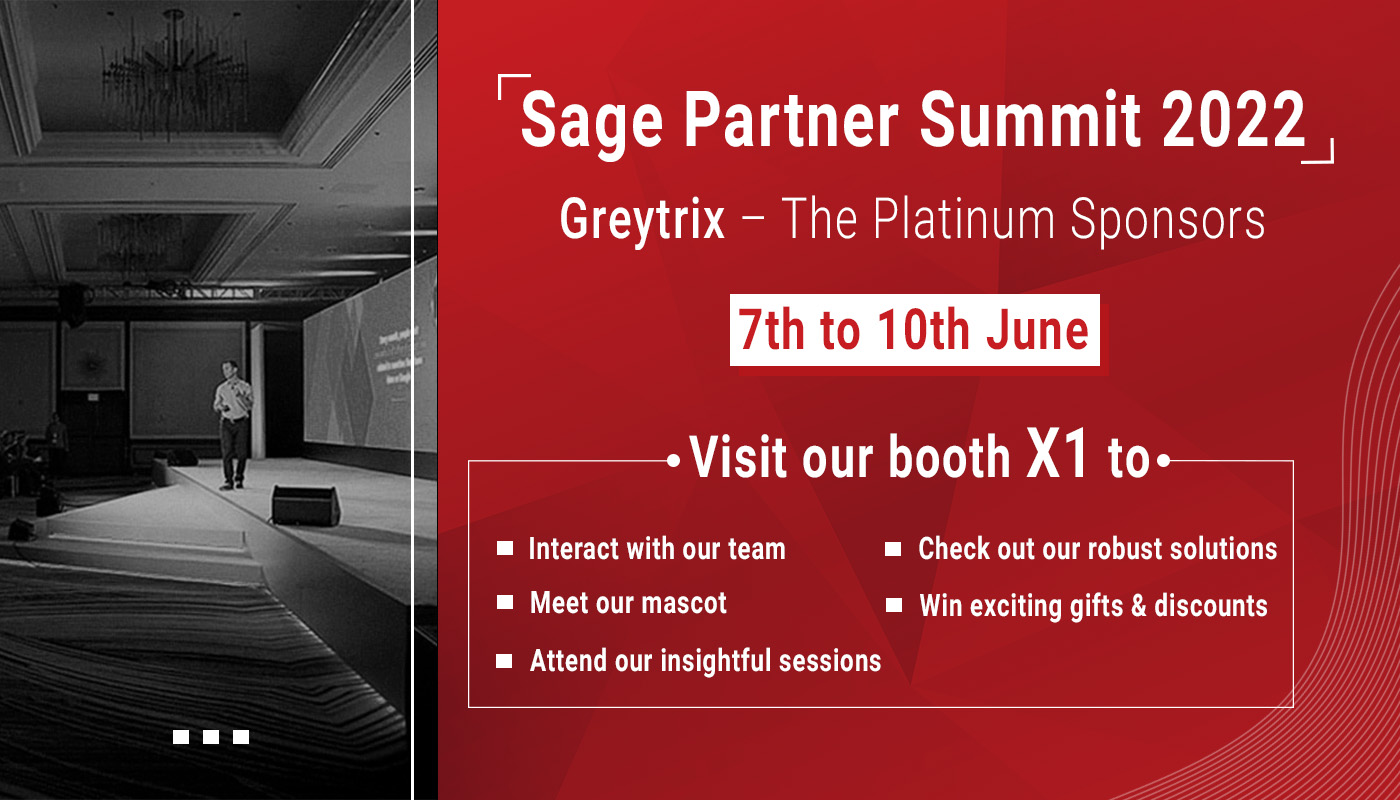 Here are top 5 things to look forward to –
Our team consists of techno-functional experts and thought-leaders. Make the most of your booth visit by interacting with our team, engaging with our products, learning about our services and take back targeted solutions for your business.
We have two sessions focusing on two robust solutions that will help your business go beyond its functionalities and have an edge over competitors.
Session 1: GUMU™ – All that you need to Integrate
Dhiraj Singh
VP – CRM & Integration Cloud
The session is a sneak peek into a vast range of services offered by our SaaS connector platform – GUMUTM. This efficient, low-cost solution enables seamless system integrations of almost all types. It uses modern cloud architecture and web-based API to interact between the systems. These powerful features allow exceptional ERP integrations with CRM, POS, E-commerce, Payment solutions, Cloud storage systems and all your other systems.
Session 2: Commission Simplified – with Sales Commission App for Sage Intacct
Pooja Singh
VP – ERP & Business Cloud
The session presents an excellent solution to handling and streamlining sales commission processes. It is built using native application platform services and enables automated complex calculations and adjustments. Set commission structures and rules and ensure their timely posting with this App. Greytrix brings various functional add-ons that help you go beyond and above the exceptional capabilities of Sage Intacct. Come join us to know more.
Along with our exemplary team, we bring a unique guest to the Summit. Meet our mascot, explore the vast universe of our products and participate in fun activities.
Our gifts for visitors are carefully curated in a way that they either represent the culture of our country or narrate a story. This year will be no different. Our gifts are a way of letting our guests take a sovereign from India as a token of our meet and interactions.
Stellar products and services:
As Sage development and integration partner for the past 22+ years, Greytrix has developed the acumen to delivering industry relevant solutions. These solutions focus on streamlining business processes through its innovative functionalities. Our services range from development, third-party integration, consultation, migration, add-on development for cutting edge ERP and CRM systems. We bring some of our best-performing products to the Sage Partner Summit to help your enterprise grow! Visit our booth X1 to explore them in-depth. While that's still a long way to go, get a sneak peek here:
GUMU™ – Our champion system integrator:
GUMUTM is a SaaS, one-click native cloud connector platform that enables seamless system integrations with almost all your apps. Through GUMUTM, we enable hassle-free ERP integrations with CRM, POS, E-commerce, Payment processes, FTP/SFTP, cloud storage systems and your other apps. GUMUTM also allows secured migration of data to help upgrade your systems to robust solutions helping them adapt to fast-paced growth of your organization. One can migrate to Sage Intacct, Sage X3 and Acumatica from systems like Sage 50 (US & CA) Sage 100, Sage 300, QuickBooks.
15+ robust Sage Intacct Integrations:
Through our powerful GUMUTM, we integrate the robust cloud ERP – Sage Intacct with third-party applications like CRM (Salesforce, Dynamics 365 CRM and Sage CRM); E-commerce (Magento, Shopify and Woo Commerce); POS (Treez); Payment processes (Checkbooks.io and MediusGo); FTP/SFTP (Blackline & FTP/SFTP); others (Rent Manager and Rev.io).
Salesforce Integrations:
With a reputable salesforce practice and providing complete range of services for development, integration, consulting etc., we bring innovative Salesforce integrations with cutting-edge ERPs like Sage Intacct, Sage X3, Sage 100, Sage 50 US.
Know more about these integrations:
Packed with multiple sessions, workshops and activities, the 2022 Summit looks promising. It is just a matter of few weeks that partners and friends from different parts of the universe will fly to witness this massive innovation hub. Come join us in Dallas and experience the tech wave!
To book an appointment to meet us at our booth X1, click here or write to us at na.sales@greytrix.com.
Let's Build, Connect and Deliver!
Important links:
GUMUTM for Salesforce – Sage Intacct Integration
GUMUTM for Sage Intacct – MediusGo Integration
GUMUTM for Salesforce – Sage 50 US Integration