Sage Partner Summit held between 25 – 27 May 2021 concluded this year with a purpose, the promise to grow #StrongerTogether!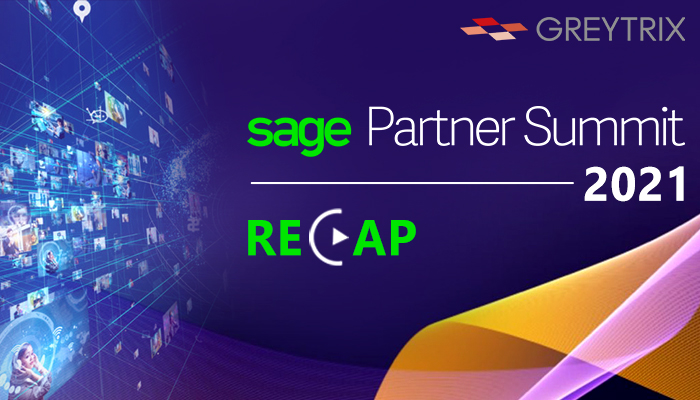 Sage witnessed around 2000 virtual attendees for the conference while the event served as a platform for the global audience to optimize their business solutions and redefine business. Amidst the vast knowledge flowing during the conference Partners were able to gain insights on Sage Intacct, Sage Intacct Accountants Program, Sage X3, Sage CRE, and Sage Business Management Solutions (Sage 100, Sage 200, Sage 300). Greytrix – one of the oldest and the largest Development Partner for over two decades and a regular sponsor for Sage events exhibited as a Featured Sponsor at the event and was among the first five registrants for the event. Greytrix also delivered a session at the event on GUMU™ Cloud:
Here are some key points from the virtual event which we have extracted for you:
Focus on Quality and Predictability
Shared Roadmap of Sage X3
Technical Advancement – GraphQL
Technical Addition- Integration API
Introduction- Automated Test Platform
Enhancement- Patch Process
Ease in Migration and Upgrade process
Focus on Cloud offerings in BMS (Business Management Solutions) systems (Sage 50, Sage 100, Sage 200, Sage 300)
Investment in Embedded AI in Vertical Depth, Core Financials & Cloud Platform to make the product strong & intelligent and expand Globally
Started new Sage Partner Cloud program (Sage accredited Hosting provider) for expanding the Cloud offerings to the users
Shared Roadmap of Sage 100

Personally Identifiable Information encryption
eInvoice payments with Paya Connect.
Reverse entire AP check run.
Lot/Serial expiration and traceability
Multiple POs on single receipt/invoice/return
Microsoft Azure connectivity API improvements
Support for International Addresses
Multi Company (intercompany transaction), Multi-Bin & Multi-Currency coming in future updates.

Shared Roadmap of Sage 300
Pay Now – Partnered with PayPal and Stripe to bring instant e-invoicing to Sage 300 Cloud.
Withholding Tax in AR & AP.
Web Screen Update – New text sizing settings
Expanded Characters Limits – Check & Deposit Number
OE Template Updates
US Payroll Enhancements
Universal ISO
Updated 1099 Tax Reporting
Improved 1099/CPRS Codes
Updated Data Integrity Checking
Updated Visual Process flow
Sage Data & Analytics
Offerings
Automates the process of collecting data from BMS Application.
Pre-packaged Data models & intuitive data modelling
Instantly analyze data and start to measure performance.
Deliver Role based dashboards.
Benefits
BI in a box
Easy to Use.
On-the-go Access
Collaboration (improve ERP & CRM deal)
Connect Multiple Data Sources
Reduce IT headaches
Being recognized for its 5-star rated GUMU™ app on Salesforce AppExchange for Sage ERP – Salesforce and Sage X3 – Sage CRM systems on Sage Marketplace, Sage Intacct – Sage CRM systems on Sage Intacct Marketplace, Microsoft 365 CRM – Sage ERP integration on Microsoft Appsource, Greytrix combines the unmatched experience and specialized skills of working across industries & verticals driving innovation to ameliorate the way businesses operate with its 30+ integration solutions.
Greytrix also had exciting giveaways at the booth with a chance to also explore what was in the Greytrix bag this year along with a session on GUMU™ Cloud. Connect to know how Greytrix can enhance your business operations with tailored solutions from GUMU™ Cloud designed for plug and play with pre-defined mappings and tailored to fit every business integration needs. Being acknowledged and rewarded for multi-man years of experience, we bring complete end-to-end assistance for your technical consultations, product customizations, data migration, system integrations, third-party add-on development and implementation competence be it any Sage ERP/CRM – Sage Intacct, Sage X3, Sage 100, Sage 300, Sage 500 or Sage CRM.
Visit to listen to the exclusive podcast by Kumar Siddhartha, CEO Greytrix elaborating on the latest technology in application Integration!
We were glad to meet our Sage business Partner friends and Sage team at the event and wish for a continued association for many more years to come.