We are just few days away form the largest and biggest Sage ERP X3 Sales Conference in Istanbul. For those joining in late here a sneak peak and more about product offerings by Greytrix to Pick Your Piece of Innovation at Sage ERP X3 Sales Conference 2015, Istanbul.
Greytrix offers an invaluable opportunity by presenting a session at Sage ERP X3 Sales Conference to introduce our product offerings to customers and partners to of Sage ERP X3: e-commerce (Magento), Salesforce.com and Sage CRM Seamless Integration connectors.These products are built on the robust GUMU framework. Our offerings have been designed keeping various business and industry needs in mind. This unique opportunity will provide a platform to build stronger business relations with your customers and will help in exploring new horizons.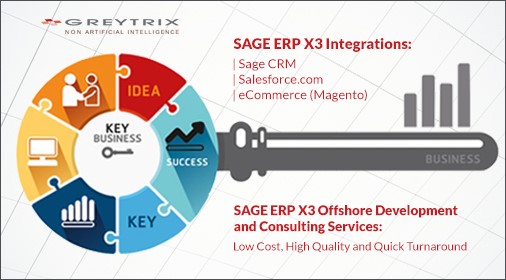 Greytrix session details at Sage ERP X3 Sales Conference, Istanbul
Date and Time: ­­­­12th May 2015 (14:00 – 14:30)
Location: Theater A – Floor M4
Session Name:  A "Best of breed" approach towards customer Interactions Interfaces by Kumar Siddhartha, Greytrix.
In this session, we will showcase how our integration solutions can help you excel in customer interactions:
* Salesforce.com Integration: It's not just about Cloud it's an experience to compliment your robust Sage ERP X3 with a leading Cloud CRM solution. Your Sage ERP X3 data in your control and accessible, anywhere, anytime in a safe and secure environment.
* e-Commerce (Magento): Sage ERP X3 and Magento eCommerce Solution integration is designed to assist businesses to manage and seamlessly integrate their e-commerce website and marketplace with back-office ERP systems performing bi-directional data synchronization in a fully automatic manner.
* Sage CRM – Sage ERP X3: We are a family. From the developers of GUMU Sage CRM which integrates Sage CRM with almost all Sage ERP's namely, Sage 100, Sage 300, Sage 500 ERP we bring the same flexible, user-friendly GUMU solution for your Sage ERP X3. The most loved feature is you have the flexibility to integrate any version of your Sage ERP X3 with any Sage CRM version of your choice and enjoy benefits of a real-time, bi-directional integration.
For everything else do Drop by at our booth no #13 
Lets walk together towards new horizons!