Today's business environment demands faster managerial decisions by holistic visualization of your enterprise information. As businesses are slowly expanding in the global space, companies from SMEs to large enterprises are opting for integrated solutions like ERP, CRM, Warehouse Management System & Human Capital Management system for simplifying their front office and back office operations – boosting efficiency, productivity and reliability.
However, business solutions with their complex and contrasting architectures make it difficult to streamline integration. To bring in seamless connectivity and automate business processes, Greytrix brings to your enterprises GUMU™ connector – that provides a dynamic ability to connect powerful solutions such as Salesforce, Sage ERP & Magento in a unique way.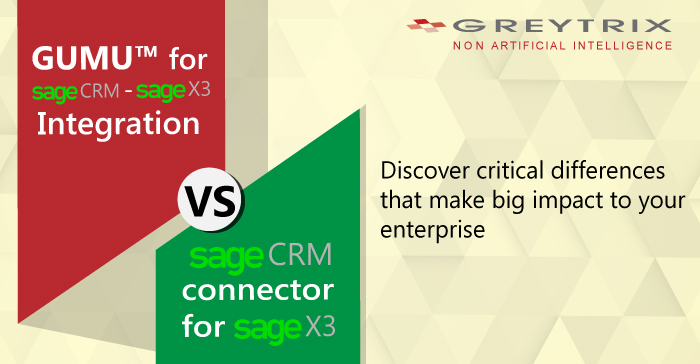 GUMU™ – a robust connector with technological enhancements, is specifically designed by Greytrix Integration experts to facilitate Sage ERP- Sage CRM integration. With over 21+ years of experience, our integration specialists have assisted in achieving maximum functionality and ROI using GUMU™ connector. The connector allows bi-directional integration between any ERP & CRM entities such as Quotes, Customers, Invoices, Sales Orders, and Items etc. providing real-time and bi-directional information across the organization.
Check Demo: GUMU™ Integration for Sage CRM with Sage X3
Key Differentiators between GUMU™ integration for Sage CRM with Sage X3 ERP & Sage CRM Connector for Sage X3 Integration:
Based on Configuration, Features, and Customizations, GUMU™ integration for Sage CRM with Sage X3 can be differentiated from Sage integration as follows:
Features
    Sage Integration
  GUMU™ Integration
Configuration in Sage X3
Webservices creation and setup needs to be configured manually.
Webservices creation & setup configured through patches.
Configuration from Sage CRM side
User needs to change configuration files using file editor and knowledge about the changes effect.
User can maintain configuration and setup easily through Standard Sage CRM UI.
Import Customers
Needs to Sync all customers every time.
Provide the user with Filter criteria's for importing/updating specific records.
Scheduling Import Customer
Scheduling available.
Can be available on request
Sales Rep mapping with Sage CRM User
Mapping available.
Can be available on request
Import Product Feature
Products sync features not available in Sage connector, it displays products details on real time basis.
Products are synced in Sage CRM to be used on Orders & Quotes screen and use ERP business logic in Sage CRM.
Real-time Customer changes from Sage X3 to Sage CRM
 Not available
User can update customer info, address and contacts from Sage X3 to Sage CRM on real time basis
Link a Sage X3 ERP customer with existing Sage CRM company
 Not available
User can link existing Sage CRM company with an unlinked ERP customer
Unlink a Customer
 Not available
User can unlink a customer in case he doesn't want to track the changes for the record.
Multiple Folder Configuration
 Not available
Multiple Sage X3 folder can be linked with single Sage CRM instance
Promote Customer
There is NO option to select Sage X3 mandatory values records promoted with default values which are not user selectable.
User can browse through an UI where he can fill/select All mandatory fields for Sage X3 promotion.
Update Customer from Sage CRM to Sage X3
The values for the Company record on Summary screen does not gets reflected in ERP leading to inconsistency of data.
Changes are reflected back to the systems in a real-time basis, thus maintaining the consistency in the data.
Promote Order
Orders are created from separate "Sage X3″ tab and are not linked to a Sage CRM opportunity.
User can follow standard Opportunity workflow for creating Order and promote the records to Sage X3 maintaining the link b/w the two.
 Sage ERP's Orders created in Sage CRM database are not available for analytics purpose in Sage CRM.
 Orders promoted to Sage X3 are available in Sage CRM for analytical purposes.
Promote Quote
Quotes are created on the fly. Quotes are not saved in Sage CRM database.
Quotes are promoted to Sage X3. As well as are available in Sage CRM for analytical purposes.
Real-time Product Pricing
After selecting a customer and product record on order user needs to enter pricing manually. No default information loaded.
Default values for Pricing/Quantity to be Ordered are loaded and updated based on ERP's business logic on changes to the field values that affect the pricing such as Date, Quantity etc.
Product Filter on Orders/Quotes
Not available
Products in details screen is filtered as per site selected in the header section of Order/Quote.
Sage X3 Work Order
User can view a list of Work Orders from Sage CRM and can Edit/Update from Sage CRM on the fly.
Can be available on request
Customizable
Though the integration is customizable, it's a complex architecture in ASP pages attracts a lot of time & money by Sage Development Partner.
This integration is easily customizable and the charges for the customization are minimal due to the known architecture by Greytrix.
For detailed information on GUMU™ integration for Sage CRM – Sage X3, write to us at sage@greytrix.com
Don't miss the Demo on how GUMU™ connector integrates your Sage CRM – Sage X3.
About Us
Greytrix – a globally recognized and one of the oldest Sage Development Partner is a one-stop solution provider for Sage ERP and Sage CRM organizational needs. Being acknowledged and rewarded for multi-man years of experience, we bring complete end-to-end assistance for your technical consultations, product customizations, data migration, system integrations, third-party add-on development and implementation competence.
Greytrix caters to a wide range of Sage X3, a Sage Business Cloud Solution, offerings. Our unique GUMU™ integrations include Sage X3 for Sage CRM, Salesforce.com, Dynamics 365 CRM and Magento eCommerce along with Implementation and Technical Support worldwide for Sage X3. Currently we are Sage X3 Implementation Partner in East Africa, Middle East, Australia, Asia, US, UK. We also offer best-in-class Sage X3 customization and development services, integrated applications such as POS | WMS | Payment Gateway | Shipping System | Business Intelligence | eCommerce and have developed add-ons such as Catch – Weight and Letter of Credit and India Legislation for Sage X3 to Sage business partners, end users and Sage PSG worldwide. Greytrix Sales Commission App for Sage X3 simplifies commission calculations and postings on sales transactions.
The GUMU™ Cloud framework by Greytrix forms the backbone of cloud integrations that are managed in real-time for processing and execution of application programs at the click of a button.
Greytrix is a recognized Sage champion ISV Partner for GUMU™ Sage X3 – Sage CRM integration also listed on Sage Marketplace; GUMU™ integration for Sage X3 – Salesforce is a 5-star rated app listed on Salesforce AppExchange and GUMU™ integration for Dynamics 365 CRM – Sage ERP listed on Microsoft AppSource.
For more information on Sage X3 Integration and Services, please contact us at x3@greytrix.com, We would like to hear from you.