In Sage X3 People, to create document category the local menu function can be used. In standard Sage X3 People, below screen capture depicts the navigation to local menu function
Navigate to Development –> Local Menu-messages

To create document category by using standard functionality in letter generation below are the steps to follow
Step 1: Navigate to Development –> Local Menu-message –>Table 398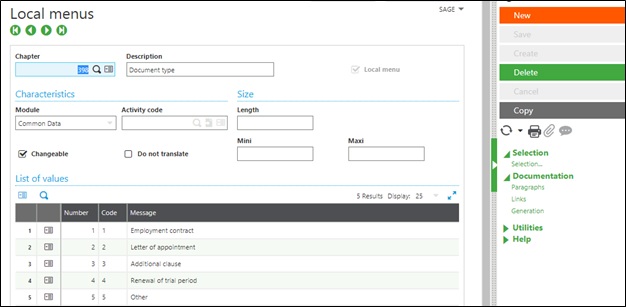 Click on the actions button and add the category.
Step 2:Once clicked on the close page, the system will showcase the below screen.

Click the check box for all languages and then click ok
Step 3:To verify the new categories created, navigate to
Personnel administration –> Administrative documents –>Documents generator –> Document Clauses

About Us
Greytrix Africa is a leading Implementation, Reselling and Consulting partner for Sage X3, Sage 300, Sage 300 People & Sage CRM based out of Nairobi, Kenya in Africa region catering to Tanzania, Ethiopia, Middle East, Australia and Asia business sectors.
Greytrix Africa offers professional services such as Implementation & configuration, Business Process Analysis, Project Management, Customization, Integrations & Migrations, Technical support and Onsite resource augmentation along with enhancements within Sage X3, Sage 300 People, Sage CRM and Sage 300 (Accpac) across various industry verticals like Process Manufacturing (Food & Beverages, Chemical), Discrete manufacturing (Automotive, Textile & Apparel), Non Profit, Health-care Industry and Service Industry (Financial , Software & Engineering).
For more information on Sage X3 Consulting Services, please contact us at sales@greytrix.com. We will like to hear from you.