Greytrix Africa wins award in all the three categories at the annual Sage Partner Kick-off event FY-19 for excellence in driving revenue and being the Sage Top ISV Partner.
Greytrix Africa has proved yet again its excellence in providing out of the box quality work and services to its customers throughout Africa. The award ceremony held by Sage at its annual Partner Kick-off event for FY-19 witnessed Greytrix Africa sweeping in as winners in all the three categories namely Revenue Growth Enterprise Business, Generating Highest Revenue Enterprise Business and Sage Top ISV Partner. What turned out the most remarkable moment for Greytrix Africa was that this has been its consecutive third year of registering itself as a winner and this year in all the three categories, meant a double hat-trick.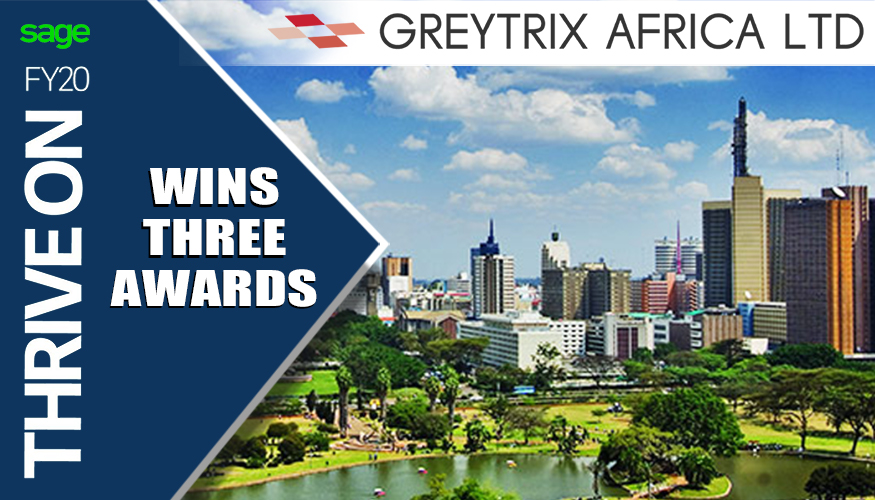 The Partner Kick-off event is an annual event held by Sage in Africa for honouring partners who have excelled in implementing Sage software solutions to Sage's customers. Apart from the plethora of knowledge flowing from all the Sage Sessions and keynotes by Sage speakers, it's a collaborative effort to share, gain and grow together. Greytrix Africa has always addressed its customers as priority which has helped it in being on the top and unstoppable in all the achievements. Gold development partnership with Sage enables Greytrix to implement the business acumen and standards required to service the customers, every business need with complete automation and streamlined system.
Nitin Chandure, SVP and Head of Global Consulting Greytrix, quoted that "With 30+ consultants Greytrix Africa has thrived on to become one of the undisputed providers of Sage X3, Sage X3 People, Sage CRM, Sage 300 in the African regions. It is now a brand name and has been in the forefront of ERP – CRM".
While congratulating the entire team and thanking Sage East Africa, Kumar Siddhartha, CEO of Greytrix, quoted that, "Greytrix Africa team has rendered quality services to the African customers and has proved it to be one of the Top ISV Partner in the continent. We also extend our heartfelt thanks to Nikki Summers (Regional Director, East Africa for Sage), Kui Kamau (Partner Account Manager Lead, East Africa for Sage), Peterjohn Bishop Vice President – Partners, Accountants and Alliances: Africa and Middle East at Sage, Gerhard Hartman (Sales Director Accounting, HR and Payroll SMB Africa and Middle East for Sage) for mentoring."
For 21+ years Greytrix has implemented a system combining innovative approach, high-quality skills, quick turnaround time and cost-effective implementation & development for 500+ Sage ERP – CRM Partners and end-users worldwide.