During the recent times the world is on the verge of emotional and physical outbreak due to the Novel Coronavirus. The outbreak has led to a human tragedy which has further led to the crashing global economy in the absence of a cure. Leaders all over the world are engaged in finding a vaccine for the disease but till then the virus has taken full control of the businesses. The World Health Day is aimed to create awareness of a specific health theme to highlight a priority area of concern for the World Health Organization. This year 2020, as the world fights the Novel Coronavirus, let's talk about the impact of the disease on business.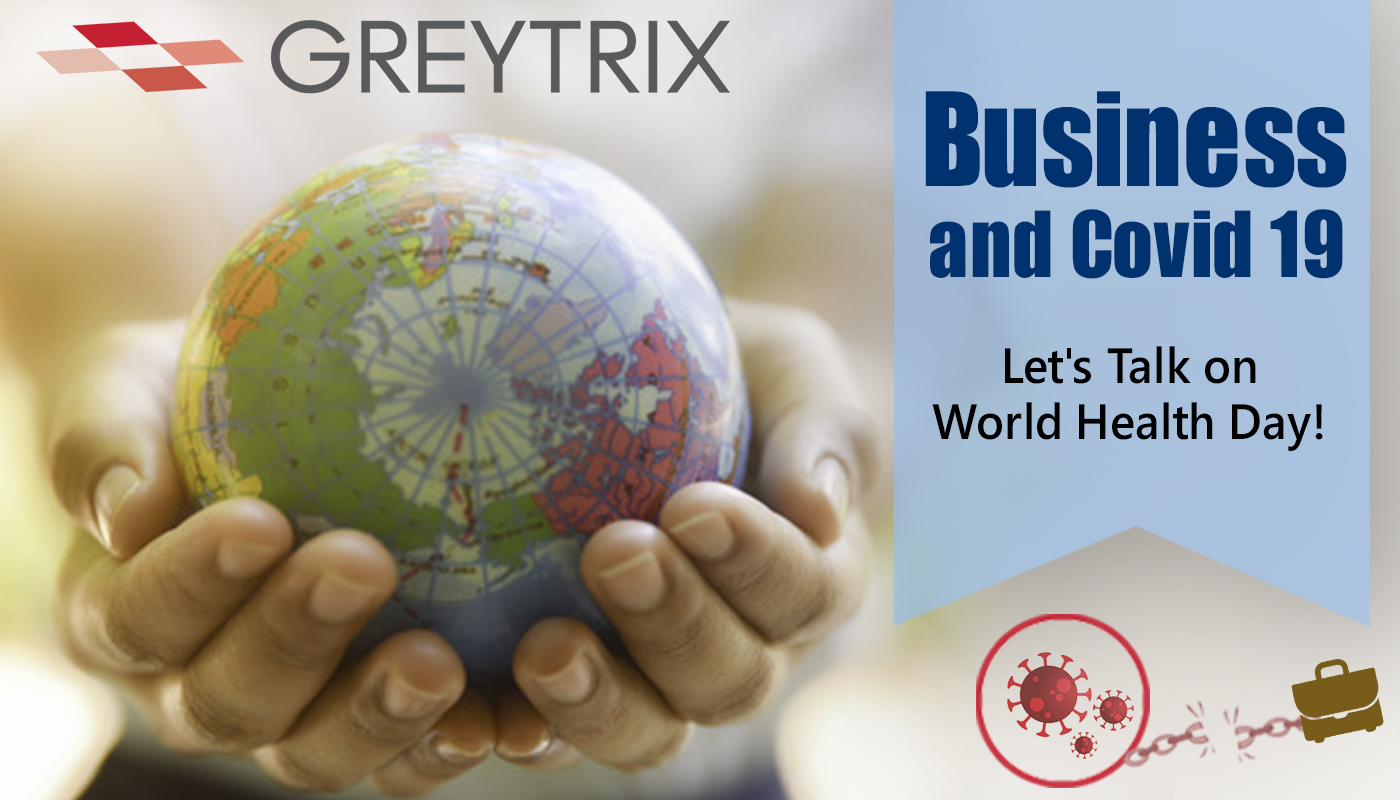 Today on World Health Day Greytrix highlights the present scenarios for business in times of Corona! One of the greatest sectors which has been hit due to the pandemic is the workforce. Employees all around the world are worried about being laid off by their companies due to recession. However, organizations also have taken measures to ensure the safety of their employees by implementing actions such as social distancing and working remotely. The work from home setup has greatly ensured that the business stays in an always ON mode during these hard times.
Greytrix has been operating remotely and contributing towards flattening the curve for the arrest of the disease globally as it is the only way to stop its spread. Recently, Greytrix celebrated #20YearsofGreytness by felicitating its employees for continued service for decades. The same set of dedicated employees and the workforce are committed towards your business unaffected by any global meltdown!
Business leaders around the globe have been equally strained by the economical impact because lockdown has shown substantial effects on business operations. As the virus has shown different patterns of affecting the masses depending on the behaviour of the population. Business leaders are in for a stake as they need to monitor leading indicators of how and where the pandemic is evolving and conduct scenario planning using both epidemiological and economic inputs.
Greytrix – Sage Gold Development Partner, has been a leading ERP – CRM provider for over 21+ years. As we pull together as a community and fight against the pandemic, we want to assure you that our products, services and support are available during this time as #WeWorkForYou. Greytrix is operating remotely in sets of teams to guarantee continuous service and strives to provide quality assistance while #FlatteningtheCurve. Our range of Sage product offerings and Addons for integration, development, customization, consulting remains functional full-fledged as we are trying to keep business normal as usual for you.
Let's hope Health for all because the next normal business will look unlike any in the years preceding the coronavirus, the pandemic that changed everything.