In Sage 300 ERP, user can add new items from Inventory Control >> Items and Price List >> Items. Here in Item master, user can create various types of items such as Stock Items, Non Stock Items, Sellable Items, Non Sellable Items, Kitting Items, etc.
In standard Sage 300 ERP, there are both Sellable and Non Sellable items present. For sellable items, Unit Price and Unit Cost is defined in Item Pricing and Location Details. As for Non Sellable items, it can be considered to be free of cost.
Consider an example; if you are buying two items and one of which you are getting free. Here, item which you are buying is sellable items and free item is non-sellable.
Also Read: Generate Reports for Slow Moving Items in Sage 300 ERP
Let us consider, F2-100/L item is a non-sellable item. Hence, go to Item master, you can view Sellable option is unchecked.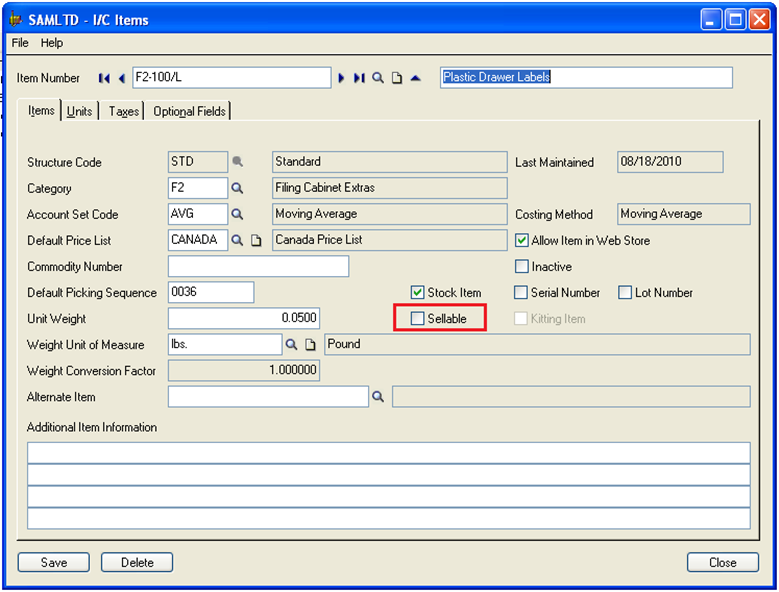 If user makes any OE Order Entry transaction using this item F2-100/L, error message would be given.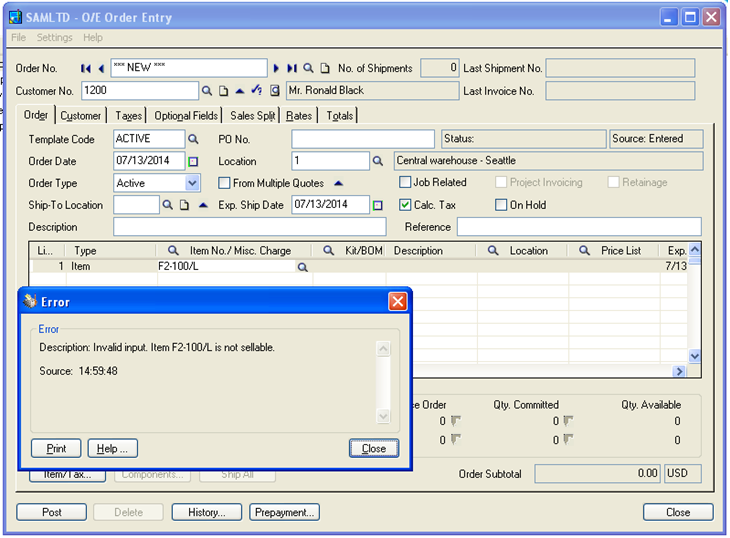 This is because you cannot make Order Entry and Purchase Order against non-sellable items. To make this item to be used in OE and PO transactions it is mandatory to make item sellable. For this navigate to Item master and check Sellable option.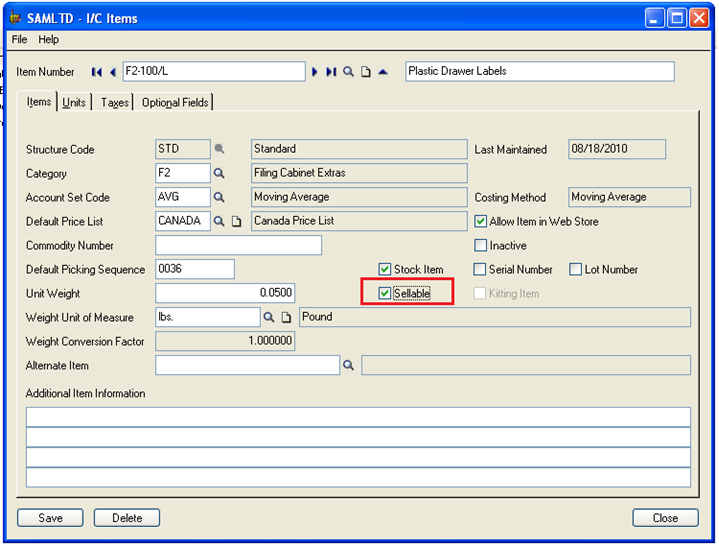 Now, users can use this item F2-100/L for making transactions.
As a result, item can be converted in sellable or non-sellable items allowing user to provide restrictions on items that can be used while transactions in Sage 300 ERP.
Related Posts:
1. Item Pricing based on Multiple Unit of Measurement
2. Display Item Master Optional fields at Transactional Level in Sage 300 ERP
3. Shipping Labels in Sage 300 ERP
4. Sales History Report in Sage 300 ERP