The General Ledger in Sage 300 ERP (formerly known as Sage ERP Accpac) has a feature of Quick and Normal Entry Mode that controls the number of fields visited when you are adding transaction details. This feature provides users with an option either to auto copy common fields within the same entry saving data entry time.
New Stuff : Advance Receipt from a Customer
There are following two Entry Modes in General Ledger, to check the same navigate to General Ledger -> GL Batch List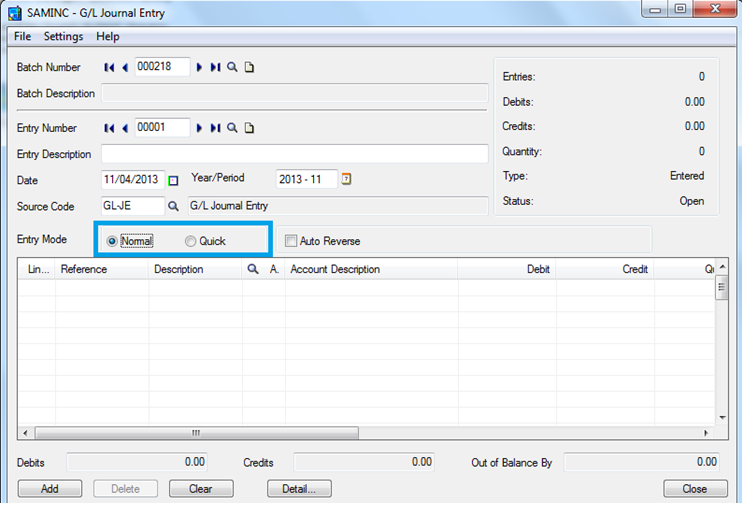 Normal Mode: When you check this option, the cursor goes to each field in the grid when the Tab key is pressed.
Quick Entry Mode: When this option is checked, the cursor visits each field in the detail grid for the first entry. For the next subsequent entries, the Reference, Description, Comment and the Detail Date Fields are auto filled from the information entered for the first detail. These fields are open to edit.
Let's take an example to see how this feature in GL simplifies the task of the data entry operator. Consider that a GL Journal Entry is being passed for office expenses whose detail description, reference and comment fields data should be the same. In this scenario, the Entry Mode to be selected should be Quick.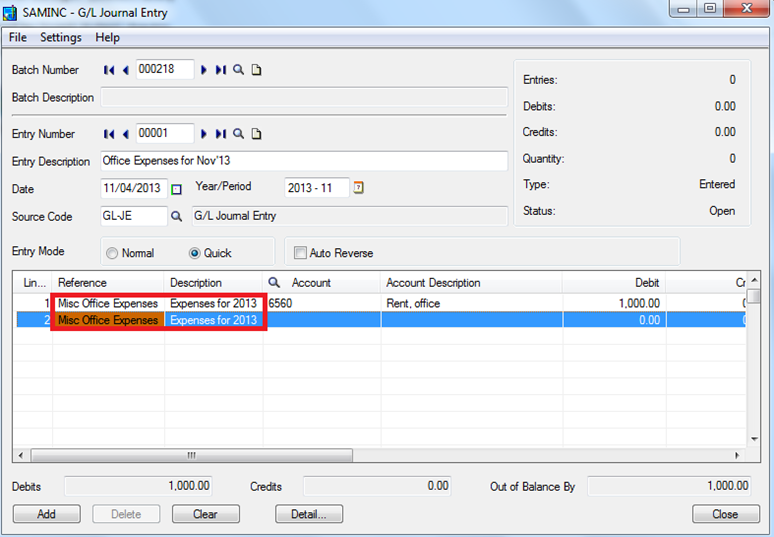 The details of the Reference, Description and the Comments needs to be entered in the first line. When the user clicks on the "Insert" key to start filling the necessary details for the next account, the system displays the same Reference, Description and Comments for the next Line. These details can then be changed by the user, if required.
Hence, now a user needs to key in the details only for the first detail line and once it is identified that the same details needs to be pasted for the subsequent detail lines, then it can be easily done through Quick Entry Mode in GL, reducing a lot of manual work and data entry efforts.
Also Read:
1. Auto-Reverse General Ledger Entries in Sage 300 ERP
2. G/L Segment Code Vs. G/L Optional Fields
3. Enter Quantity against Account Number in GL Journal Entry of Sage 300 ERP
4. Provisional Posting in Sage 300 ERP