Of late, we come across a situation where we had to raise an OE Credit Note against an OE Sales Invoices, to do so, previously, we would directly go to the OE credit note screen and select the invoice and then raise a credit note. Followed by this credit note there can be two scenarios:-
1. We have to raise another credit note against the same invoice even though we have already done that.
2. We have to make sure that the system does not allow a user to create an OE credit note against the invoices against which a credit note is already created.
In Sage, this functionality is handled very flexibly wherein we can set the option as per our requirement where the system can allow the user to keep creating credit notes against already created invoices or we can stop creating a credit note against an invoice which is already credited.
New Stuff: Date wise IC stock Transaction Report
In Order Entry options of Sage 300 we can set this option as per the user requirement as shown below.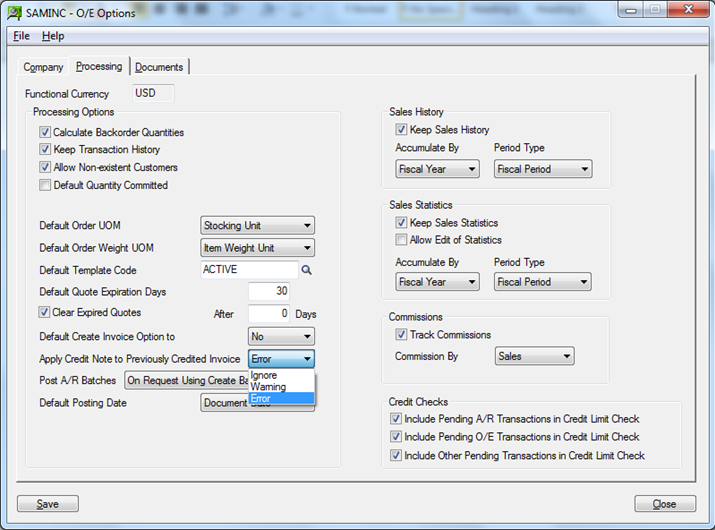 If the option is set to 'Ignore', it will allow you to create as many credit notes you want against the already credit invoice. If the option is set to 'Warning' then the system will prompt you with a warning but will still allow you to create the credit notes.
On the other hand if the option is set to 'Error' then the system will not allow you to create a second credit note against an invoice against which a credit note initially is posted. Even though you to try it will flag you with the below error message.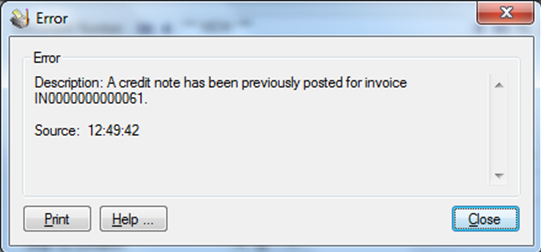 Thus depending on the requirement we can set the things and maintain the control over the credit note part.

About Us
Greytrix is one stop solution provider for Sage ERP and Sage CRM needs. We provide complete end-to-end assistance for your technical consultations, product customizations, data migration, system integrations, third party add-on development and implementation expertise.
Greytrix have some unique solutions of Sage 300 integration with Sage CRM, Salesforce.com and Magento eCommerce along with Sage 300 Migration from Sage 50 US, Sage 50 CA, Sage PRO, QuickBooks, Sage Business Vision and Sage Business Works. We also offer best-in-class Sage 300 customization and development services to Sage business partners, end users, and Sage PSG worldwide.
For more details on Sage 300 Services, please contact us at accpac@greytrix.com. We will be glad to assist you.
Also Read:
1. Cannot Issue an OE Credit Note to return a serialized item to a different location.
2. Invoice Action Report
3. Template feature for Order Entry in Sage 300 ERP
4. Partial Shipments using Sage 300 ERP
5. Sales Invoice Reversals in Sage 300 ERP