Sage 300 ERP Order Entry Order Inquiry includes comprehensive inquiries on Order Entry data. The key features of the OE Order Inquiry include the following:
• Displays all order details in one screen
• Display Order Entries on screen by Order No, Order Date.
• Shows order with status posted, Quote/Confirmation printed, Picking Slip Printed, Never Invoiced, Partially Invoiced, Completed and On Hold.
• Let's you to drill down to the Order Entry screen
New Stuff: Hide Completed Lines in Order Entry
To view the Order Inquiry, navigate to Order Entry -> OE Statistics & Inquiries ->Current Orders Inquiry. The screen looks like: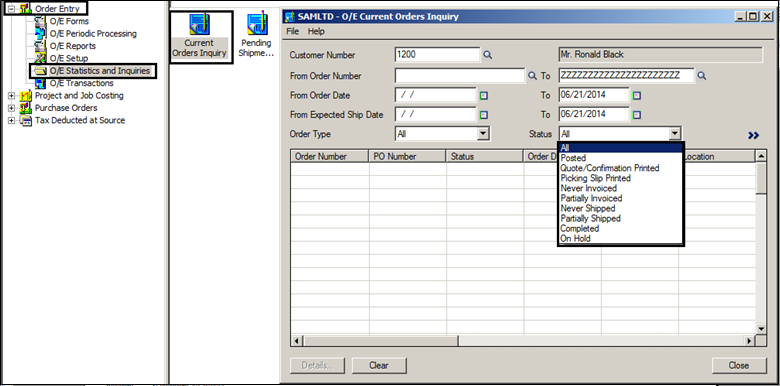 Select the customer code, Order no. range if required to view the status of particular order, Order date, Order type which includes All, Active, Future, Standing and Quote. Select the status and click on Go button in the extreme right [>>] to view the documents that match the criteria you specified. Once done, it will display the orders in the grid below as per the criteria selected.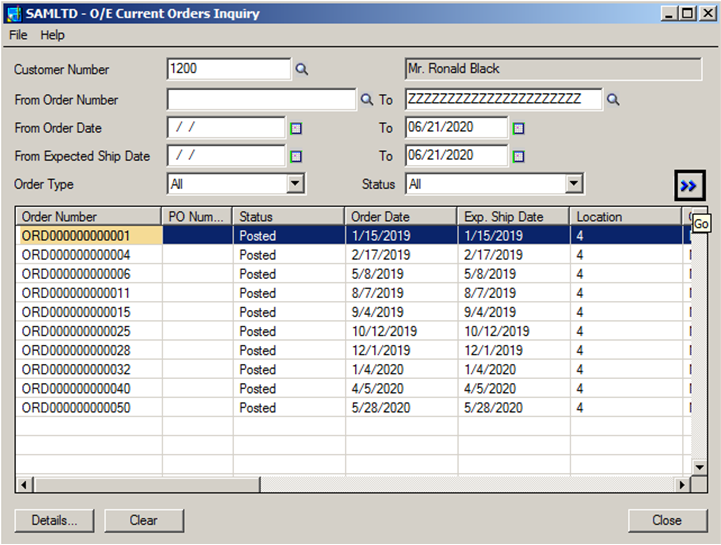 It allows you to drilldown to the Order Entry screen either by selecting and double clicking on the order or selecting and clicking on the Detail button.
Consider a scenario where you want to view all the Orders of a particular customer that are not shipped, in this case select the customer and the Status as Never Shipped. When you click on the Go button, all the orders that are not shipped will appear in the grid. When you select that order line and click on Detail button, it opens the Order entry UI. In the below order ORD000001, the last shipment no. appears blank which indicates that the order is not yet shipped and the total no of shipments is zero.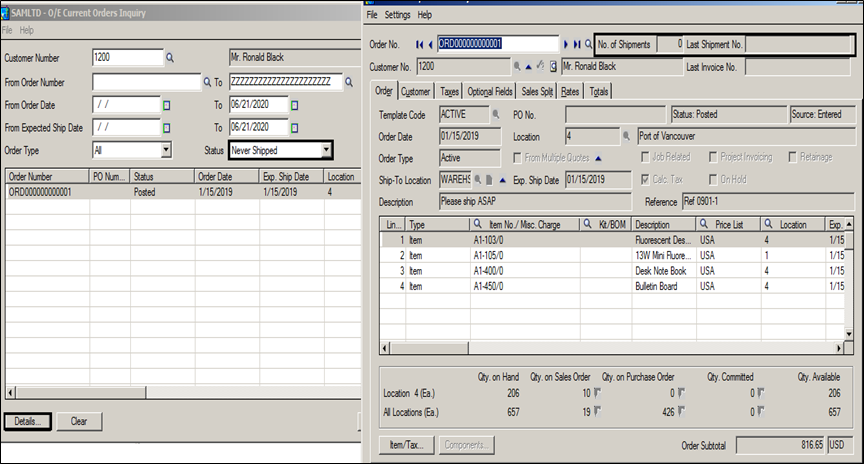 The clear button is used to restore the default filter criteria for the Inquiry screen.
Sage 300 ERP provides instant visibility into the statuses of the company's Sales Orders. OE current Order Inquiry is an easy to use, versatile powerful feature that lets you to view customer wise all order entries in the system.
Also Read:
1. History Button in O/E entry
2. Sage 300 ERP Order Entry – All in One
3. Open Orders Inquiry for Sage 300 ERP Order Entry Screen
4. Find the A/R items sales history
5. Sales History Report in Sage 300 ERP