Many organizations support authority matrix rule i.e. while one user will only book an entry, the other user who is at a superior position will verify the entry and post the same.
Now suppose in an organization there are multiple accounts executives who have only entry addition rights but the posting rights are only assigned to Accounts HOD. Now, at the end of the day HOD sits to post the all the accumulated batches one by one, this will not only take ample amount of time to navigate through each entry and post them but also it will be an exhaustive process.
New Stuff: Trial Balance Report in Sage 300 ERP
Sage 300 ERP has an option to post such bulk batches at one click. This option is available at Account payable, Account Receivable and General Ledger module.
Account Payable>>>A/P Transaction>>>Post Batches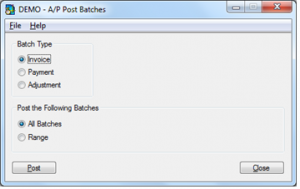 We have the option to select batch type and choice of selecting all the batches or can also define any particular range of batches provided they are in sequence.
Account Receivable>>>A/R Transaction>>>Post Batches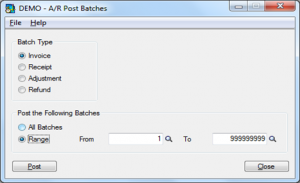 General Ledger>>> G/L Transactions>>>Post Batches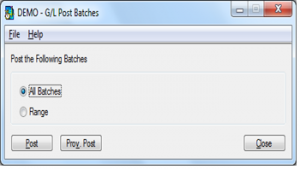 Here, we also have Prov.Post button with the help of which you can preview the posting effects.Refer to the below link to know more about GL provisional posting.
Provisional Posting in Sage 300 ERP
Also read:
1. Posting Journals Report in Sage 300 ERP
2. Allow Posting to Previous Years Records (G/L Options)
3. Sage ACCPAC ERP checks your postings
4. Restrict Posting to Inactive G/L Account through Sub-Ledger
5. Sage 300 ERP Behavior while posting entries in Locked Fiscal Period