Sage 300 ERP provides various types of warning message to its users during transaction entries. In this blog we will discuss a warning message "the current entry is out of balance" in GL Journal entries.
Sometimes when a user makes entries in GL Journal entry directly and clicks on the add button, a warning message will pop up that says: The current entry is out of balance. In this blog, our motto is to make aware of the issue and how to track those entries for which the current entry is out of balance in general ledger.
The following screen shot shows the GL journal entry screen:
New stuff: Sales Order Action Report in Sage 300 ERP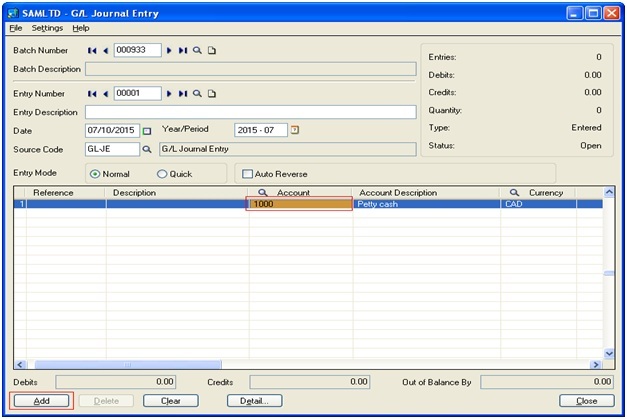 In the above screen shot we have taken a GL journal entry in which an Account set "1000" is inserted on GL detail line. Now when the "Add" button is clicked the following screen shot appears:



The General Ledger gets out of balance in two ways:
1. Total Debits do not match with Total Credits.
2. Another type of out of balance occurs when the totals per period from the summary file (GL8-used in printing the Trial Balance report and Financial Statements) does not equal the totals per period from the transaction file (GL5-used in printing the detail on the General Ledger Detail report). When this occurs, an "Out of Balance" line appears.
The first way is Total debits do not match with Total credit; one can see this on a trial balance report. For example for the account set 1000 when we run the trial balance report the following report has been obtained, as shown in the following screen shot: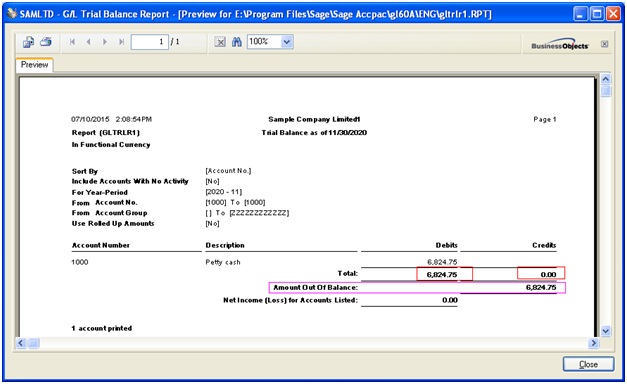 How to track the above out of balance:
a) Run the Trial Balance Report for all accounts which are showing Beginning Balance, Activity and Ending balance.
b) If the Beginning Balance column does not equal zero in the Report Total, run the Trial balance report again and again for the different previous period. Continue this process until the Beginning Balance, Report total is zero.
For example: for period 2018-09 we get total amount equal to credit and debit (that is report total) side as shown in the following screen shot.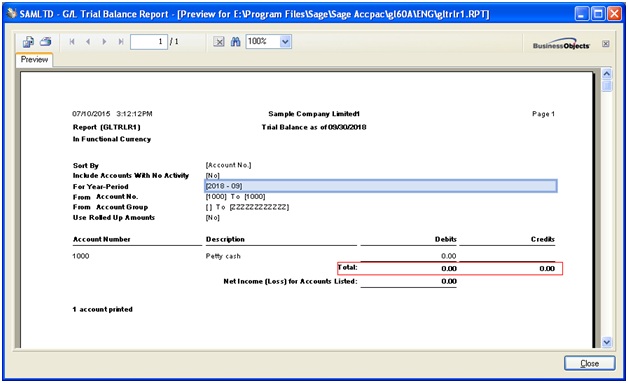 c) Now one needs to find out those entries for which the total debits for the entry does not equal the total credits. Chose the General Ledger detail by Source Report from sage desktop  –> General ledger –> GL reports –> Source ledger)
d) Print it for all journals (like A/R clearing Journals, Bank reconciliation, Journal entry. etc), all batches (From 0 to 999999) and for the date range of the period (2018-10 in this case) that is out of balance.
e) Review the report to confirm each entry is a double sided entry and fix it.
So we see how to verify and fix the issue out of balance message box in General ledger.
Also read:
1. Stock Ledger Report
2. ERROR: Load Library
3. How to Pass GL Revaluation entry in Sage 300 ERP
4. GL Voucher in Greytrix Extended Report for Sage 300 ERP
5. Auto-Reverse General Ledger Entries in Sage 300 ERP