In this blog we will discuss about intercompany transactions. Sage 300 has a very useful module – "Intercompany Transaction" for organizations, who have multiple entities along with transaction being done.
When a transaction is done between two companies / entities, it usually seems that two separate entries will be made. We illustrate in details for better understanding. For example, if a company "A" pays an amount of 100 for an expense on behalf of company "B", then normally two separate transactions is done. The transactions would be as shown below
New Stuff: Migrate PO Invoice from Sage Business Vision to Sage 300 ERP Part -I
In Company "A"
Loan Account Company "B" = 100 Dr.
Bank Account Company "A" = 100 Cr.
In Company "B"
Expense Account (Company "B") = 100 Dr.
Loan Account Company "A"           = 100 Cr.
In Sage 300, the same above scenario can be done in a single entry instead of two separate entry through intercompany transaction and can reduce lots of time. In intercompany the transaction would be done as mentioned / shown below.
In Intercompany
Expense Account (Company "B") = 100 Dr.
Bank Account (Company "A")        = 100 Cr.
When you will post the above transaction in intercompany, then system will auto generate GL Batch in Company "A" and Company "B". Please refer below screen shot for more clarity and understanding
The below screen belong to intercompany, where transaction has been done.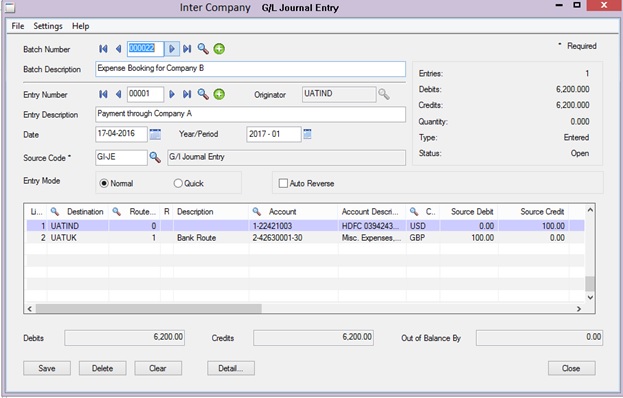 After completion of entry the same GL batch has to post. When you post the GL batch in Intercompany, then two separate GL Batch in two separate company will auto generate by system and will get a message of auto generated GL batch. Please refer below screen shot.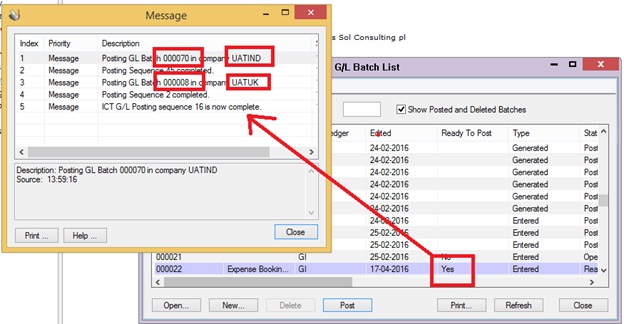 After the above process, you can check the GL batch individually company wise. Just login to Company A and Company B and check the GL batches.
GL Batch of Company A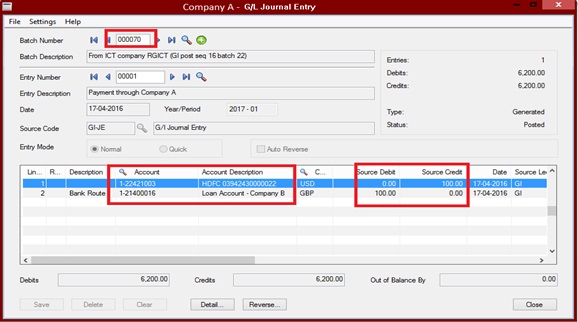 GL Batch of Company B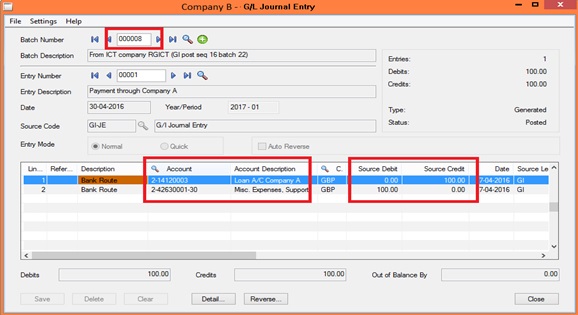 About Us
Greytrix is one stop solution provider for Sage ERP and Sage CRM needs. We provide complete end-to-end assistance for your technical consultations, product customizations, data migration, system integrations, third party add-on development and implementation expertise.
Greytrix helps in migrating to Sage 100, Sage 300 and Sage ERP X3 from Sage Pro, Sage 50 US,Sage 50 CA, Sage 50 Usage Business Works, Sage Business Vision, QuickBooks and MS Dynamics Great Plains.
For more information on migration solutions, please contact us at erpmig@greytrix.com. We will be glad to assist you.
Also Read:
1. Webinar Invite: Increase Productivity and Enhance Processes with Sage 300 and Salesforce.com Integration
2. Data Migration to Sage Live Accounting
3. Customer Outstanding Report by Optional Field Value in Sage 300