In day-to-day life Data Manipulation and Data Security is one of the most essential farm duties need to keep up in an organization. In the business where data is maintained in a huge way in Sage CRM, need proper data maintenance in order to provide better sanctuary and good performance. Now to achieve the data safety and performance in CRM System Administrator has to take care of certain tasks like:
Data bring up to date; that means if the system holds large amount of data and need to update particular data based on there expiry. For example user wants to update opportunities which are created 2 years ago with the status as achieve.
If new security territories are added to the CRM system and need to migrate some of the clients data from one territory to another based on some conditions. Here user has to make sure that there should be no security problems arise.
To handle above jobs, Sage CRM has provided very nice functionality "Mass Update" and "Update Territory". These options allow us to perform bulk update on a set of record.
"Mass Update" and "Update Territory" options are available only to System Administrator.
These functionalities are presented in Sage CRM at Group level.
By default these preferences are not available. You can allow the same by navigating to Administration | System | System Behavior and set "Allow mass update and update territory" property to Yes.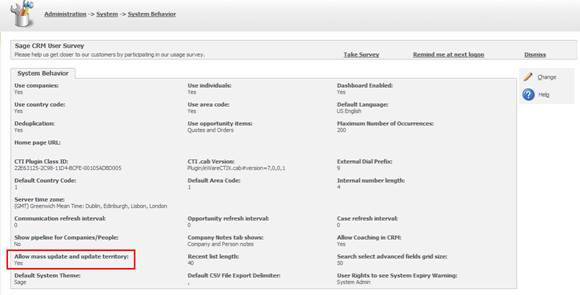 Now whenever you will create a new group or navigate to the existing group you will find new buttons Mass Update and Update Territory. (Refer below screen shot.)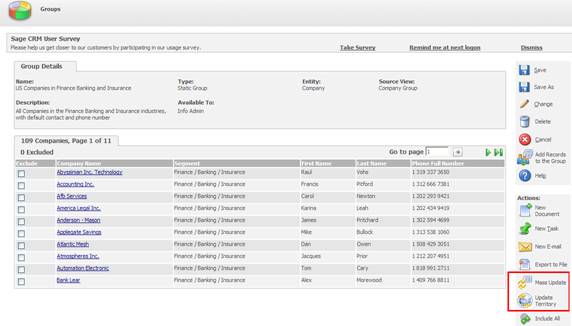 Note: Please click the images to enlarge them.
Please note that "Update Territory" button is only present if the group is created for Person or Company. We can use this process only with Person's or Company's territory alteration.
The mass update option let you do the bulk update on the selected fields for the selected data rows included in the current group. For example if you have 100 opportunities created before 2 years ago and currently there is no progress on the same. And user (system administrator) would like to update the status of all of them to "Archived". Here you just need to create a group against opportunity entity which will list out all the opportunities satisfying your condition.
On click of Mass Update button redirects you to the list of fields to be updated with new value. From here you will have to select fields (in our case select oppo_status). Then will have to select new value to be updated in the field. Continue will modify all the data.
Using update territories, you can update the territory field in the selected data coming under a group. For example, if you created a new security territory in CRM. And you have created a group of customers that need to have belonged to this new territory. Then you can do this simply by using "Update Territory". In which it will first asks for new territory and then further move the group's data into the selected territory.
Note: The System Administrator should make sure that they have a full CRM database backup before proceeding with bulk update (using mass update or update territory). Also ensure that all users are logged out of the system whenever applying a territory update.

About Us
Greytrix a globally recognized Premier Sage Gold Development Partner is a one stop solution provider for Sage ERP and Sage CRM needs. Being recognized and rewarded for multi-man years of experience, we bring complete end-to-end assistance for your technical consultations, product customizations, data migration, system integrations, third party add-on development and implementation expertise.
Greytrix has some unique integration solutions for Sage CRM with Sage ERPs (Sage Enterprise Management (Sage X3), Sage Intacct, Sage 100, Sage 500 and Sage 300).We also offer best-in-class Sage ERP and Sage CRM customization and development services to Business Partners, End Users and Sage PSG worldwide. Greytrix helps in migrating of Sage CRM from Salesforce | ACT! | SalesLogix | Goldmine | Sugar CRM | Maximizer. Our Sage CRM Product Suite includes Greytrix Business Manager, Sage CRM Project Manager, Sage CRM Resource Planner, Sage CRM Contract Manager, Sage CRM Event Manager, Sage CRM Budget Planner, Gmail Integration, Sage CRM Mobile Service Signature and Sage CRM CTI Framework.
Greytrix is a recognized Sage Rockstar ISV Partner for GUMU™ Sage Enterprise Management – Sage CRM integration also listed on Sage Marketplace.
For more information on our integration solutions, please contact us at sage@greytrix.com. We will be glad to assist you.