One of the best feature of Sage CRM is that users can view the records which he has recently visited with the help of Recent List option. Recent List is available for all standard entities like company, person, cases etc. as well as for custom entities. Default value for displaying records in recent list is 40 but we can also change this value.
Related Post: Unable to save MailChimp Configuration in Sage CRM
One of our existing customer came up with the requirement that, he wants to clear recent list on every new login happens into CRM. We checked few configuration in admin login and found that this feature is already exists in the Sage CRM.
Follow the below steps to clear the Recent List for every new user login in Sage CRM:
From Profile Menu you can select Preferences or from My CRM click on Preferences
From Preferences screen click on change button.
You can see the field Empty Recent List for each session, set the value to Yes and save the changes. You can refer below screen shot for the same.

Refer below screenshot where Recent List is showing the relevant transactions before making changes in Preferences section.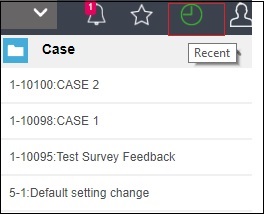 Once you made the changes in preferences for clearing recent list, logout from CRM and login again to see the effect. Click on Recent List button, you can clearly see that Recent List is empty. Refer below screen shot for the same.