Pressing need for business systems
With growing businesses and expanding customer base, enterprises face the distinct challenge of balancing agility against scale, streamlining critical processes, understanding prospects, and managing deeper connections. Business systems have evolved considerably over the years and are now more advanced than before. Today, businesses have invested in the infrastructure and technology systems such as ERP and CRM that simplify back office and front office operations.
Why you need Sage Enterprise Management & Sage CRM for your business?
Enterprises use Sage CRM that deals with front-end information. This includes recording customer information, sales tracking, managing prospects, marketing campaigns and pipeline management. This further helps business understand prospects and clients, manage customer relationships. On the other hand, Sage X3 handles backend operations such as storing and managing purchase history, manufacturing, accounting information and supply chain management details. These systems offer substantial benefits to the business. However, with contrasting functionalities and architectures, it becomes difficult to streamline business processes. This creates a roadblock towards enhanced forecasting and agile decision making for enterprises.
Check: GUMU™ Integration on Sage Marketplace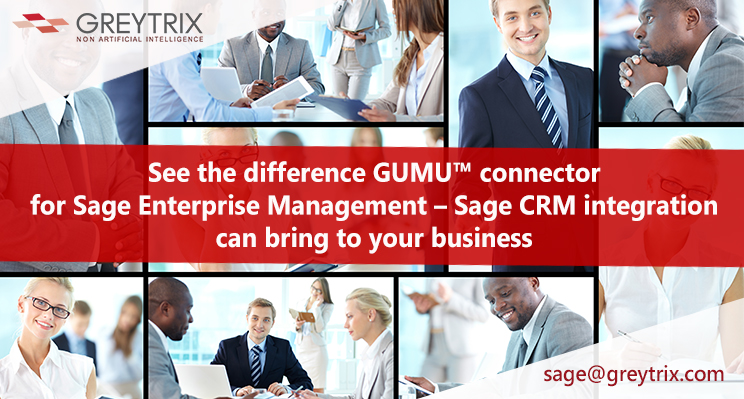 GUMU™ for Sage CRM – Sage Enterprise Management Integration
Greytrix addresses the complexity caused by siloed business systems with its powerful integration engine – GUMU™. The framework facilitates rapid data movement between ERP and CRM business systems. GUMU™ framework connects any internal or external IT systems either using built-in API's or by developing new plugins to establish a link between the application and the framework. GUMU™ connector drives bi-directional integration between any ERP & CRM entities such as Quotes, Customers, Invoices, Sales Orders, and Items etc. providing real-time and bi-directional information across the organization.
Greytrix has developed its robust GUMU™ connector compatible with the recently upgraded systems of Sage X3 Version 11 and Sage CRM 2017 R2. The key advantages and features of an integrated Sage X3 ERP – Sage CRM system are stated below.
Features of Sage X3 – Sage CRM Integration
1. Easy Installation and Configuration:
GUMU™ integration for Sage CRM and Sage X3 is easy to install and its configuration is effortless.
2. Real-time Bi-directional Integration:
GUMU™ allows users to selectively sync data between systems depending on business needs on the bi-directional basis. Companies' master data comprising addresses, contact details and transactions can be viewed on user-friendly Sage CRM tabs for a particular customer. Sage CRM Company can be promoted as Sage X3 Customer or Vendor.
3. Easy Access to Data from Portable Devices:
Critical information regarding Leads, Customers and Orders can be accessed across devices such as desktops, mobiles, and tablets ensuring that sales reps respond quicker to customer needs. It provides the same view on all the devices. Sales reps can view Sales Orders on the go along with a user-friendly view of the line items, delivery status, and related information.
4. Authorization Control:
GUMU™ Security Matrix empowers system administrators by allowing them to set different access levels with prescribed user privileges. This allows CRM system administrator to provide restrictive access to ERP data.
5. Seamless Mapping of Customer Details from Sage X3 to Sage CRM:
Sage CRM – Sage X3 Integration is designed to seamlessly import customer details from Sage X3 into Sage CRM.
6. Salesperson Mapping:
Data related to multiple company codes in Sage X3 can be accessed through a single instance in Sage CRM. Thus giving users a holistic view of customer data to offer actionable insights.
7. Multi-Company Integration:
Sage CRM Admin can map Sage ERP Salesperson with Sage CRM users. This information is used to set the Salesperson on the Sales Order that is being promoted to Sage ERP. Using this feature eliminates the selection of Salesperson on Order Entry and easy & proper commission calculation on the ERP front.
8. Unified View of Customer Data:
GUMU™ Integration enables organizations to view customer details, invoices and orders that have been generated in Sage CRM. This provides customer-facing personnel easy access to the data required to effectively cross-sell and up-sell.
9. Multi-Currency Support:
GUMU™ eliminates manual computation of error-prone currency conversions. With multi-currency support, you can create Orders in Sage CRM with the currency value defined in Sage X3.
10. Secure Order Promotion:
Sage CRM Admin controls the system and configures Promote Order rights to Sage CRM users. This ensures security for users to promote Orders in Sage X3 from Sage CRM.
11. Superior Order Visibility:
Seamless integration of orders from Sage CRM to Sage X3 allows superior order visibility of information on promoted Orders
12. Streamlined Customer Response System:
Seamless integration between the two systems streamlines inquiry recording and the related follow-ups.
13. Effortless Multitasking:
GUMU™ allows handling multiple queries or multiple companies at an instance easily thus providing the user with a highly efficient user experience. Additionally, multiple companies in Sage X3 are integrated at an instance with Sage CRM thus simplifying enterprise operations.
Benefits of Sage CRM – Sage X3 Integration
1. Collaborated Data: From Sales to Support
With an integrated Sage X3 – Sage CRM business system, sales, accounting and support departments can experience seamless visibility of their customer data. This enhances communication between departments and offers better analytics and reporting of the customer's preferences.
2. Faster Access to Crucial Data:
An integrated business system allows quick and real-time access to important data such as inventory levels, finances, order history, shipments, and pricing without keeping the customer on hold for accessing information. This indirectly helps in retaining customers by offering better customer relationships.
3. Minimize Data Redundancy:
An ERP system handles customer information that revolves around order details, inventory, warehouse and shipping whereas the CRM holds the customer data for marketing, sales and support. An integrated business approach with GUMU™ connector towards the front and back-office operations eliminate the tedious tasks of data redundancy.
4. Real-Time Insights with Business Intelligence:
GUMU™ connector for Sage CRM – Sage X3 streamlines business operations with end to end integration of business workflow. With this approach, systems produce real-time analytics and greater insights into costs and operational performance that assists informed decision making.
5. Mobility in Business:
The integrated solution offers freedom and convenience to access critical business data such as inventory levels, take customer orders, and approve purchases on the go.
Webcast:
Discover how your front end Sage CRM and back-office Sage X3 ERP systems can be optimized using GUMU™ connector.